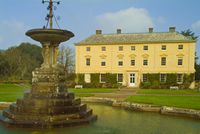 Self Catering cottages in Rural Cornwall
Here is a browseable listing of our holiday cottages in the Rural Cornwall region. In many cases these properties will offer good access to both the south and north Cornish coasts, but without the premium price that sometimes accompanies seaside properties. Please click on the name of a cottage to see details of that property, select a location from the menu below, choose from our full list of Cornwall self catering locations, or use the search form to the right. The map shows locations within Rural Cornwall as well as cottage locations in the surrounding areas. For alternative accommodation, see our Cornwall hotel guide.
Other regions of Cornwall
North Cornish Coast - South Cornwall Coast

Locations are approximate and should be used for guidance purposes only. Please see individual cottages for more precise location information.
Attraction search

photo of Pencarrow House, near Bodmin, Cornwall, is © David Ross and Britain Express