North Yorkshire Heritage Coast
Description
The heritage coast runs the length of the North York Moors National Park, as far as the old smuggling village of Saltburn, almost on the outskirts of Middlesbrough. The coastline is a dramatic one of rugged cliffs dotted with small fishing villages.
The Cleveland Way National Trail runs the entire length of the heritage coast, and provides exhilarating walking along the cliffs. Wildflowers abound along the clifftops, particularly cowslips, wild violets, and knapweed.
The cultural centre of the heritage coast must be historic Whitby. The town is home to Whitby Abbey, established in 657 AD by St. Hilda. A relative newcomer is the parish church of St. Mary's, one of the finest Anglo-Saxon churches remaining in Britain.
It was at the Synod of Whitby in 664 that the Celtic and Roman branches of the Christian church met to hammer out their differences, which resulted in the triumph of the Roman tradition. On a more literary front, Whitby Abbey is also famous as the place where Bram Stoker's Count Dracula landed when he first came to England.
The cliffs around Whitby provide another of Whitby's historic treasures, the rich black rock called "jet". Jet has been mined and carved here for centuries, and at the Whitby Jet and Enamel Workshop visitors can see craftspeople at work and purchase jewellery made of the rare mineral.
The cottages of the fishing village of Staithes hug tightly to the cliff-side above the harbour. In 1745, 13 of these cottages were swept out to sea in a ferocious storm.
The National Trust resort village at Ravenscar is perched on cliffs some 630 feet above the sea. Ravenscar was a Victorian development intended to rival the seaside resorts of Whitby and Scarborough. The scheme never came off, but the visitor centre in the town gives a notion of the original vision. The dramatic location of Ravenscar gives wonderful views across Robin Hoods' Bay to the old smuggling village of the same name.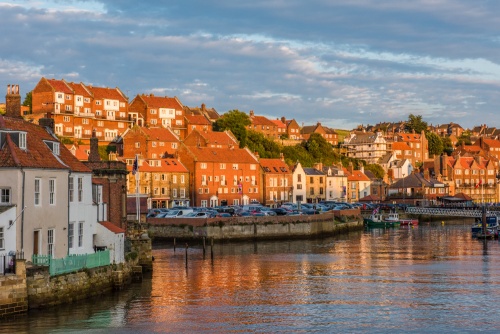 ---
Area Countryside attractions
North York Moors National Park
The smallest of the National Parks, the North York Moors comprise a high plateau bounded on the north by the Plain of Cleveland and on the south by the vales of Pickering and York. On the north and south the moors are etched by deep valleys, or dales, and the eastern boundary of the park ends in a spectacular coastline. More ...
Cleveland Way National Trail
The Cleveland Way is a walk of contrasts. For most of its route, it runs through the wild beauty of the North York Moors National Park. Reminders of a colourful past abound along the trail, from the remains of the marvelous Cistercian abbey at Rievaulx to the ruins of Roman signaling stations that dot the coastline. More ...
Best of Britain Express Art Prints