Port Eliot connection with Daphne Du Maurier
Posted:
2011-03-17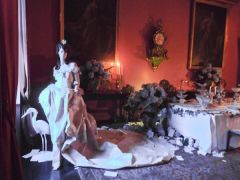 For many years the home where novelist Daphne Du Maurier grew up has been presumed to be the model for Manderley, the setting for her famous novel, Rebecca. Now, however, the stately home of Port Eliot, near Saltash, Cornwall, is being touted as a more likely inspiration for the novel.

Port Eliot stands on the banks of the Tamar estuary, 10 miles from Plymouth. It is perhaps the oldest continuously inhabited house in Britain, with roots going back as far as the 4th century. There was a monastic settlement here in the 10th century, but after the Dissolution of the Monasteries, the house passed to the Eliot family. Daphne Du Maurier visited Port Eliot with her sister Angela in the 1930s, and the house fits the description of Manderley in the novel.
The connection of Daphne Du Maurier with Port Eliot is celebrated this year in a unique new art installation by Michael Howells, who has created a ball gown made entirely of paper. And not just any paper; the gown is made of pages torn from old copies of the novel Rebecca.
There's more to the scene than just a ball gown; the Big Dining Room at Port Eliot has been made over to look like a scene from the night of the Ball at Manderley, with part of the Port Eliot china collection, which has never been displayed to the public before. Included in the china on view are pieces from Dresden, Imari, and a Meissen dessert service.
Port Eliot is open from Saturday 12th March to 16th June and 20th June to 7th July 2011. Free entry to members of the Historic Houses Association.
Resources:
Port Eliot website
Our article on Port Eliot
More about Daphne Du Maurier
---
<< A Broad Scot magazine - What is a crannog? >>
Attraction search