Wales

Swansea, Gower and the Vale of Neath
Castles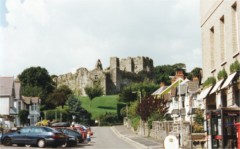 Oystermouth Castle
Photo © Barbara Ballard
BACK TO CASTLES OF WALES - SWANSEA, GOWER, NEATH
HISTORY CORNER
Name the Historic attraction
British Heritage Awards
Celebrate the best of British Heritage in our annual
British Heritage awards.
British History Quiz
This writer, politician, and philosopher is best known for 'Novum Organum', and his 'Essays', published in 1597 and 1625
This Day in British History
26 September, 672
Synod of Hertford
The Synod of Hertford was a church gathering that proclaimed the supremacy of the see of Canterbury in the English church. The Archbishop of Canterbury was given the power to divide dioceses and to create new bishops.
Monarch Mayhem
This king married Elizabeth of York, uniting the houses of York and Lancaster, and ending the Wars of the Roses