St. Paul's Cathedral - origins
---
Click here for Christopher Wren and the building of St. Paul's, and here for a look at visiting St. Paul's today.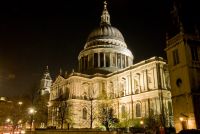 When most people think of St. Paul's Cathedral in London the image of Christopher Wren's magnificent classical church rises in their minds, but there was a cathedral dedicated to St. Paul long before the able Mr. Wren put his stamp on the skyline of Stuart London.
The first church on this spot was erected in 604 AD, just 8 short years after the first Christian mission under St. Augustine landed in Kent. This wooden church was established by King Ethelbert of Kent as home to the first bishop of the East Saxons, Mellitus.
That first church was destroyed by fire and rebuilt by St. Erkenwald, then bishop, in 675-85. Fire was not the only danger faced by buildings in those dark centuries of Anglo-Saxon England - the Vikings destroyed the second St. Paul's in 962 during on of their periodic invasions.
Once again, fire destroyed the church in 1087. The new Norman building, now called Old St. Paul's, took over 150 years to complete, the final touches being applied in 1240. Well, not quite final touches - a new Gothic choir was added by 1313, making St. Paul's the third longest church in Europe at 596 feet.The following year the spire was completed. At 489 feet it was the tallest in all Europe.
In the Tudor period an open-air pulpit called Paul's Cross was established by the south wall of St. Paul's. There crowds gathered to hear rabble-rousing Protestant sermons. In 1549 the preachers incited a mob to sack the cathedral itself. They rampaged through the interior, destroying the high altar and ravaginbg the tombs, wall-hangings, and tombs.
St. Paul's bad luck continued. The spire was struck by lightning (not too surprising, considering how it towered over the city). The cathedral became a centre of trade, with merchants selling their wares in the nave of the church iteslf. Architect Inigo Jones was called in to resurrect the decaying building, but his efforts, hampered by lack of funds, only delayed the inevitable.
During the English Civil War, Parliamentary troops commandeered the cathedral and used the nave as cavalry barracks. They broke up the scaffolding and sold the material.
The fortunes of Old St. Paul's seemed to take a turn for the better with the Restoration of the Monarchy in 1660. Charles II appointed a young architect named Christopher Wren to undertake major repairs to the building. Wren had only begun his work when final calamity struck.
On September 4, 1666, fire broke out in a bakehouse in Pudding Lane. Fanned by a fierce wind, the fire spread through the close-packed streets of London, destroying everything in its path. For four days the fire raged, and when the smoke finally cleared, Old St. Paul's was nothing but charred timbers and rubble.
Next: Wren's Church
See also: St. Paul's Today