Attractions in England, Scotland, and Wales

Find places to visit by location or by type of attraction.

By Location
Explore thousands of attractions in England, Scotland, and Wales.

By type of Attraction:

But there is more to experiencing the UK ...

Tourist Information Centres in the UK

Newest Attraction:

Wenlock Priory


Much Wenlock, Shropshire, England

One of the most historic monastic sites in England, Wenlock Priory was founded in the year 680 AD by the King of Mercia, Merewalh, for his daughter Milburga, who served as abbess until her death in 722. It was initially a double house, with quarters for nuns and monks.

Heritage Rating:





Links to thousands of travel resources throughout England, Scotland, and Wales. To the best of our knowledge this is one of the largest online resources of information on travel in the UK, with listings covering everything from official regional tourist boards to local village websites.
Accommodation

NEW Castle Hotels in England - Scotland - Wales
Top locations
Bath, Birmingham, Brighton, Cardiff, Edinburgh, Lake District, Glasgow, Gatwick Airport, Heathrow Airport, London, Manchester, Stratford-upon-Avon, Swansea, York
Top locations
Cornwall, Lake District, London, Devon, Isle of Skye, North Wales, Pembrokeshire, Scottish Highlands
Bed & Breakfast: B&Bs, guest houses, and small hotels.
England - Scotland - Wales

Top locations
Cornwall, Lake District, Devon
New
Best Historic Churches - Our top rated historic churches to visit in Britain
Sir John Vanbrugh biography of the architect of Blenheim Palace
White Ladies Priory - Boscobel, Shropshire, England
Much Wenlock, Holy Trinity Church - Much Wenlock, Shropshire, England
Much Wenlock Guildhall - Much Wenlock, Shropshire, England
Much Wenlock - Shropshire, England
Waddesdon Manor - Waddesdon, Buckinghamshire, England
West Wycombe Park - West Wycombe, Buckinghamshire, England
FEATURED HISTORIC HOTEL
Hartwell House Hotel, Restaurant and Spa
Stone, Buckinghamshire

Explore Buckinghamshire and the Chilterns ... Hartwell House is a magnificent stately home standing in ninety acres of landscaped parkland and luscious gardens. It has forty-six bedrooms and suites and several elegant and spacious reception rooms with outstanding decorative ceilings and panelling, antique furniture and fine paintings. Hartwell House is … more >>
Heritage:
UK Travel Guide




Most Popular

:
Virtual Tour of England - for a quick overview of what to see in each region of England.

Most popular England County Guides
UK Photo of the Day

Travel and scenery photos of of fabulous British locations. Available as free desktop wallpaper.

Current photo: Devil's Chimney, Leckhampton, Cotswolds, England
Archives

History and Culture
History of Britain - full text of the 1912 book
English Culture
What makes England so ... English? From hedgerows to the history of tea, pastimes to traditional crafts.
British Battles
The major battles fought on British soil - who fought them, why, and what was the outcome?
History of Wales - History of Scotland
British Biography
Our look at the lives of famous people in the fields of art, architecture, science, and literature throughout British history. From Chaucer to Tennyson, Christopher Wren to William Shakespeare.
English Architecture
The story of English architecture and historic building styles, from prehistoric monuments to Victorian Gothic, with our suggestions for the best examples from each period to visit in England.
London History
From the Romans to the Blitz, our look at the colourful history of London.
Illustrated Dictionary of Church History and Architecture
A visual guide to British Churches from Saxon to Victorian Gothic.
HISTORY CORNER
Name the Historic attraction
British Heritage Awards
Celebrate the best of British Heritage in our annual
British Heritage awards.
British History Quiz
Two of William the Conqueror's sons became kings of England. Who was the third son?
This Day in British History
10 December, 1683
The Great Frost
Cold snap, lasting until 4 February, freezes the Thames, allowing a Frost Fair to last throughout January
Monarch Mayhem
This king was killed while a prisoner at the Tower of London in 1471
Heritage Snapshot
Stetchworth, Cambridgeshire
in the Domesday Book
"The Abbot of Ely holds Stetchworth. He has there 6 1/2 hides and half a virgate. There is land for 12 ploughs. In demesne are 3 1/2 hides, and there are 3 ploughs, and there can be 2 more. There are 16 villans and 5 bordars with 6 ploughs, and there can be a seventh. There are 4 slaves, woodland for 260 pigs and pasture for the livestock of the vill. All together it is worth £10, and as much when received; in the time of King Edward £12. This land pertained sand pertains to the demesne of the Church of Ely."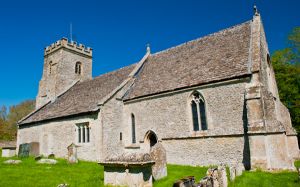 Shilton, Holy Rood Church
- Shilton, Oxfordshire, England
Shilton is one of the prettiest, and most frequently photographed, vilages in the Oxfordshire Cotswolds. It lies roughly mid way between the old market town of Burford and the more modern town of Carterton, in lovely west Oxfordshire countryside. There is a pretty pub beside the gently flowing Shill Brook, and a picturesque ford leads across the brook. From the ford, Church Lane curves up the hill to a small shelf of land, on which … ... more