Attractions in England, Scotland, and Wales

Find places to visit by location or by type of attraction.

By Location
Explore thousands of attractions in England, Scotland, and Wales.

By type of Attraction:

But there is more to experiencing the UK ...

Tourist Information Centres in the UK

Newest Attraction:

Segontium Roman Fort


Caernarfon, Gwynedd, Wales

A 1st century Roman fort and museum. The stones of the fort were used by Edward I in the the building of nearby Caernarfon Castle.

Heritage Rating:





Links to thousands of travel resources throughout England, Scotland, and Wales. To the best of our knowledge this is one of the largest online resources of information on travel in the UK, with listings covering everything from official regional tourist boards to local village websites.
Accommodation

NEW Castle Hotels in England - Scotland - Wales
Top locations
Bath, Birmingham, Brighton, Cardiff, Edinburgh, Lake District, Glasgow, Gatwick Airport, Heathrow Airport, London, Manchester, Stratford-upon-Avon, Swansea, York
Top locations
Cornwall, Lake District, London, Devon, Isle of Skye, North Wales, Pembrokeshire, Scottish Highlands
Bed & Breakfast: B&Bs, guest houses, and small hotels.
England - Scotland - Wales

Top locations
Cornwall, Lake District, Devon
New
Best Historic Churches - Our top rated historic churches to visit in Britain
Caithness Travel & Heritage Guide - the best of north east Scotland
Brodick Castle - Brodick, Strathclyde, Scotland
Bishops Waltham Palace - Bishops Waltham, Hampshire, England
Netley Abbey - Netley, Hampshire, England
Titchfield Abbey - Titchfield, Hampshire, England
Beaumaris, St Mary and St Nicholas - Beaumaris, Gwynedd, Wales
Culross Abbey - Culross, Fife, Scotland
FEATURED HISTORIC HOTEL
Hazlewood Castle
Tadcaster, Yorkshire

Situated a short distance from both Leeds and York, Hazlewood Castle has become a tranquil haven for those wanting to get away from it all. Restaurant Anise provides a chic French ambience with a bistro style cuisine throughout the day and into the night. Set in 77 acres of woodland, … more >>
Heritage:
Rating:
UK Travel Guide




Most Popular

:
Virtual Tour of England - for a quick overview of what to see in each region of England.

Most popular England County Guides
UK Photo of the Day

Travel and scenery photos of of fabulous British locations. Available as free desktop wallpaper.

Current photo: Mount Stewart Gardens, Isle of Bute, Argyll and Bute, Scotland
Archives

History and Culture
History of Britain - full text of the 1912 book
English Culture
What makes England so ... English? From hedgerows to the history of tea, pastimes to traditional crafts.
British Battles
The major battles fought on British soil - who fought them, why, and what was the outcome?
History of Wales - History of Scotland
British Biography
Our look at the lives of famous people in the fields of art, architecture, science, and literature throughout British history. From Chaucer to Tennyson, Christopher Wren to William Shakespeare.
English Architecture
The story of English architecture and historic building styles, from prehistoric monuments to Victorian Gothic, with our suggestions for the best examples from each period to visit in England.
London History
From the Romans to the Blitz, our look at the colourful history of London.
Illustrated Dictionary of Church History and Architecture
A visual guide to British Churches from Saxon to Victorian Gothic.
HISTORY CORNER
Name the Historic attraction
British Heritage Awards
Celebrate the best of British Heritage in our annual
British Heritage awards.
British History Quiz
This national celebration marked the 60th anniversary of Queen Victoria's coronation
This Day in British History
22 October, 1877
Blantyre mining disaster
The worst mining accident in Scottish history hit the Blantyre Colliery, killing 207 miners. The company evicted the surviving families from their cottages 6 months later.
Monarch Mayhem
This monarch dissolved all the monasteries in his realm as part of a split from the Catholic church in Rome
Heritage Snapshot
Newport, Isle of Wight
in the 17th century
"a little town that the arm of the Sea comes up to, its one of the biggest town in the Island; in a mile off it is Casbrooke Castle into which King Charles the first retired when he was worsted by the Parliaments forces; there are some good roomes that still remaine but the most part are destroyed and only ruined walls to be seen ..."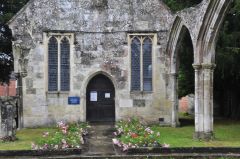 Wilton, St Mary's Church
- Wilton, Wiltshire, England
The village of Wilton is best known for its history as a centre of carpet manufacture and the location of Wilton House, one of the finest stately homes in England. There is another historical feature that deserves a mention, however, and that is the old medieval church of St Mary's, which stands in the Market Place. ... more