Attractions in England, Scotland, and Wales

Find places to visit by location or by type of attraction.

By Location
Explore thousands of attractions in England, Scotland, and Wales.

By type of Attraction:

But there is more to experiencing the UK ...

Tourist Information Centres in the UK

Newest Attraction:

Kentwell Hall


Long Melford, Suffolk, England

Kentwell is a moated Tudor manor, built by the Clopton family in the early 16th century. The exterior is largely built of red-brick. The beautifully preserved interiors feature a working Tudor kitchen and a Great Hall with a minstrels gallery at one end. In the landscaped grounds that surround the house are a Tudor Rose pavement maze, clipped topiary, and a Camera Obscura. Kentwell is a very short distance from another stately home, Melford Hall.

Heritage Rating:





Links to thousands of travel resources throughout England, Scotland, and Wales. To the best of our knowledge this is one of the largest online resources of information on travel in the UK, with listings covering everything from official regional tourist boards to local village websites.
Accommodation

NEW Castle Hotels in England - Scotland - Wales
Top locations
Bath, Birmingham, Brighton, Cardiff, Edinburgh, Lake District, Glasgow, Gatwick Airport, Heathrow Airport, London, Manchester, Stratford-upon-Avon, Swansea, York
Top locations
Cornwall, Lake District, London, Devon, Isle of Skye, North Wales, Pembrokeshire, Scottish Highlands
Bed & Breakfast: B&Bs, guest houses, and small hotels.
England - Scotland - Wales

Top locations
Cornwall, Lake District, Devon
New
Best Historic Churches - Our top rated historic churches to visit in Britain
St Mary's church, Sudeley Castle - last resting place of Queen Katherine Parr
Petworth, St Mary's Church - , West Sussex, England
Lochbuie Stone Circle - Lochbuie, Strathclyde, England
Tintern Abbey - Tintern, Gwent, Wales
Usk, St Mary's Priory Church - Usk, Gwent, Wales
St Briavels, St Mary's Church - St Briavels, Gloucestershire, England
Ramsgate, St Laurence in Thanet Church - Ramsgate, Kent, England
FEATURED HISTORIC HOTEL
Knighton Hotel
Knighton, Powys

Located in the heart of the town on the Welsh border in beautiful Powys. Approximately one hours drive to Shrewsbury Worcester and Hereford. With free WIFI restaurant and bar. This 16th Century weather boarded Coaching Inn with an adjoining stone built Manor House dating from about 1840 has everything a … more >>
Heritage:
Rating:
UK Travel Guide




Most Popular

:
Virtual Tour of England - for a quick overview of what to see in each region of England.

Most popular England County Guides
UK Photo of the Day

Travel and scenery photos of of fabulous British locations. Available as free desktop wallpaper.

Current photo: New Court, St John's College, Cambridge, England
Archives

History and Culture
History of Britain - full text of the 1912 book
English Culture
What makes England so ... English? From hedgerows to the history of tea, pastimes to traditional crafts.
British Battles
The major battles fought on British soil - who fought them, why, and what was the outcome?
History of Wales - History of Scotland
British Biography
Our look at the lives of famous people in the fields of art, architecture, science, and literature throughout British history. From Chaucer to Tennyson, Christopher Wren to William Shakespeare.
English Architecture
The story of English architecture and historic building styles, from prehistoric monuments to Victorian Gothic, with our suggestions for the best examples from each period to visit in England.
London History
From the Romans to the Blitz, our look at the colourful history of London.
Illustrated Dictionary of Church History and Architecture
A visual guide to British Churches from Saxon to Victorian Gothic.
HISTORY CORNER
Name the Historic attraction
British Heritage Awards
Celebrate the best of British Heritage in our annual
British Heritage awards.
British History Quiz
This inventor and pioneer industrialist is credited with inventing - or at least popularizing - the water frame and carding engine
This Day in British History
24 April, 1506
Edmund de la Pole sent to Tower of London
De la Pole, Earl of Suffolk, was the last serious Yorkint claimant to the English throne
Monarch Mayhem
This queen's second husband, Lord Darnley, was murdered, possibly with her knowledge
Heritage Snapshot
Crediton, Devon
in the Domesday Book
"The Bishop [of Exeter] himself holds Crediton. In the time of King Edward it paid geld for 15 hides. There is land for 185 ploughs. 6 hides of this are in demesne, and there are 13 ploughs, and 40 slaves, and 264 villans and 73 bordars with 172 ploughs. There are 30 swineherds rendering 150 pigs, and a mill rendering 30d. There are 80 acres of meadow, and 200 acres of pasture, woodland 5 leagues long and half a league broad. Formerly it was worth £20, now £75."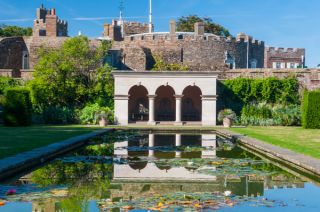 Walmer Castle and Gardens
- Walmer, Kent, England
Not a castle in the traditional sense, Walmer is a coastal artillery fort built by Henry VIII to counter the threat of a French invasion. Over time Walmer evolved from its original purpose to become a comfortable country residence. It was inhabited by the Duke of Wellington in his role as Lord Warden of the Cinque Ports, and it was here that the victor of Waterloo died in 1852. There are displays on Wellington and … ... more