Attractions in England, Scotland, and Wales

Find places to visit by location or by type of attraction.

By Location
Explore thousands of attractions in England, Scotland, and Wales.

By type of Attraction:

But there is more to experiencing the UK ...

Tourist Information Centres in the UK

Newest Attraction:

Grey Cairns of Camster


Roster, Highlands and Islands, Scotland

The Grey Cairns of Camster are a pair of Neolithic chambered cairns (circa 2000-3500 BC), one round and the other linear, in a secluded hollow near the River Wick. The Camster cairns are considered among the best preserved in Britain and have been carefully restored so that visitors can access the inner chambers.

Heritage Rating:





Links to thousands of travel resources throughout England, Scotland, and Wales. To the best of our knowledge this is one of the largest online resources of information on travel in the UK, with listings covering everything from official regional tourist boards to local village websites.
Accommodation

NEW Castle Hotels in England - Scotland - Wales
Top locations
Bath, Birmingham, Brighton, Cardiff, Edinburgh, Lake District, Glasgow, Gatwick Airport, Heathrow Airport, London, Manchester, Stratford-upon-Avon, Swansea, York
Top locations
Cornwall, Lake District, London, Devon, Isle of Skye, North Wales, Pembrokeshire, Scottish Highlands
Bed & Breakfast: B&Bs, guest houses, and small hotels.
England - Scotland - Wales

Top locations
Cornwall, Lake District, Devon
New
Best Historic Churches - Our top rated historic churches to visit in Britain
St Mary's church, Sudeley Castle - last resting place of Queen Katherine Parr
Hill o' Many Stanes - Wick, Highlands and Islands, Scotland
Strathnaver Museum - Bettyhill, Highlands and Islands, Scotland
Caithness Horizons - Thurso, Highlands and Islands, Scotland
Wick Heritage Centre - Wick, Highlands and Islands, Scotland
Timespan - Helmsdale, Highlands and Islands, Scotland
Castle of Mey - Thurso, Highlands and Islands, Scotland
FEATURED HISTORIC HOTEL
Best Western Orton Hall Hotel
Peterborough, Cambridgeshire

Set in 20 acres of parkland in the conservation village of Orton Longueville, only 2.5 miles from Peterborough centre and 2 miles from the East of England showground. Previously the estate of the Marquesses of Huntly this 17th Century house has been renovated to provide a spacious, comfortable hotel. Our … more >>
Heritage:
Rating:
UK Travel Guide




Most Popular

:
Virtual Tour of England - for a quick overview of what to see in each region of England.

Most popular England County Guides
UK Photo of the Day

Travel and scenery photos of of fabulous British locations. Available as free desktop wallpaper.

Current photo: Circle of Lebanon, Highgate Cemetery, London, England
Archives

History and Culture
History of Britain - full text of the 1912 book
English Culture
What makes England so ... English? From hedgerows to the history of tea, pastimes to traditional crafts.
British Battles
The major battles fought on British soil - who fought them, why, and what was the outcome?
History of Wales - History of Scotland
British Biography
Our look at the lives of famous people in the fields of art, architecture, science, and literature throughout British history. From Chaucer to Tennyson, Christopher Wren to William Shakespeare.
English Architecture
The story of English architecture and historic building styles, from prehistoric monuments to Victorian Gothic, with our suggestions for the best examples from each period to visit in England.
London History
From the Romans to the Blitz, our look at the colourful history of London.
Illustrated Dictionary of Church History and Architecture
A visual guide to British Churches from Saxon to Victorian Gothic.
HISTORY CORNER
Name the Historic attraction
British Heritage Awards
Celebrate the best of British Heritage in our annual
British Heritage awards.
British History Quiz
What took place on 15 June 1215?
This Day in British History
24 September, 1930
Noel coward's Private Lives opens
First performance is held at the Phoenix Theatre, London. Coward would go on to be one of the most popular dramatists and lyricists of the 20th century
Monarch Mayhem
This monarch led his army to triumph at the Battle of Agincourt in 1415
Heritage Snapshot
Totnes, Devon
in the Domesday Book
"Iudichael holds from the king Totnes, a borough which King Edward held in demesne. Within the borough there are 100 burgesses, less 5, and 15 outside the borough working the land. among them all they pay £8 by tale. Formerly they paid £3 weighed and assayed. The borough only pays geld and then it renders 40d as geld. If an expedition travels by land or by sea, Totnes and Barnstaple and Lydford between them render as much service as Exeter renders."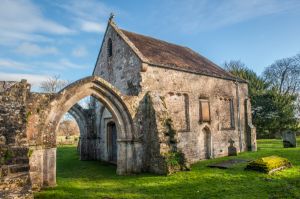 Sutton Veny, St Leonards Church
- Sutton Veny, Wiltshire, England
Also known as Sutton Veny Old Church, St Leonards is a medieval church set in a peaceful location. When the floor of the church began to suffer from subsidence in the Victorian period, St Leonards was replaced by a more modern building dedicated to St John the Baptist, and St Leonard's chancel was used as a mortuary. The nave, transepts, and crossing now stand roofless and open to the elements. ... more