Attractions in England, Scotland, and Wales

Find places to visit by location or by type of attraction.

By Location
Explore thousands of attractions in England, Scotland, and Wales.

By type of Attraction:

But there is more to experiencing the UK ...

Tourist Information Centres in the UK

Newest Attraction:

Preston Mill and Phantassie Doocot


East Linton, Lothian, Scotland

Preston Mill is an unusual and eye-catching 18th century mill with a conical kiln and red pantile roof that looks like a combination of an oast house and a wizard's hat. A short walk away is the Phantassie Doocot, a restored 16th century dovecot.

Heritage Rating:





Links to thousands of travel resources throughout England, Scotland, and Wales. To the best of our knowledge this is one of the largest online resources of information on travel in the UK, with listings covering everything from official regional tourist boards to local village websites.
Accommodation

NEW Castle Hotels in England - Scotland - Wales
Top locations
Bath, Birmingham, Brighton, Cardiff, Edinburgh, Lake District, Glasgow, Gatwick Airport, Heathrow Airport, London, Manchester, Stratford-upon-Avon, Swansea, York
Top locations
Cornwall, Lake District, London, Devon, Isle of Skye, North Wales, Pembrokeshire, Scottish Highlands
Bed & Breakfast: B&Bs, guest houses, and small hotels.
England - Scotland - Wales

Top locations
Cornwall, Lake District, Devon
New
Best Historic Churches - Our top rated historic churches to visit in Britain
Caithness Travel & Heritage Guide - the best of north east Scotland
Newstead Abbey - Ravenshead, Nottinghamshire, England
Segontium Roman Fort - Caernarfon, Gwynedd, Wales
Brodick Castle - Brodick, Strathclyde, Scotland
Bishops Waltham Palace - Bishops Waltham, Hampshire, England
Netley Abbey - Netley, Hampshire, England
Titchfield Abbey - Titchfield, Hampshire, England
FEATURED HISTORIC HOTEL
Olde Kings Arms
Hemel Hempstead, Buckinghamshire

This attractively restored 16th century coaching inn offers comfortable air conditioned accommodation in 8 well-appointed executive rooms all with luxury en suite bathrooms with extra large powerful showers.Situated in the old town of Hemel Hempstead the Olde King Arms is convenient for fast trains into central London as well as … more >>
Heritage:
Rating:
UK Travel Guide




Most Popular

:
Virtual Tour of England - for a quick overview of what to see in each region of England.

Most popular England County Guides
UK Photo of the Day

Travel and scenery photos of of fabulous British locations. Available as free desktop wallpaper.

Current photo: Clifford's Tower, York, England
Archives

History and Culture
History of Britain - full text of the 1912 book
English Culture
What makes England so ... English? From hedgerows to the history of tea, pastimes to traditional crafts.
British Battles
The major battles fought on British soil - who fought them, why, and what was the outcome?
History of Wales - History of Scotland
British Biography
Our look at the lives of famous people in the fields of art, architecture, science, and literature throughout British history. From Chaucer to Tennyson, Christopher Wren to William Shakespeare.
English Architecture
The story of English architecture and historic building styles, from prehistoric monuments to Victorian Gothic, with our suggestions for the best examples from each period to visit in England.
London History
From the Romans to the Blitz, our look at the colourful history of London.
Illustrated Dictionary of Church History and Architecture
A visual guide to British Churches from Saxon to Victorian Gothic.
HISTORY CORNER
Name the Historic attraction
British Heritage Awards
Celebrate the best of British Heritage in our annual
British Heritage awards.
British History Quiz
This wandering priest was leader of the Peasant's Revolt of 1381. He made famous the rhyming couplet, 'When Adam delved and Eve span, who was then the gentleman'
This Day in British History
23 October, 1642
Battle of Edgehill
First serious battle of the Civil War, Prince Rupert defeats Parliamentary forces led by Earl of Essex
Monarch Mayhem
Shortly after this monarch was buried at Winchester Cathedral, the cathedral tower collapsed - a sign?
Heritage Snapshot
Paignton, Devon
in the Domesday Book
"The Bishop [of Exeter] himself holds Paignton. In the time of King Edward it paid geld for 20 hides. There is land for 60 ploughs. In demesne are 8 ploughs and 36 slaves, and 52 villans and 40 bordars with 42 ploughs .. There is a saltpan rendering 10d. and 18 acres of meadow, and 40 acres of pasture and 41 acres of woodland. When received, it was worth £13, now £30."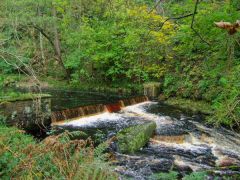 Hardcastle Crags
- Hebden Bridge, Yorkshire, England
A magnificent wooded gorge in the South Pennines, with over 18 miles of footpaths, taking in waterside paths and waterfalls. The 'Crags' in the name do not refer to high peaks. Rather, the term is applied locally to the stacks of millstone grit which are a feature of the landscape. Entymology enthusiasts will enjoy the Crags, as the area is home to the northern hairy wood ant (the rest of us needn't worry, as the … ... more