Attractions in England, Scotland, and Wales

Find places to visit by location or by type of attraction.

By Location
Explore thousands of attractions in England, Scotland, and Wales.

By type of Attraction:

But there is more to experiencing the UK ...

Tourist Information Centres in the UK

Newest Attraction:

Thomas Carlyle's Birthplace


Ecclefechan, Dumfries and Galloway, Scotland

The influential writer and historian Thomas Carlyle was born in this attractive whitewashed house in 1795. The interior of the cottage has remained virtually untouched since it first opened to public in 1881, with many of the Carylyle family's personal belongings on display.

Heritage Rating:





Links to thousands of travel resources throughout England, Scotland, and Wales. To the best of our knowledge this is one of the largest online resources of information on travel in the UK, with listings covering everything from official regional tourist boards to local village websites.
Accommodation

NEW Castle Hotels in England - Scotland - Wales
Top locations
Bath, Birmingham, Brighton, Cardiff, Edinburgh, Lake District, Glasgow, Gatwick Airport, Heathrow Airport, London, Manchester, Stratford-upon-Avon, Swansea, York
Top locations
Cornwall, Lake District, London, Devon, Isle of Skye, North Wales, Pembrokeshire, Scottish Highlands
Bed & Breakfast: B&Bs, guest houses, and small hotels.
England - Scotland - Wales

Top locations
Cornwall, Lake District, Devon
New
Best Historic Churches - Our top rated historic churches to visit in Britain
St Mary's church, Sudeley Castle - last resting place of Queen Katherine Parr
Fortrose Cathedral - Fortrose, Highlands and Islands, Scotland
Cromarty Courthouse Museum - Cromarty, Highlands and Islands, Scotland
Fort Augustus Clansman Centre - Fort Augustus, Highlands and Islands, Scotland
Hugh Millerís Cottage - Cromarty, Highlands and Islands, Scotland
Ruthven Barracks - Kingussie, Highlands and Islands, Scotland
Hilton of Cadboll Chapel - Hilton of Cadboll, Highlands and Islands, Scotland
FEATURED HISTORIC HOTEL
The Blackwell Grange Hotel
Darlington, County Durham

Unwind in the elegance of this beautiful 17th century mansion set in 15 acres of its own wooded parklands. Walking distance from the centre of Darlington and yet only a short drive from breathtaking Yorkshire Dales scenery, this hotel is fabulous for both business and leisure.Minutes from the A1, and … more >>
Heritage:
Rating:
UK Travel Guide




Most Popular

:
Virtual Tour of England - for a quick overview of what to see in each region of England.

Most popular England County Guides
UK Photo of the Day

Travel and scenery photos of of fabulous British locations. Available as free desktop wallpaper.

Current photo: Withington Church, Gloucestershire Cotswolds, Cotswolds, England
Archives

History and Culture
History of Britain - full text of the 1912 book
English Culture
What makes England so ... English? From hedgerows to the history of tea, pastimes to traditional crafts.
British Battles
The major battles fought on British soil - who fought them, why, and what was the outcome?
History of Wales - History of Scotland
British Biography
Our look at the lives of famous people in the fields of art, architecture, science, and literature throughout British history. From Chaucer to Tennyson, Christopher Wren to William Shakespeare.
English Architecture
The story of English architecture and historic building styles, from prehistoric monuments to Victorian Gothic, with our suggestions for the best examples from each period to visit in England.
London History
From the Romans to the Blitz, our look at the colourful history of London.
Illustrated Dictionary of Church History and Architecture
A visual guide to British Churches from Saxon to Victorian Gothic.
HISTORY CORNER
Name the Historic attraction
British Heritage Awards
Celebrate the best of British Heritage in our annual
British Heritage awards.
British History Quiz
This decisive battle saw Alfred the Great defeat the Danes under Guthrun
This Day in British History
02 October, 1263
Battle of Largs
Alexander III of Scotland defeats King Haakon IV of Norway and takes control of the Hebrides
Monarch Mayhem
This monarch was the first Plantagenet king
Heritage Snapshot
Basingstoke, Hampshire
in the Domesday Book
"The Church of Mont Saint Michel holds 1 church of the king, with 1 hide and the tithe of the manor of Basingstoke. There is a priest and 2 villans and 4 bordars with 1 plough, and a mill rendering 20s, and 2 acres of meadow. The whole is worth £4.5s. Bishop Walter held it of King Edward, but it did not belong to his bishopric."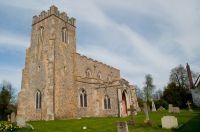 Groton, St Bartholomew's Church
- Groton, Suffolk, England
St Bartholomew's church in the small Suffolk village of Groton is an attractive flint building, dating mainly to the 15th century. The oldest part of the church is the base of the tower, which is likely 13th century. At first sight St Bartholmew's might have you scratching your head; the parapetted nave is so high and box-like that the tower seems almost to disappear beside it. ... more