Attractions in England, Scotland, and Wales

Find places to visit by location or by type of attraction.

By Location
Explore thousands of attractions in England, Scotland, and Wales.

By type of Attraction:

But there is more to experiencing the UK ...

Tourist Information Centres in the UK

Newest Attraction:

Falkland Palace


Falkland, Fife, Scotland

Falkland was the country retreat of the Stewart kings and queens of Scotland, located within easy reach of Edinburgh, yet far enough distant to provide a welcome escape. Here the royal court could indulge in hawking and hunting, plus more genteel recreations like archery. Falkland boasts the oldest real (or 'royal') tennis court in the world, built in 1539 for James V.

Heritage Rating:





Links to thousands of travel resources throughout England, Scotland, and Wales. To the best of our knowledge this is one of the largest online resources of information on travel in the UK, with listings covering everything from official regional tourist boards to local village websites.
Accommodation

NEW Castle Hotels in England - Scotland - Wales
Top locations
Bath, Birmingham, Brighton, Cardiff, Edinburgh, Lake District, Glasgow, Gatwick Airport, Heathrow Airport, London, Manchester, Stratford-upon-Avon, Swansea, York
Top locations
Cornwall, Lake District, London, Devon, Isle of Skye, North Wales, Pembrokeshire, Scottish Highlands
Bed & Breakfast: B&Bs, guest houses, and small hotels.
England - Scotland - Wales

Top locations
Cornwall, Lake District, Devon
New
Best Historic Churches - Our top rated historic churches to visit in Britain
Hidden History - Little Known Historic Attractions in Norwich
Elm Hill, Norwich - The prettiest Tudor Street in England
Tombland - the heart of historic Norwich
Hill of Tarvit House - Cupar, Fife, Scotland
Bostadh Iron Age House - Bostadh, Highlands and Islands, Scotland
Ravenscraig Castle - Kirkcaldy, Fife, Scotland
Lower Heyford, St Mary's Church - Lower Heyford, Oxfordshire, England
North Aston, St Mary's Church - North Aston, Oxfordshire, England
Somerton, St James Church - Somerton, Oxfordshire, England
FEATURED HISTORIC HOTEL
Lifton Hall Hotel
Lifton, Devon

Lifton Hall is a two star, Grade II listed building dating from the 16th Century that combines traditional character with modern refurbishments including wireless internet and digital TV. Were a family run hotel and aim to make your stay with us as relaxing as possible. We have 10 large, individually … more >>
Heritage:
Rating:
UK Travel Guide




Most Popular

:
Virtual Tour of England - for a quick overview of what to see in each region of England.

Most popular England County Guides
UK Photo of the Day

Travel and scenery photos of of fabulous British locations. Available as free desktop wallpaper.

Current photo: Gainsborough Old Hall, England
Archives

History and Culture
History of Britain - full text of the 1912 book
English Culture
What makes England so ... English? From hedgerows to the history of tea, pastimes to traditional crafts.
British Battles
The major battles fought on British soil - who fought them, why, and what was the outcome?
History of Wales - History of Scotland
British Biography
Our look at the lives of famous people in the fields of art, architecture, science, and literature throughout British history. From Chaucer to Tennyson, Christopher Wren to William Shakespeare.
English Architecture
The story of English architecture and historic building styles, from prehistoric monuments to Victorian Gothic, with our suggestions for the best examples from each period to visit in England.
London History
From the Romans to the Blitz, our look at the colourful history of London.
Illustrated Dictionary of Church History and Architecture
A visual guide to British Churches from Saxon to Victorian Gothic.
HISTORY CORNER
Name the Historic attraction
British Heritage Awards
Celebrate the best of British Heritage in our annual
British Heritage awards.
British History Quiz
This Archbishop of Canterbury authored two Books of Common Prayer and helped Henry VIII divorce Catherine of Argagon
This Day in British History
11 March, 1248
First 'trial of the Pyx' tests coinage
The 'trial', headed by Richard, Earl of Cornwall, tested the purity of coinage by assaying
Monarch Mayhem
This queen was the daughter of Henry VIII and Catherine of Aragon
Heritage Snapshot
Salisbury, Wiltshire
in the 17th century
"... pretty large town streetes broad but through the midst of them runs a little rivulet of water which makes the streetes not so clean or so easye to pass in, they have stepp's to cross it and many open places for horses and carriages to cross itt - it takes off much from the beauty of the streetes ... The houses are old mostly timber buildings there is a large Market House with the Town Hall over it and a Prison just by ..."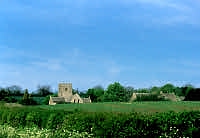 Guiting Power
- Guiting Power, Gloucestershire, England
One of the numerous pretty villages that make the north Cotswolds area such a wonderful place to visit. Guiting Power is located a few miles from Stow on the Wold. The parish church of St Michael and All Angels is notable for its wonderfully carved Norman doorway. ... more