Attractions in England, Scotland, and Wales

Find places to visit by location or by type of attraction.

By Location
Explore thousands of attractions in England, Scotland, and Wales.

By type of Attraction:

But there is more to experiencing the UK ...

Tourist Information Centres in the UK

Newest Attraction:

Kentwell Hall


Long Melford, Suffolk, England

Kentwell is a moated Tudor manor, built by the Clopton family in the early 16th century. The exterior is largely built of red-brick. The beautifully preserved interiors feature a working Tudor kitchen and a Great Hall with a minstrels gallery at one end. In the landscaped grounds that surround the house are a Tudor Rose pavement maze, clipped topiary, and a Camera Obscura. Kentwell is a very short distance from another stately home, Melford Hall.

Heritage Rating:





Links to thousands of travel resources throughout England, Scotland, and Wales. To the best of our knowledge this is one of the largest online resources of information on travel in the UK, with listings covering everything from official regional tourist boards to local village websites.
Accommodation

NEW Castle Hotels in England - Scotland - Wales
Top locations
Bath, Birmingham, Brighton, Cardiff, Edinburgh, Lake District, Glasgow, Gatwick Airport, Heathrow Airport, London, Manchester, Stratford-upon-Avon, Swansea, York
Top locations
Cornwall, Lake District, London, Devon, Isle of Skye, North Wales, Pembrokeshire, Scottish Highlands
Bed & Breakfast: B&Bs, guest houses, and small hotels.
England - Scotland - Wales

Top locations
Cornwall, Lake District, Devon
New
Best Historic Churches - Our top rated historic churches to visit in Britain
St Mary's church, Sudeley Castle - last resting place of Queen Katherine Parr
Petworth, St Mary's Church - , West Sussex, England
Lochbuie Stone Circle - Lochbuie, Strathclyde, England
Tintern Abbey - Tintern, Gwent, Wales
Usk, St Mary's Priory Church - Usk, Gwent, Wales
St Briavels, St Mary's Church - St Briavels, Gloucestershire, England
Ramsgate, St Laurence in Thanet Church - Ramsgate, Kent, England
FEATURED HISTORIC HOTEL
Hazlitts
London, Greater London

Hazlitt's occupies three historic houses in Frith Street just off Soho Square. When these were built in 1718 there were no elevators. There still aren't but they have updated the plumbing installed ensuite bathrooms and replaced most of the candles with electricity. This Soho home of the 18th-century essayist William … more >>
Heritage:
Rating:
UK Travel Guide




Most Popular

:
Virtual Tour of England - for a quick overview of what to see in each region of England.

Most popular England County Guides
UK Photo of the Day

Travel and scenery photos of of fabulous British locations. Available as free desktop wallpaper.

Current photo: Bignor Roman Villa, England
Archives

History and Culture
History of Britain - full text of the 1912 book
English Culture
What makes England so ... English? From hedgerows to the history of tea, pastimes to traditional crafts.
British Battles
The major battles fought on British soil - who fought them, why, and what was the outcome?
History of Wales - History of Scotland
British Biography
Our look at the lives of famous people in the fields of art, architecture, science, and literature throughout British history. From Chaucer to Tennyson, Christopher Wren to William Shakespeare.
English Architecture
The story of English architecture and historic building styles, from prehistoric monuments to Victorian Gothic, with our suggestions for the best examples from each period to visit in England.
London History
From the Romans to the Blitz, our look at the colourful history of London.
Illustrated Dictionary of Church History and Architecture
A visual guide to British Churches from Saxon to Victorian Gothic.
HISTORY CORNER
Name the Historic attraction
British Heritage Awards
Celebrate the best of British Heritage in our annual
British Heritage awards.
British History Quiz
This financial institution was formed in 1694 to finance William III's French wars
This Day in British History
25 April, 1284
Birth of Prince Edward (Edward II) at Caernarfon Castle
He was later named 'Prince of Wales', a title conferred on heirs to the English throne since
Monarch Mayhem
This monarch put down the 1715 Jacobite Rising of James Stewart, The Old Pretender
Heritage Snapshot
Desborough, Northamptonshire
in the Domesday Book
"Ambrose holds of William 1 hide and 1 virgate of land in Desborough. There is land for 3 ploughs. In demesne are 2 ploughs and 3 slaves and 1 female slave, and 11 villans and 8 bordars with 1 1/2 ploughs. There is a mill rendering 2s. There is woodland 2 furlongs in length and 2 furlongs in breadth. It was and is worth 40s."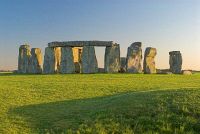 Stonehenge
- Amesbury, Wiltshire, England
The most famous ancient site in Britain. Built in several stages between 3000 and 1500BC, incorporating stones from as far away as the Preseli Mountains in Wales (219 miles). Archaeological research has trevealed that the famous stone circle was part of a huge ceremonial landscape involving processions from the nearby river. Stonehenge in depth ... more