Attractions in England, Scotland, and Wales

Find places to visit by location or by type of attraction.

By Location
Explore thousands of attractions in England, Scotland, and Wales.

By type of Attraction:

But there is more to experiencing the UK ...

Tourist Information Centres in the UK

Newest Attraction:

Hill o' Many Stanes


Wick, Highlands and Islands, Scotland

Over 22 rows of small Bronze Age stones in a fan shape on a sloping hillside. There is no clear indication of why the stones were arranged as they are, but one theory is that the stones were set up as a form of early astronomical observatory, or even a graveyard for Picts.

Heritage Rating:





Links to thousands of travel resources throughout England, Scotland, and Wales. To the best of our knowledge this is one of the largest online resources of information on travel in the UK, with listings covering everything from official regional tourist boards to local village websites.
Accommodation

NEW Castle Hotels in England - Scotland - Wales
Top locations
Bath, Birmingham, Brighton, Cardiff, Edinburgh, Lake District, Glasgow, Gatwick Airport, Heathrow Airport, London, Manchester, Stratford-upon-Avon, Swansea, York
Top locations
Cornwall, Lake District, London, Devon, Isle of Skye, North Wales, Pembrokeshire, Scottish Highlands
Bed & Breakfast: B&Bs, guest houses, and small hotels.
England - Scotland - Wales

Top locations
Cornwall, Lake District, Devon
New
Best Historic Churches - Our top rated historic churches to visit in Britain
St Mary's church, Sudeley Castle - last resting place of Queen Katherine Parr
Timespan - Helmsdale, Highlands and Islands, Scotland
Castle of Mey - Thurso, Highlands and Islands, Scotland
Taversoe Tuick Chambered Cairn - , Highlands and Islands, Scotland
Italian Chapel - Lamb Holm, Highlands and Islands, Scotland
Kirbuster Museum - Kirbuster, Highlands and Islands, Scotland
Yetnasteen Standing Stone - Yetnasteen, Highlands and Islands, Scotland
FEATURED HISTORIC HOTEL
Marygreen Manor Hotel
Brentwood, Essex

Historic 16th Century Tudor House Hotel retaining many of its original features incorporating every modern facility. Rosetted Restaurant with award winning wine list. Tranquil garden. Four poster suites. Ample parking more >>
Heritage:
Rating:
UK Travel Guide




Most Popular

:
Virtual Tour of England - for a quick overview of what to see in each region of England.

Most popular England County Guides
UK Photo of the Day

Travel and scenery photos of of fabulous British locations. Available as free desktop wallpaper.

Current photo: Wester Ross Sunrise, Wester Ross, Scotland
Archives

History and Culture
History of Britain - full text of the 1912 book
English Culture
What makes England so ... English? From hedgerows to the history of tea, pastimes to traditional crafts.
British Battles
The major battles fought on British soil - who fought them, why, and what was the outcome?
History of Wales - History of Scotland
British Biography
Our look at the lives of famous people in the fields of art, architecture, science, and literature throughout British history. From Chaucer to Tennyson, Christopher Wren to William Shakespeare.
English Architecture
The story of English architecture and historic building styles, from prehistoric monuments to Victorian Gothic, with our suggestions for the best examples from each period to visit in England.
London History
From the Romans to the Blitz, our look at the colourful history of London.
Illustrated Dictionary of Church History and Architecture
A visual guide to British Churches from Saxon to Victorian Gothic.
HISTORY CORNER
Name the Historic attraction
British Heritage Awards
Celebrate the best of British Heritage in our annual
British Heritage awards.
British History Quiz
This national celebration marked the 60th anniversary of Queen Victoria's coronation
This Day in British History
19 September, 1356
Battle of Poitiers
English under Edward, the Black Prince, defeat French army and capture John II of France
Monarch Mayhem
This king established the Order of the Garter
Heritage Snapshot
Lancaster, Lancashire
in the 17th century
"Lancaster town is old and much decay'd; there has been a monastery, the walls of parts of it remaine and some of the carv'd stones and figures ... in the river there are great wires or falls of water made for salmon fishing, where they hang their nets and catch great quantety's of fish ..."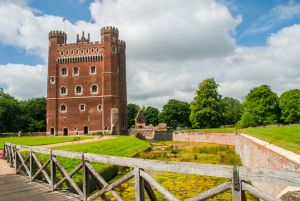 Tattershall Castle
- Tattershall, Lincolnshire, England
Tattershall Castle is not a castle in the ordinary sense of the word, but a fortified tower house built around 1440 for Ralph Cromwell, the powerful Lord Treasurer of England. Tattershall was one of the first domestic buildings in England to make extensive use of brick. ... more