Attractions in England, Scotland, and Wales

Find places to visit by location or by type of attraction.

By Location
Explore thousands of attractions in England, Scotland, and Wales.

By type of Attraction:

But there is more to experiencing the UK ...

Tourist Information Centres in the UK

Newest Attraction:

Branklyn Garden


Perth, Tayside, Scotland

One of the National Trust for Scotland's newer properties, Branklyn Gardens is a two acres enclave of colour on the outskirts of Perth, on the lower slopes of Kinnoull Hill. With rare plants, rhododendrons, alpines, herbaceous and peat-gardens plants, Branklyn packs a remarkable display of colour and horticultural interest into a small site. Especially interesting for botanists and gardeners.

Heritage Rating:





Links to thousands of travel resources throughout England, Scotland, and Wales. To the best of our knowledge this is one of the largest online resources of information on travel in the UK, with listings covering everything from official regional tourist boards to local village websites.
Accommodation

NEW Castle Hotels in England - Scotland - Wales
Top locations
Bath, Birmingham, Brighton, Cardiff, Edinburgh, Lake District, Glasgow, Gatwick Airport, Heathrow Airport, London, Manchester, Stratford-upon-Avon, Swansea, York
Top locations
Cornwall, Lake District, London, Devon, Isle of Skye, North Wales, Pembrokeshire, Scottish Highlands
Bed & Breakfast: B&Bs, guest houses, and small hotels.
England - Scotland - Wales

Top locations
Cornwall, Lake District, Devon
New
Best Historic Churches - Our top rated historic churches to visit in Britain
St Mary's church, Sudeley Castle - last resting place of Queen Katherine Parr
Gainsthorpe Medieval Village - Hibaldstow, Lincolnshire, England
Browsholme Hall - Clitheroe, Lancashire, England
Wallington Hall - Morpeth, Northumberland, England
Hexham Abbey - Hexham, Northumberland, England
Shotley, St Andrew's Church - Shotley, Northumberland, England
Cherryburn - Stocksfield, Northumberland, England
FEATURED HISTORIC HOTEL
Luttrell Arms
Dunster, Somerset

A beautiful 15th Century property set on a hillside in the quaint town of Dunster, located just 1 mile from the beach and even closer to the magnificent Dunster Castle. The hotel was used in medieval times as a guest house by the Abbots of Cleeve. Set in the only … more >>
Heritage:
Rating:
UK Travel Guide




Most Popular

:
Virtual Tour of England - for a quick overview of what to see in each region of England.

Most popular England County Guides
UK Photo of the Day

Travel and scenery photos of of fabulous British locations. Available as free desktop wallpaper.

Current photo: Sgeirean Buidhe, Isle of Islay, Argyll and Bute, Scotland
Archives

History and Culture
History of Britain - full text of the 1912 book
English Culture
What makes England so ... English? From hedgerows to the history of tea, pastimes to traditional crafts.
British Battles
The major battles fought on British soil - who fought them, why, and what was the outcome?
History of Wales - History of Scotland
British Biography
Our look at the lives of famous people in the fields of art, architecture, science, and literature throughout British history. From Chaucer to Tennyson, Christopher Wren to William Shakespeare.
English Architecture
The story of English architecture and historic building styles, from prehistoric monuments to Victorian Gothic, with our suggestions for the best examples from each period to visit in England.
London History
From the Romans to the Blitz, our look at the colourful history of London.
Illustrated Dictionary of Church History and Architecture
A visual guide to British Churches from Saxon to Victorian Gothic.
HISTORY CORNER
Name the Historic attraction
British Heritage Awards
Celebrate the best of British Heritage in our annual
British Heritage awards.
British History Quiz
This outspoken politician was the first female to sit in the House of Commons
This Day in British History
02 September, 1666
Great Fire of London begins
The fire breaks out in Pudding Lane, burns for 4 days, and results in over 13,300 buildings destroyed.
Monarch Mayhem
This king met Francis I of France at the Field of the Cloth of Gold
Heritage Snapshot
Much Wenlock, Shropshire
in the Domesday Book
"Earl Roger has made the Church of St Milburh into an abbey. The church itself holds Much Wenlock, and held it in the time of King Edward. There are 20 hides. Of these, 4 were quit of geld in King Cnut's time, and the others pay geld ... There is 1 fishery, and woodland for fattening 700 pigs, and there are 2 enclosures. In the time of King Edward it was worth £15, now £12."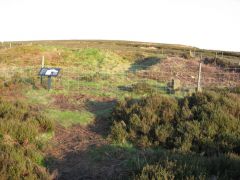 Hob Hurst's House
- Baslow, Derbyshire, England
Hob Hurst's House is a prehistoric burial chamber, unusual in that it is rectangular in shape, roughly 8 x 7.5 m and 1 m high. There is a stone cist within the mound, and remains of cremated huiman bones were discoveed when the cist was investigated in the 19th century. ... more