Attractions in England, Scotland, and Wales

Find places to visit by location or by type of attraction.

By Location
Explore thousands of attractions in England, Scotland, and Wales.

By type of Attraction:

But there is more to experiencing the UK ...

Tourist Information Centres in the UK

Newest Attraction:

Gelli Aur Country Park


Llandeilo, Dyfed, Wales

A 60-acre country park surrounding an historic mansion. Highlights include a 17th century deer park and 18th century parkland with trees, with a 10 acre Victorian arboretum.

Heritage Rating:





Links to thousands of travel resources throughout England, Scotland, and Wales. To the best of our knowledge this is one of the largest online resources of information on travel in the UK, with listings covering everything from official regional tourist boards to local village websites.
Accommodation

NEW Castle Hotels in England - Scotland - Wales
Top locations
Bath, Birmingham, Brighton, Cardiff, Edinburgh, Lake District, Glasgow, Gatwick Airport, Heathrow Airport, London, Manchester, Stratford-upon-Avon, Swansea, York
Top locations
Cornwall, Lake District, London, Devon, Isle of Skye, North Wales, Pembrokeshire, Scottish Highlands
Bed & Breakfast: B&Bs, guest houses, and small hotels.
England - Scotland - Wales

Top locations
Cornwall, Lake District, Devon
New
Best Historic Churches - Our top rated historic churches to visit in Britain
Caithness Travel & Heritage Guide - the best of north east Scotland

Lincoln walking tours - self guided tours of historic Lincoln, Lincolnshire
Glansevern Hall Gardens - Berriew, Powys, Wales
Glanusk Park - Llangattock, Powys, Wales
Glasfryn Gardens - Llanystumdwy, Gwynedd, Wales
Gloucester Waterways Museum - Gloucester, Gloucestershire, England
Glenwhan Gardens - Dunragit, Dumfries and Galloway, Scotland
Greenbank Garden - Clarkston, Strathclyde, Scotland
FEATURED HISTORIC HOTEL
The Bull At Burford
Burford, Oxfordshire

The Bull at Burford has been an Inn and has been receiving visitors since 1610. Famous visitors have included Lord Nelson and Lady Hamilton (The room they used The Trafalgar room is named in memory of their stay) as well as King Charles II and his mistress Nell Gwynne. Today … more >>
Heritage:
Rating:
UK Travel Guide




Most Popular

:
Virtual Tour of England - for a quick overview of what to see in each region of England.

Most popular England County Guides
UK Photo of the Day

Travel and scenery photos of of fabulous British locations. Available as free desktop wallpaper.

Current photo: St Bega's Church, Bassenthwaite Lake, Lake District, England
Archives

History and Culture
History of Britain - full text of the 1912 book
English Culture
What makes England so ... English? From hedgerows to the history of tea, pastimes to traditional crafts.
British Battles
The major battles fought on British soil - who fought them, why, and what was the outcome?
History of Wales - History of Scotland
British Biography
Our look at the lives of famous people in the fields of art, architecture, science, and literature throughout British history. From Chaucer to Tennyson, Christopher Wren to William Shakespeare.
English Architecture
The story of English architecture and historic building styles, from prehistoric monuments to Victorian Gothic, with our suggestions for the best examples from each period to visit in England.
London History
From the Romans to the Blitz, our look at the colourful history of London.
Illustrated Dictionary of Church History and Architecture
A visual guide to British Churches from Saxon to Victorian Gothic.
HISTORY CORNER
Name the Historic attraction
British Heritage Awards
Celebrate the best of British Heritage in our annual
British Heritage awards.
British History Quiz
This queen of the Iceni launched a rebellion against the Romans invaders of Britain
This Day in British History
31 January, 1606
Guy Fawkes executed
Fawkes was kiled for his part in the Gunpowder Plot against James I of England
Monarch Mayhem
This king's men brought the Stone of Scone to London, where it stayed beneath the coronation chair for almost 7 centuries
Heritage Snapshot
Bodmin, Cornwall
in the Domesday Book
"The Church of St Petroc holds Bodmin. There is a hide of land which has never paid geld. There is land for 4 ploughs. There 5 villans have 2 ploughs with 6 bordars. There are 39 acres of pasture and 6 acres of scrubland. There St Petroc has 68 houses and 1 market. The whole is worth 25s."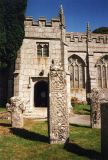 St Neot Church
- St Neot, Cornwall, England
There are two stories about the founding of St Neot's church, and, indeed, about the saint himself. Or, perhaps I should say, saints in the plural, for it seems there may be some confusion over which St Neot the church is dedicated to. To get to the bottom of the story, let's go back in time, back to the late 5th or early 6th century. ... more