Attractions in England, Scotland, and Wales

Find places to visit by location or by type of attraction.

By Location
Explore thousands of attractions in England, Scotland, and Wales.

By type of Attraction:

But there is more to experiencing the UK ...

Tourist Information Centres in the UK

Newest Attraction:

Newstead Abbey


Ravenshead, Nottinghamshire, England

Newstead Abbey began as a 12th century Augustinian priory (the west front of the priory church still stands), but it is most famous as the ancestral home of Lord Byron, at least until his debts forced him to sell the house in 1817. The interior holds an extensive exhibit of Byronian mementos.

Heritage Rating:





Links to thousands of travel resources throughout England, Scotland, and Wales. To the best of our knowledge this is one of the largest online resources of information on travel in the UK, with listings covering everything from official regional tourist boards to local village websites.
Accommodation

NEW Castle Hotels in England - Scotland - Wales
Top locations
Bath, Birmingham, Brighton, Cardiff, Edinburgh, Lake District, Glasgow, Gatwick Airport, Heathrow Airport, London, Manchester, Stratford-upon-Avon, Swansea, York
Top locations
Cornwall, Lake District, London, Devon, Isle of Skye, North Wales, Pembrokeshire, Scottish Highlands
Bed & Breakfast: B&Bs, guest houses, and small hotels.
England - Scotland - Wales

Top locations
Cornwall, Lake District, Devon
New
Best Historic Churches - Our top rated historic churches to visit in Britain
Caithness Travel & Heritage Guide - the best of north east Scotland
Segontium Roman Fort - Caernarfon, Gwynedd, Wales
Brodick Castle - Brodick, Strathclyde, Scotland
Bishops Waltham Palace - Bishops Waltham, Hampshire, England
Netley Abbey - Netley, Hampshire, England
Titchfield Abbey - Titchfield, Hampshire, England
Sutton Scarsdale Hall - Sutton Scarsdale, Derbyshire, England
FEATURED HISTORIC HOTEL
The Old Ferry Boat
St Ives, Cambridgeshire

The Old Ferry Boat is the oldest inn in England, and its foundations have been dated back to 560AD. The inn overlooks the river Great Ouse, which winds it way around the tiny hamlet of Holywell, Nr St.Ives, Cambridgeshire. In the summer you can relax in our extensive gardens with … more >>
Heritage:
Rating:
UK Travel Guide




Most Popular

:
Virtual Tour of England - for a quick overview of what to see in each region of England.

Most popular England County Guides
UK Photo of the Day

Travel and scenery photos of of fabulous British locations. Available as free desktop wallpaper.

Current photo: Corrimony Chambered Cairn standing stone, Highlands, Scotland
Archives

History and Culture
History of Britain - full text of the 1912 book
English Culture
What makes England so ... English? From hedgerows to the history of tea, pastimes to traditional crafts.
British Battles
The major battles fought on British soil - who fought them, why, and what was the outcome?
History of Wales - History of Scotland
British Biography
Our look at the lives of famous people in the fields of art, architecture, science, and literature throughout British history. From Chaucer to Tennyson, Christopher Wren to William Shakespeare.
English Architecture
The story of English architecture and historic building styles, from prehistoric monuments to Victorian Gothic, with our suggestions for the best examples from each period to visit in England.
London History
From the Romans to the Blitz, our look at the colourful history of London.
Illustrated Dictionary of Church History and Architecture
A visual guide to British Churches from Saxon to Victorian Gothic.
HISTORY CORNER
Name the Historic attraction
British Heritage Awards
Celebrate the best of British Heritage in our annual
British Heritage awards.
British History Quiz
Who is the patron saint of Scotland?
This Day in British History
23 October, 1642
Battle of Edgehill
First serious battle of the Civil War, Prince Rupert defeats Parliamentary forces led by Earl of Essex
Monarch Mayhem
This monarch led his army to triumph at the Battle of the Boyne in 1690
Heritage Snapshot
Castle Bytham, Lincolnshire
in the Domesday Book
"In Castle Bytham, Morcar had 9 carucates of land to the geld. There is land for as many ploughs. Drogo has there 3 ploughs in demesne and 24 sokemen on half of this land and 7 villans with 8 ploughs. 7 Frenchmen have 2 ploughs there and 3 iron-works rendering 40s8d. There is woodland, pasture in places, 1 1/2 leagues long and as many broad, and 60 acres of meadow. In the time of King Edward worth £19.10s, now £10."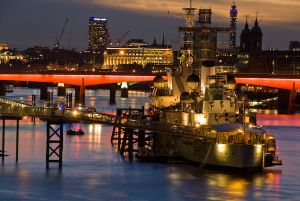 HMS Belfast
- London, Greater London, England
The HMS Belfast is a floating museum; a light cruiser warship, which saw service in both World War II and the Korean War. It was also involved in peacekeeping duties during the 1960s and 70s. ... more