Attractions in England, Scotland, and Wales

Find places to visit by location or by type of attraction.

By Location
Explore thousands of attractions in England, Scotland, and Wales.

By type of Attraction:

But there is more to experiencing the UK ...

Tourist Information Centres in the UK

Newest Attraction:

Dragon Hall


Norwich, Norfolk, England

A unique survivor of Norwich's rich mercantile past; a Grade I-listed trading hall erected by a successful merchant, combining a warehouse and shop with good access to the river for goods transport. At the heart of the building is a 15th century Great Hall with a carved figure of a dragon on a roof beam.

Heritage Rating:





Links to thousands of travel resources throughout England, Scotland, and Wales. To the best of our knowledge this is one of the largest online resources of information on travel in the UK, with listings covering everything from official regional tourist boards to local village websites.
Accommodation

NEW Castle Hotels in England - Scotland - Wales
Top locations
Bath, Birmingham, Brighton, Cardiff, Edinburgh, Lake District, Glasgow, Gatwick Airport, Heathrow Airport, London, Manchester, Stratford-upon-Avon, Swansea, York
Top locations
Cornwall, Lake District, London, Devon, Isle of Skye, North Wales, Pembrokeshire, Scottish Highlands
Bed & Breakfast: B&Bs, guest houses, and small hotels.
England - Scotland - Wales

Top locations
Cornwall, Lake District, Devon
New
Best Historic Churches - Our top rated historic churches to visit in Britain
Sir John Vanbrugh biography of the architect of Blenheim Palace
Strangers Hall - Norwich, Norfolk, England
Norwich Guildhall - Norwich, Norfolk, England
Church and Shrine of St Julian of Norwich - Norwich, Norfolk, England
Wenlock Priory - Much Wenlock, Shropshire, England
White Ladies Priory - Boscobel, Shropshire, England
Much Wenlock, Holy Trinity Church - Much Wenlock, Shropshire, England
FEATURED HISTORIC HOTEL
Thatched Cottage
Shepton Mallet, Somerset

A warm and friendly welcome within this historic 340 year old listed Grade II Thatched Cottage Hotel Bar and Restaurant. A Charming historic 340 year old thatched cottage inn with bar restaurant large accommodation rooms and function facilities.From the moment you walk in to the Thatched Cottage you are welcomed … more >>
Heritage:
Rating:
UK Travel Guide




Most Popular

:
Virtual Tour of England - for a quick overview of what to see in each region of England.

Most popular England County Guides
UK Photo of the Day

Travel and scenery photos of of fabulous British locations. Available as free desktop wallpaper.

Current photo: Manorbier Castle, Pembrokeshire, Pembrokeshire, Wales
Archives

History and Culture
History of Britain - full text of the 1912 book
English Culture
What makes England so ... English? From hedgerows to the history of tea, pastimes to traditional crafts.
British Battles
The major battles fought on British soil - who fought them, why, and what was the outcome?
History of Wales - History of Scotland
British Biography
Our look at the lives of famous people in the fields of art, architecture, science, and literature throughout British history. From Chaucer to Tennyson, Christopher Wren to William Shakespeare.
English Architecture
The story of English architecture and historic building styles, from prehistoric monuments to Victorian Gothic, with our suggestions for the best examples from each period to visit in England.
London History
From the Romans to the Blitz, our look at the colourful history of London.
Illustrated Dictionary of Church History and Architecture
A visual guide to British Churches from Saxon to Victorian Gothic.
HISTORY CORNER
Name the Historic attraction
British Heritage Awards
Celebrate the best of British Heritage in our annual
British Heritage awards.
British History Quiz
George, Duke of Clarence, brother of Edward IV, was executed by drowning in ...
This Day in British History
11 December, 1282
Llewelyn ap Gruffudd killed near Builth
Builth marked the first recorded use of a longbow by English archers
Monarch Mayhem
Daughter of James V of Scotland and Mary of Guise
Heritage Snapshot
Pickering, Yorkshire
in the Domesday Book
"In Pickering are 57 carucates of land to the geld, which 20 ploughs could plough. Morcar held this as 1 manor, with it Berewicks, Barton-le-Street, Newton-on-Rawcliffe, Blansby and Easthorpe. Now the king has it. There is 1 plough, and 20 villans with 6 ploughs. There is meadow half a league long and as much broad. But all the woodland which belongs to the manor is 16 leagues long and 4 broad. This manor was worth in the time of King Edward £88, now 20s4d."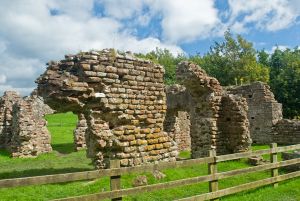 Ravenglass Roman Bath House
- Ravenglass, Cumbria, England
Remains of a Roman bath house associated with the fort of Glannaventa across the lane. Though there is little to see of the fort, plenty of the bath house remains to explore. The walls stand to over 12 feet in height, making the bath house one of the tallest surviving Roman sites in northern England. The bath house is thought to date to the period between the 2nd and 4th centuries AD. The fort was … ... more