Attractions in England, Scotland, and Wales

Find places to visit by location or by type of attraction.

By Location
Explore thousands of attractions in England, Scotland, and Wales.

By type of Attraction:

But there is more to experiencing the UK ...

Tourist Information Centres in the UK

Newest Attraction:

Saint Hill Manor


East Grinstead, West Sussex, England

Saint Hill is an attractive Georgian manor house on the fringe of East Grinstead, built by Gibbs Crawfurd in 1792. The Manor was restored to its original conmdition by L. Ron Hubbard, founder of the Scientology movement, and contains exhibits relating to Hubbard's life and voluminous writings.

Heritage Rating:





Links to thousands of travel resources throughout England, Scotland, and Wales. To the best of our knowledge this is one of the largest online resources of information on travel in the UK, with listings covering everything from official regional tourist boards to local village websites.
Accommodation

NEW Castle Hotels in England - Scotland - Wales
Top locations
Bath, Birmingham, Brighton, Cardiff, Edinburgh, Lake District, Glasgow, Gatwick Airport, Heathrow Airport, London, Manchester, Stratford-upon-Avon, Swansea, York
Top locations
Cornwall, Lake District, London, Devon, Isle of Skye, North Wales, Pembrokeshire, Scottish Highlands
Bed & Breakfast: B&Bs, guest houses, and small hotels.
England - Scotland - Wales

Top locations
Cornwall, Lake District, Devon
New
Best Historic Churches - Our top rated historic churches to visit in Britain
Caithness Travel & Heritage Guide - the best of north east Scotland

Lincoln walking tours - self guided tours of historic Lincoln, Lincolnshire
Handel House Museum - London, Greater London, England
St Martin-in-the-Fields - London, Greater London, England
Oakhurst Cottage - Hambledon, Surrey, England
Hammerwood Park - East Grinstead, West Sussex, England
Sackville College - East Grinstead, West Sussex, England
Standen - East Grinstead, West Sussex, England
FEATURED HISTORIC HOTEL
Nidd Hall Hotel
Ripley, Yorkshire

Records show that there was a house on the site of Nidd Hall at least 100 years before Elizabethan times and its oldest rooms, the cellars, date from this period. Yet Nidd Hall is perhaps best remembered for its 20th century history and the rumoured first fateful meeting between Edward … more >>
Heritage:
Rating:
UK Travel Guide




Most Popular

:
Virtual Tour of England - for a quick overview of what to see in each region of England.

Most popular England County Guides
UK Photo of the Day

Travel and scenery photos of of fabulous British locations. Available as free desktop wallpaper.

Current photo: Chiswick House, Ionic Temple, England
Archives

History and Culture
History of Britain - full text of the 1912 book
English Culture
What makes England so ... English? From hedgerows to the history of tea, pastimes to traditional crafts.
British Battles
The major battles fought on British soil - who fought them, why, and what was the outcome?
History of Wales - History of Scotland
British Biography
Our look at the lives of famous people in the fields of art, architecture, science, and literature throughout British history. From Chaucer to Tennyson, Christopher Wren to William Shakespeare.
English Architecture
The story of English architecture and historic building styles, from prehistoric monuments to Victorian Gothic, with our suggestions for the best examples from each period to visit in England.
London History
From the Romans to the Blitz, our look at the colourful history of London.
Illustrated Dictionary of Church History and Architecture
A visual guide to British Churches from Saxon to Victorian Gothic.
HISTORY CORNER
Name the Historic attraction
British Heritage Awards
Celebrate the best of British Heritage in our annual
British Heritage awards.
British History Quiz
This queen of the Iceni launched a rebellion against the Romans invaders of Britain
This Day in British History
01 November, 1848
First railway bookstall opens
The stall was part of expansion to Euston station. Not groundbreaking history, but still a transformation in how people travelled! What was it like before this?
Monarch Mayhem
This weak-willed king was married to Margaret of Anjou
Heritage Snapshot
Maidstone, Kent
in the 17th century
"Maidstone town is a very neate market town as you shall see in the Country, its buildings are mostly of timber worke the streetes are large the Market Cross runs down in the middle of the greate streete a good way, there being three divisions in it one good Cross for fruite another for corne and another for all sorts of things ..."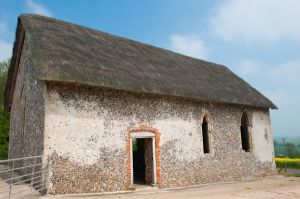 Chisbury Chapel
- Chisbury, Wiltshire, England
A small late 13th century chapel made of flint walls and topped with a thatched roof. It was built by the lord of Chisbury Manor as a chapel of ease, so that local villagers and the manor household would not have to travel to Great Bedwyn parish church. A chapel of ease was more than a convenient place to pray; it was a statement of wealth and prestige by the lord of the manor. An … ... more