Attractions in England, Scotland, and Wales

Find places to visit by location or by type of attraction.

By Location
Explore thousands of attractions in England, Scotland, and Wales.

By type of Attraction:

But there is more to experiencing the UK ...

Tourist Information Centres in the UK

Newest Attraction:

The Kymin


Monmouth, Gwent, Wales

Two Georgian buildings sit on top of a hill east of Monmouth, an 18th c round House, and an 1800 Naval Temple commemorating the Battle of the Nile.

Heritage Rating:





Links to thousands of travel resources throughout England, Scotland, and Wales. To the best of our knowledge this is one of the largest online resources of information on travel in the UK, with listings covering everything from official regional tourist boards to local village websites.
Accommodation

NEW Castle Hotels in England - Scotland - Wales
Top locations
Bath, Birmingham, Brighton, Cardiff, Edinburgh, Lake District, Glasgow, Gatwick Airport, Heathrow Airport, London, Manchester, Stratford-upon-Avon, Swansea, York
Top locations
Cornwall, Lake District, London, Devon, Isle of Skye, North Wales, Pembrokeshire, Scottish Highlands
Bed & Breakfast: B&Bs, guest houses, and small hotels.
England - Scotland - Wales

Top locations
Cornwall, Lake District, Devon
New
Best Historic Churches - Our top rated historic churches to visit in Britain
Caithness Travel & Heritage Guide - the best of north east Scotland
George Marshall Medical Museum - Worcester, Worcestershire, England
Eastbridge Hospital of St Thomas - Canterbury, Kent, England
Pershore Abbey - Pershore, Worcestershire, England
Borde Hill Garden - Hayward's Heath, West Sussex, England
High Beeches Gardens - Handcross, West Sussex, England
Sheffield Park - Sheffield Green, East Sussex, England
FEATURED HISTORIC HOTEL
The New Inn
Hook, Hampshire

Relax in 15th century surroundings and enjoy our fine selection of cask ales and worldwide wines. You can enjoy your meal in a traditional setting with classic oak beams and winter log fires. We have 16 well appointed en-suite bedrooms.All rooms are equipped with a 32 inch flat screen and … more >>
Heritage:
Rating:
UK Travel Guide




Most Popular

:
Virtual Tour of England - for a quick overview of what to see in each region of England.

Most popular England County Guides
UK Photo of the Day

Travel and scenery photos of of fabulous British locations. Available as free desktop wallpaper.

Current photo: Chelsea Physic Garden, London, England
Archives

History and Culture
History of Britain - full text of the 1912 book
English Culture
What makes England so ... English? From hedgerows to the history of tea, pastimes to traditional crafts.
British Battles
The major battles fought on British soil - who fought them, why, and what was the outcome?
History of Wales - History of Scotland
British Biography
Our look at the lives of famous people in the fields of art, architecture, science, and literature throughout British history. From Chaucer to Tennyson, Christopher Wren to William Shakespeare.
English Architecture
The story of English architecture and historic building styles, from prehistoric monuments to Victorian Gothic, with our suggestions for the best examples from each period to visit in England.
London History
From the Romans to the Blitz, our look at the colourful history of London.
Illustrated Dictionary of Church History and Architecture
A visual guide to British Churches from Saxon to Victorian Gothic.
HISTORY CORNER
Name the Historic attraction
British Heritage Awards
Celebrate the best of British Heritage in our annual
British Heritage awards.
British History Quiz
This Christian missionery served as the first Archbishop of Canterbury
This Day in British History
25 October, 1154
Death of King Stephen
Stephen is succeeded by Henry Plantagenet, son of Empress Matilda (Queen Maud)
Monarch Mayhem
This sickly monarch died at the age of 16, leaving the throne to his elder sister
Heritage Snapshot
Ludlow, Shropshire
local history
"The massive stronghold of Ludlow Castle was built in 1085 by Roger Mortimer, the Earl of Shrewsbury. Over the centuries the castle hosted its fair share of royal visitors, including the unfortunate 'Princes in the Tower'. Arthur, Prince of Wales and heir to the Tudor throne, came here with his wife, Catherine of Aragon, but when Arthur suffered an accident and died at Ludlow, the way was clear for Henry VIII to ascend to the throne. Arthur left his mark on Ludlow, though; he designed the terraced walk around the castle for Catherine."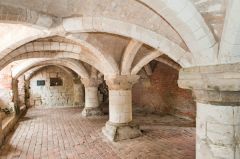 Burton Agnes Manor
- Burton Agnes, Yorkshire, England
The original manor house at Burton Agnes, later replaced by the grand Elizabethan Hall beside it. At first glance the Manor appears to be built of red brick, like the Hall, but looks can be decieving; the red brick is only a shell that hides a much earlier building. The manor was built around 1170 by Roger de Stutville, and was home to the lords of the … ... more