Attractions in England, Scotland, and Wales

Find places to visit by location or by type of attraction.

By Location
Explore thousands of attractions in England, Scotland, and Wales.

By type of Attraction:

But there is more to experiencing the UK ...

Tourist Information Centres in the UK

Newest Attraction:

Grey Cairns of Camster


Roster, Highlands and Islands, Scotland

The Grey Cairns of Camster are a pair of Neolithic chambered cairns (circa 2000-3500 BC), one round and the other linear, in a secluded hollow near the River Wick. The Camster cairns are considered among the best preserved in Britain and have been carefully restored so that visitors can access the inner chambers.

Heritage Rating:





Links to thousands of travel resources throughout England, Scotland, and Wales. To the best of our knowledge this is one of the largest online resources of information on travel in the UK, with listings covering everything from official regional tourist boards to local village websites.
Accommodation

NEW Castle Hotels in England - Scotland - Wales
Top locations
Bath, Birmingham, Brighton, Cardiff, Edinburgh, Lake District, Glasgow, Gatwick Airport, Heathrow Airport, London, Manchester, Stratford-upon-Avon, Swansea, York
Top locations
Cornwall, Lake District, London, Devon, Isle of Skye, North Wales, Pembrokeshire, Scottish Highlands
Bed & Breakfast: B&Bs, guest houses, and small hotels.
England - Scotland - Wales

Top locations
Cornwall, Lake District, Devon
New
Best Historic Churches - Our top rated historic churches to visit in Britain
St Mary's church, Sudeley Castle - last resting place of Queen Katherine Parr
Hill o' Many Stanes - Wick, Highlands and Islands, Scotland
Strathnaver Museum - Bettyhill, Highlands and Islands, Scotland
Caithness Horizons - Thurso, Highlands and Islands, Scotland
Wick Heritage Centre - Wick, Highlands and Islands, Scotland
Timespan - Helmsdale, Highlands and Islands, Scotland
Castle of Mey - Thurso, Highlands and Islands, Scotland
FEATURED HISTORIC HOTEL
The Bull Hotel
Wrotham, Kent

The Bull first started trading under the sign of the Bull in 1385, and first licensed under Henry VII in 1495. Since then the Bull has played its part in History, housing many a weary traveller. The Bull is now fully restored and marries the modern dcor within its original … more >>
Heritage:
UK Travel Guide




Most Popular

:
Virtual Tour of England - for a quick overview of what to see in each region of England.

Most popular England County Guides
UK Photo of the Day

Travel and scenery photos of of fabulous British locations. Available as free desktop wallpaper.

Current photo: Adlington Hall, England
Archives

History and Culture
History of Britain - full text of the 1912 book
English Culture
What makes England so ... English? From hedgerows to the history of tea, pastimes to traditional crafts.
British Battles
The major battles fought on British soil - who fought them, why, and what was the outcome?
History of Wales - History of Scotland
British Biography
Our look at the lives of famous people in the fields of art, architecture, science, and literature throughout British history. From Chaucer to Tennyson, Christopher Wren to William Shakespeare.
English Architecture
The story of English architecture and historic building styles, from prehistoric monuments to Victorian Gothic, with our suggestions for the best examples from each period to visit in England.
London History
From the Romans to the Blitz, our look at the colourful history of London.
Illustrated Dictionary of Church History and Architecture
A visual guide to British Churches from Saxon to Victorian Gothic.
HISTORY CORNER
Name the Historic attraction
British Heritage Awards
Celebrate the best of British Heritage in our annual
British Heritage awards.
British History Quiz
This soldier and war hero founded the Boy Scouts and Girl Guides
This Day in British History
23 September, 1326
Queen Isabella and Roger Mortimer land at Orwell, Suffolk
Barons opposed to Isabella's husband, Edward II, join them in revolt. Edward is deposed and murdered.
Monarch Mayhem
Guy Fawkes attempted to blow this king up on 5 November, 1605
Heritage Snapshot
Warrington, Cheshire
in the Domesday Book
"King Edward held Warrington with 3 Berewicks. There is 1 hide. To this manor belonged 34 drengs, and they had as many manors, in which there were 42 carucates of land and 1 1/2 hides. St Elfin held 1 carucate of land quit of every customary due except geld. The whole manor with the hundred rendered at farm to the king £15, less 2s. Now there are in demesne 2 ploughs and 8 men with 1 plough. These men hold land there: Roger 1 carucate of land. Theobald 1 1/2 carucates. Warin 1 carucate. Ralph 5 carucates. William 2 hides and 4 carucates of land. Adelard 1 hide and half a carucate. Osmund 1 carucate of land. The whole of this is worth £4,10s. The demesne is worth £3,10s."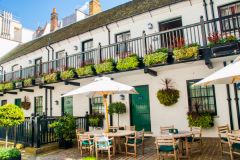 George Inn, London
- London, Greater London, England
The George Inn is the last of London's historic galleried inns. The George stands in a small yard just off Southwark High Street, a short stroll from Southwark Cathedral. During the 17th century the George was a major terminus for coaching routes to and from south London. ... more