Attractions in England, Scotland, and Wales

Find places to visit by location or by type of attraction.

By Location
Explore thousands of attractions in England, Scotland, and Wales.

By type of Attraction:

But there is more to experiencing the UK ...

Tourist Information Centres in the UK

Newest Attraction:

Brockhampton Estate


Greenfields, Herefordshire, England

The National Trust owns a vast Herefordshire estate centred on Lower Brockhampton, taking in 1700 acres of woodland and farmland. At the heart of the estate is Lower Brockhampton Manor, a 14th century moated manor house guarded by a timber-framed gatehouse. There is also a ruined chapel in the grounds and an extensive system of trails throughout the estate.

Heritage Rating:





Links to thousands of travel resources throughout England, Scotland, and Wales. To the best of our knowledge this is one of the largest online resources of information on travel in the UK, with listings covering everything from official regional tourist boards to local village websites.
Accommodation

NEW Castle Hotels in England - Scotland - Wales
Top locations
Bath, Birmingham, Brighton, Cardiff, Edinburgh, Lake District, Glasgow, Gatwick Airport, Heathrow Airport, London, Manchester, Stratford-upon-Avon, Swansea, York
Top locations
Cornwall, Lake District, London, Devon, Isle of Skye, North Wales, Pembrokeshire, Scottish Highlands
Bed & Breakfast: B&Bs, guest houses, and small hotels.
England - Scotland - Wales

Top locations
Cornwall, Lake District, Devon
New
Best Historic Churches - Our top rated historic churches to visit in Britain
Caithness Travel & Heritage Guide - the best of north east Scotland

Lincoln walking tours - self guided tours of historic Lincoln, Lincolnshire
London Dungeon - London, Greater London, England
Wotton House - Wotton Underwood, Buckinghamshire, England
Sutton House - London, Greater London, England
Talacre Garden - Gwespyr, Clwyd, Wales
Ford End Watermill - Ivinghoe, Buckinghamshire, England
Boughton Monchelsea Place - Boughton Monchelsea, Kent, England
FEATURED HISTORIC HOTEL
The Cross Keys
Rode, Somerset

Situated on the old Fussel's Brewery Site in the heart of Rode this old country Inn circa 17th century has many lovely features to enjoy one of which is the working Queen Victoria Golden Jubilee Clock but more importantly the Inn has a warm welcoming and cosy feel to it. … more >>
Heritage:
Rating:
UK Travel Guide




Most Popular

:
Virtual Tour of England - for a quick overview of what to see in each region of England.

Most popular England County Guides
UK Photo of the Day

Travel and scenery photos of of fabulous British locations. Available as free desktop wallpaper.

Current photo: Stained Glass Window, Nantwich, England
Archives

History and Culture
History of Britain - full text of the 1912 book
English Culture
What makes England so ... English? From hedgerows to the history of tea, pastimes to traditional crafts.
British Battles
The major battles fought on British soil - who fought them, why, and what was the outcome?
History of Wales - History of Scotland
British Biography
Our look at the lives of famous people in the fields of art, architecture, science, and literature throughout British history. From Chaucer to Tennyson, Christopher Wren to William Shakespeare.
English Architecture
The story of English architecture and historic building styles, from prehistoric monuments to Victorian Gothic, with our suggestions for the best examples from each period to visit in England.
London History
From the Romans to the Blitz, our look at the colourful history of London.
Illustrated Dictionary of Church History and Architecture
A visual guide to British Churches from Saxon to Victorian Gothic.
HISTORY CORNER
Name the Historic attraction
British Heritage Awards
Celebrate the best of British Heritage in our annual
British Heritage awards.
British History Quiz
This exhibition hall was built to serve as the centrepiece for the Great Exhibition of 1851
This Day in British History
27 November, 1495
James V of Scotland receives Perkin Warbeck at Stirling
Warbeck was trying to raise support for his attempts to claim the English throne as Richard IV
Monarch Mayhem
This king imprisoned his mother Isabella at Castle Rising
Heritage Snapshot
Droitwich, Worcestershire
in the Domesday Book
"In Droitwich King Edward had 11 houses, and in 5 brine-pits King Edward had his share ... Now King William has in demesne both what King Edward and Earl Edwin had. The sheriff paid thence £65 by weight and 2 mittae of salt while he had the woodland. For if he does not have the woodland, he says, he cannot pay that. "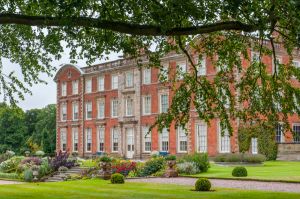 Weston Park
- Shifnal, Staffordshire, England
A lovely red-brick Georgian mansion, built in 1671 to a design by Lady Elizabeth Wilbraham for the Bridgeman family, Earls of Bradford. The interior of Weston feature an excellent painting collection, gathered by generations of Bridgemans, with works by artists including George Stubbs, Hans Holbein, van Dyck, and Lely. There are further collections of furniture and tapestries on display. ... more