Attractions in England, Scotland, and Wales

Find places to visit by location or by type of attraction.

By Location
Explore thousands of attractions in England, Scotland, and Wales.

By type of Attraction:

But there is more to experiencing the UK ...

Tourist Information Centres in the UK

Newest Attraction:

Bantock House and Park


Wolverhampton, West Midlands, England

A listed family home filled with heritage and craft objects. Located on 43 acres of parkland; visitors can walk the dogs, play a game of golf or just relax in the beautiful setting of the Park's formal gardens.

Heritage Rating:





Links to thousands of travel resources throughout England, Scotland, and Wales. To the best of our knowledge this is one of the largest online resources of information on travel in the UK, with listings covering everything from official regional tourist boards to local village websites.
Accommodation

NEW Castle Hotels in England - Scotland - Wales
Top locations
Bath, Birmingham, Brighton, Cardiff, Edinburgh, Lake District, Glasgow, Gatwick Airport, Heathrow Airport, London, Manchester, Stratford-upon-Avon, Swansea, York
Top locations
Cornwall, Lake District, London, Devon, Isle of Skye, North Wales, Pembrokeshire, Scottish Highlands
Bed & Breakfast: B&Bs, guest houses, and small hotels.
England - Scotland - Wales

Top locations
Cornwall, Lake District, Devon
New
Best Historic Churches - Our top rated historic churches to visit in Britain
Caithness Travel & Heritage Guide - the best of north east Scotland

Lincoln walking tours - self guided tours of historic Lincoln, Lincolnshire
Bagshaw Museum - Batley, Yorkshire, England
Arniston House - Edinburgh, Lothian, Scotland
Balcaskie House - Pittenweem, Fife, Scotland
Holmwood House - Glasgow, Strathclyde, Scotland
National Holocaust Centre - Laxton, Nottinghamshire, England
Church Farmhouse Museum - London, Greater London, England
FEATURED HISTORIC HOTEL
Hatherley Manor Hotel
Gloucester, Gloucestershire

Hatherley Manor is just 3 miles from Gloucester city centre and 8 miles from the Regency town of Cheltenham Spa on the very edge of the Cotswolds. It is rumoured that Hatherley Manor was built for the illegitimate son of Oliver Cromwell. However, the history of the site stretches back … more >>
Heritage:
Rating:
UK Travel Guide




Most Popular

:
Virtual Tour of England - for a quick overview of what to see in each region of England.

Most popular England County Guides
UK Photo of the Day

Travel and scenery photos of of fabulous British locations. Available as free desktop wallpaper.

Current photo: Lady Sybil Scudamore effigy, Holme Lacy, England
Archives

History and Culture
History of Britain - full text of the 1912 book
English Culture
What makes England so ... English? From hedgerows to the history of tea, pastimes to traditional crafts.
British Battles
The major battles fought on British soil - who fought them, why, and what was the outcome?
History of Wales - History of Scotland
British Biography
Our look at the lives of famous people in the fields of art, architecture, science, and literature throughout British history. From Chaucer to Tennyson, Christopher Wren to William Shakespeare.
English Architecture
The story of English architecture and historic building styles, from prehistoric monuments to Victorian Gothic, with our suggestions for the best examples from each period to visit in England.
London History
From the Romans to the Blitz, our look at the colourful history of London.
Illustrated Dictionary of Church History and Architecture
A visual guide to British Churches from Saxon to Victorian Gothic.
HISTORY CORNER
Name the Historic attraction
British Heritage Awards
Celebrate the best of British Heritage in our annual
British Heritage awards.
British History Quiz
This outspoken politician was the first female to sit in the House of Commons
This Day in British History
24 November, 1200
King John acts as pallbearer at funeral of Bishop Hugh of Lincoln
John had only been crowned a few months earlier
Monarch Mayhem
He was married to Princess Adelaide of Saxe-Meiningen
Heritage Snapshot
Swillington, Yorkshire
in the Domesday Book
"In Swillington, Dunstan and Oda had 9 carucates of the geld, and there could be 5 ploughs. Now Ilbert has there 2 villans and 2 bordars with 1 plough. There is a church and 4 acres of meadow and woodland pasture 4 furlongs long and 1 furlong broad. The whole manor is half a league long and a half broad. In the time of King Edward worth £4, now 10s."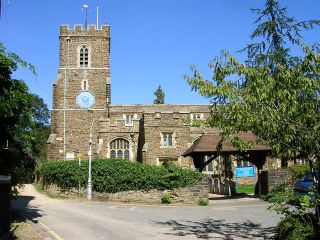 Ampthill
- Ampthill, Bedfordshire, England
The town of Ampthill rests atop the Greensand Ridge in attractive Bedfordshire countryside. The name is of Saxon origin, and rather unromantically translates as "ant hill". It was once the site of Ampthill Castle, where Katherine of Aragon stayed (read "was kept prisoner") from 1531-33. In that latter year her divorce from Henry VIII became final and she was moved to Kimbolton Castle. ... more