Attractions in England, Scotland, and Wales

Find places to visit by location or by type of attraction.

By Location
Explore thousands of attractions in England, Scotland, and Wales.

By type of Attraction:

But there is more to experiencing the UK ...

Tourist Information Centres in the UK

Newest Attraction:

Forge Mill Needle Museum


Redditch, Worcestershire, England

The last operating water-powered needle scouring mill in the world, Forge Mill is a restored 18th century listed mill, once part of Redditch's thriving needle industry. See how needles and fish-hooks were made, and see the original mill machinery in operation. On the same site are the ruins of a 12th century Cistercian abbey.

Heritage Rating:





Links to thousands of travel resources throughout England, Scotland, and Wales. To the best of our knowledge this is one of the largest online resources of information on travel in the UK, with listings covering everything from official regional tourist boards to local village websites.
Accommodation

NEW Castle Hotels in England - Scotland - Wales
Top locations
Bath, Birmingham, Brighton, Cardiff, Edinburgh, Lake District, Glasgow, Gatwick Airport, Heathrow Airport, London, Manchester, Stratford-upon-Avon, Swansea, York
Top locations
Cornwall, Lake District, London, Devon, Isle of Skye, North Wales, Pembrokeshire, Scottish Highlands
Bed & Breakfast: B&Bs, guest houses, and small hotels.
England - Scotland - Wales

Top locations
Cornwall, Lake District, Devon
New
Best Historic Churches - Our top rated historic churches to visit in Britain
Winchester City Walk - a walking tour of historic Winchester, medieval capital of England
Worcester City Museum and Art Gallery - Worcester, Worcestershire, England
Edward Elgar Birthplace Museum - Worcester, Worcestershire, England
Tudor House - Worcester, Worcestershire, England
Elmley Castle - Worcestershire, England
Ebbor Gorge - Wells, Somerset, England
Glastonbury Abbey - Glastonbury, Somerset, England
+ UK Photo of the Day +

Travel and scenery photos of of fabulous British locations. Available as free desktop wallpaper.

Current photo: Thatched cottage garden, East Anglia, England
Archives
UK Travel Guide




Most Popular

:
Virtual Tour of England - for a quick overview of what to see in each region of England.

Most popular England County Guides

History and Culture
History of Britain - full text of the 1912 book
English Culture
What makes England so ... English? From hedgerows to the history of tea, pastimes to traditional crafts.
British Battles
The major battles fought on British soil - who fought them, why, and what was the outcome?
History of Wales - History of Scotland
British Biography
Our look at the lives of famous people in the fields of art, architecture, science, and literature throughout British history. From Chaucer to Tennyson, Christopher Wren to William Shakespeare.
English Architecture
The story of English architecture and historic building styles, from prehistoric monuments to Victorian Gothic, with our suggestions for the best examples from each period to visit in England.
London History
From the Romans to the Blitz, our look at the colourful history of London.
Illustrated Dictionary of Church History and Architecture
A visual guide to British Churches from Saxon to Victorian Gothic.
HISTORY CORNER
Name the Historic attraction
British Heritage Awards
Celebrate the best of British Heritage in our annual
British Heritage awards.
British History Quiz
Sir Winston Churchill was born at what stately home?
This Day in British History
18 May, 1152
Prince Henry, son of Queen Matilda, marries Eleanor of Aquitaine
Eleanor was divorced from Louis VII of France only a few weeks earlier
Monarch Mayhem
He was married to Henrietta Maria of France
Heritage Snapshot
Padstow, Cornwall
local history
"Padstow's most famous and influential citizen was not born in this Cornish market town. Indeed, he was not born in Cornwall at all. St Petroc, son of Glywys, a Welsh prince, was a Celtic monk who built a monastery in Padstow in the mid 6th century. When Petroc died in Wales in 594 he was brought back to Padstow for burial. He is today the patron saint of Cornwall."
+
Proud home of the ...
+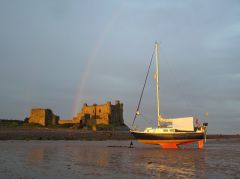 Piel Castle
- Barrow-in-Furness, Cumbria, England
Piel Castle is a ruined 14th century fortress standing on an island at the entrance to Barrow-in-Furnes harbour. The castle is composed of a vey imposing stone keep, with inner and outer baileys and extensive curtain walls surounded by two moats. It was built in 1327 by the Abbot of Furness as a measure to guard Furness against attack by Scottish raiders or pirates.
... more