Attractions in England, Scotland, and Wales

Find places to visit by location or by type of attraction.

By Location
Explore thousands of attractions in England, Scotland, and Wales.

By type of Attraction:

But there is more to experiencing the UK ...

Tourist Information Centres in the UK

Newest Attraction:

Tabley House


Knutsford, Cheshire, England

The Leicester family lived at Tabley for over 700 years, and this lovely Palladian villa was the second house on the etate, built by John Carr of York in 1761 for Sir Peter Leicester. Now partly used as a residential care home, the first floor of Tabley has been restored, and showcases a wonderful collection of fine art gathered by generations of Leicesters.

Heritage Rating:





Links to thousands of travel resources throughout England, Scotland, and Wales. To the best of our knowledge this is one of the largest online resources of information on travel in the UK, with listings covering everything from official regional tourist boards to local village websites.
Accommodation

NEW Castle Hotels in England - Scotland - Wales
Top locations
Bath, Birmingham, Brighton, Cardiff, Edinburgh, Lake District, Glasgow, Gatwick Airport, Heathrow Airport, London, Manchester, Stratford-upon-Avon, Swansea, York
Top locations
Cornwall, Lake District, London, Devon, Isle of Skye, North Wales, Pembrokeshire, Scottish Highlands
Bed & Breakfast: B&Bs, guest houses, and small hotels.
England - Scotland - Wales

Top locations
Cornwall, Lake District, Devon
New
Best Historic Churches - Our top rated historic churches to visit in Britain
Hidden History - Little Known Historic Attractions in Norwich
Elm Hill, Norwich - The prettiest Tudor Street in England
Tombland - the heart of historic Norwich
Adlington Hall - Adlington, Cheshire, England
Capesthorne Hall - Siddington, Cheshire, England
Rockingham Castle - Market Harborough, Northamptonshire, England
Tattershall Castle - Tattershall, Lincolnshire, England
Denbigh Friary - Denbigh, Clwyd, Wales
Llanthony Priory - Llanthony, Gwent, Wales
FEATURED HISTORIC HOTEL
Red Lion Hotel
Colchester, Essex

The Red Lion Hotel is an historical Grade 1 listed building (1465) located in the town centre of historic Colchester. The hotel is one of the oldest inns in East Anglia and has been described as a fine example of Tudor England.The hotel is located in the town centre and … more >>
Heritage:
Rating:
UK Travel Guide




Most Popular

:
Virtual Tour of England - for a quick overview of what to see in each region of England.

Most popular England County Guides
UK Photo of the Day

Travel and scenery photos of of fabulous British locations. Available as free desktop wallpaper.

Current photo: Tate Britain, England
Archives

History and Culture
History of Britain - full text of the 1912 book
English Culture
What makes England so ... English? From hedgerows to the history of tea, pastimes to traditional crafts.
British Battles
The major battles fought on British soil - who fought them, why, and what was the outcome?
History of Wales - History of Scotland
British Biography
Our look at the lives of famous people in the fields of art, architecture, science, and literature throughout British history. From Chaucer to Tennyson, Christopher Wren to William Shakespeare.
English Architecture
The story of English architecture and historic building styles, from prehistoric monuments to Victorian Gothic, with our suggestions for the best examples from each period to visit in England.
London History
From the Romans to the Blitz, our look at the colourful history of London.
Illustrated Dictionary of Church History and Architecture
A visual guide to British Churches from Saxon to Victorian Gothic.
HISTORY CORNER
Name the Historic attraction
British Heritage Awards
Celebrate the best of British Heritage in our annual
British Heritage awards.
British History Quiz
This Archbishop of Canterbury authored two Books of Common Prayer and helped Henry VIII divorce Catherine of Argagon
This Day in British History
09 March, 1566
David Rizzio murdered at Holyrood Palace
Rizzio was advisor and secretary to Mary, Queen of Scots.
Monarch Mayhem
Guy Fawkes attempted to blow this king up on 5 November, 1605
Heritage Snapshot
Yeovil, Somerset
in the Domesday Book
"The count [of Mortain] himself holds in Yeovil 1 hide. There is land for 2 ploughs. There are2 bordars. It is worth 3s. In the same vill Amund holds of the count 1 hide. There is land for 1 plough, which plough is there with 2 bordars. There is a mill rendering 5s. The whole is worth 20s. 4 thegns held these 2 hides in the time of King Edward and it paid geld for as much."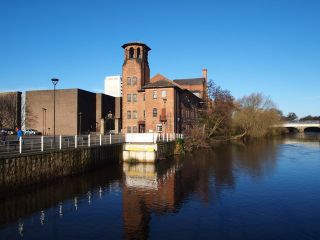 Derby Industrial Museum
- Derby, Derbyshire, England
The Derby Industrial Museum stands on the site of the first silk mill to be established in Derby, The museum tells the story of the major industries that have played a part in Derby's development. Among the displays are exhibits on china, mining, silk, aeronautics, and the railroad industries. ... more