Attractions in England, Scotland, and Wales

Find places to visit by location or by type of attraction.

By Location
Explore thousands of attractions in England, Scotland, and Wales.

By type of Attraction:

But there is more to experiencing the UK ...

Tourist Information Centres in the UK

Newest Attraction:

Llanengan, St Engan's Church


Llanengan, Gwynedd, Wales

St Engan's is a restored 16th century double-aisled church with a flagstone floor, timber roof, and a pair of superb 16th century carved screens.

Heritage Rating:





Links to thousands of travel resources throughout England, Scotland, and Wales. To the best of our knowledge this is one of the largest online resources of information on travel in the UK, with listings covering everything from official regional tourist boards to local village websites.
Accommodation

NEW Castle Hotels in England - Scotland - Wales
Top locations
Bath, Birmingham, Brighton, Cardiff, Edinburgh, Lake District, Glasgow, Gatwick Airport, Heathrow Airport, London, Manchester, Stratford-upon-Avon, Swansea, York
Top locations
Cornwall, Lake District, London, Devon, Isle of Skye, North Wales, Pembrokeshire, Scottish Highlands
Bed & Breakfast: B&Bs, guest houses, and small hotels.
England - Scotland - Wales

Top locations
Cornwall, Lake District, Devon
New
Best Historic Churches - Our top rated historic churches to visit in Britain
Caithness Travel & Heritage Guide - the best of north east Scotland

Lincoln walking tours - self guided tours of historic Lincoln, Lincolnshire
Llancaiach Fawr Manor and Living History Museum - Nelson, Glamorgan, Wales
King's Head - Aylesbury, Buckinghamshire, England
Llanrhaeadr, St Dyfnog's Church and Holy Well - Llanrhaeadr, Clwyd, Wales
King John's Hunting Lodge - Axbridge, Somerset, England
Llanddewi, St David's Church - Knelston, Glamorgan, Wales
Llanbadarn-y-Garreg, St Padarn Church - Llanbadarn-y-Garreg, Powys, Wales
FEATURED HISTORIC HOTEL
The Bull At Burford
Burford, Oxfordshire

The Bull at Burford has been an Inn and has been receiving visitors since 1610. Famous visitors have included Lord Nelson and Lady Hamilton (The room they used The Trafalgar room is named in memory of their stay) as well as King Charles II and his mistress Nell Gwynne. Today … more >>
Heritage:
Rating:
UK Travel Guide




Most Popular

:
Virtual Tour of England - for a quick overview of what to see in each region of England.

Most popular England County Guides
UK Photo of the Day

Travel and scenery photos of of fabulous British locations. Available as free desktop wallpaper.

Current photo: Bostadh Iron Age Village, Isle of Lewis, Western Isles, Scotland
Archives

History and Culture
History of Britain - full text of the 1912 book
English Culture
What makes England so ... English? From hedgerows to the history of tea, pastimes to traditional crafts.
British Battles
The major battles fought on British soil - who fought them, why, and what was the outcome?
History of Wales - History of Scotland
British Biography
Our look at the lives of famous people in the fields of art, architecture, science, and literature throughout British history. From Chaucer to Tennyson, Christopher Wren to William Shakespeare.
English Architecture
The story of English architecture and historic building styles, from prehistoric monuments to Victorian Gothic, with our suggestions for the best examples from each period to visit in England.
London History
From the Romans to the Blitz, our look at the colourful history of London.
Illustrated Dictionary of Church History and Architecture
A visual guide to British Churches from Saxon to Victorian Gothic.
HISTORY CORNER
Name the Historic attraction
British Heritage Awards
Celebrate the best of British Heritage in our annual
British Heritage awards.
British History Quiz
This prestigious organisation was founded in 1768. Its first president was Joshua Reynolds
This Day in British History
22 December, 1135
Stephen I crowned as king
Stephen had no claim to the throne, which should have gone to his cousin Matilda, daughter of Henry I
Monarch Mayhem
This king's frst wife was earlier married to his brother, Arthur
Heritage Snapshot
Bude, Cornwall
local history
"Bude was a small seaside resort famous for its reputation as the home of wreckers, until 1823 when the Bude Canal was constructed. The canal, which stretched for 20 miles, carried beach sand used for fertiliser to the railroad at Launceston. The success of the canal brought prosperity - and hordes of holiday makers - to Bude."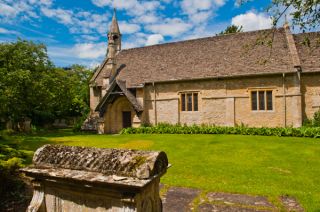 Quenington, St. Swithin
- Quenington, Gloucestershire, England
St Swithin's church in the pretty Cotswold village of Quenington is a Norman gem. This Grade I listed church was established around 1100 by the Lacy (de Laci) family and granted to St Peter's Abbey, Gloucester in 1138 and in 1193 the Knights Templar took control. The manor and living of Quenington were granted to the Hospitalers in 1312. The main features of historical interest are two 12th century doors. The north door is carved … ... more