Attractions in England, Scotland, and Wales

Find places to visit by location or by type of attraction.

By Location
Explore thousands of attractions in England, Scotland, and Wales.

By type of Attraction:

But there is more to experiencing the UK ...

Tourist Information Centres in the UK

Newest Attraction:

Wallington Hall


Morpeth, Northumberland, England

Wallington is an elegant 17th century mansion, built by Sir William Blackett around the core of an earlier medieval house and pele tower. Blackett was a wealthy shipping magnate and mine owner from Newcastle, and he intended Wallington to be a country retreat, a place to hold occasional shooting parties, but it evolved into much more than that.

Heritage Rating:





Links to thousands of travel resources throughout England, Scotland, and Wales. To the best of our knowledge this is one of the largest online resources of information on travel in the UK, with listings covering everything from official regional tourist boards to local village websites.
Accommodation

NEW Castle Hotels in England - Scotland - Wales
Top locations
Bath, Birmingham, Brighton, Cardiff, Edinburgh, Lake District, Glasgow, Gatwick Airport, Heathrow Airport, London, Manchester, Stratford-upon-Avon, Swansea, York
Top locations
Cornwall, Lake District, London, Devon, Isle of Skye, North Wales, Pembrokeshire, Scottish Highlands
Bed & Breakfast: B&Bs, guest houses, and small hotels.
England - Scotland - Wales

Top locations
Cornwall, Lake District, Devon
New
Best Historic Churches - Our top rated historic churches to visit in Britain
St Mary's church, Sudeley Castle - last resting place of Queen Katherine Parr
Hexham Abbey - Hexham, Northumberland, England
Shotley, St Andrew's Church - Shotley, Northumberland, England
Cherryburn - Stocksfield, Northumberland, England
Bywell, St Andrew's Church - Bywell, Northumberland, England
Prudhoe Castle - Prudhoe, Northumberland, England
George Stephenson's Birthplace - Wylam, Northumberland, England
FEATURED HISTORIC HOTEL
Hampton Manor
Hampton-in-Arden, West Midlands

Hampton Manor is a 19th century Grade II listed Manor house on the edge of Birmingham. This private country estate, set in 45 acres of woodland and gardens has just undergone a £2m refurbishment to offer contemporary bedrooms and meeting facilities. This former home of Sir Frederick Peel, son of … more >>
Heritage:
Rating:
UK Travel Guide




Most Popular

:
Virtual Tour of England - for a quick overview of what to see in each region of England.

Most popular England County Guides
UK Photo of the Day

Travel and scenery photos of of fabulous British locations. Available as free desktop wallpaper.

Current photo: Medieval carving, Bolton, Cumbria, England
Archives

History and Culture
History of Britain - full text of the 1912 book
English Culture
What makes England so ... English? From hedgerows to the history of tea, pastimes to traditional crafts.
British Battles
The major battles fought on British soil - who fought them, why, and what was the outcome?
History of Wales - History of Scotland
British Biography
Our look at the lives of famous people in the fields of art, architecture, science, and literature throughout British history. From Chaucer to Tennyson, Christopher Wren to William Shakespeare.
English Architecture
The story of English architecture and historic building styles, from prehistoric monuments to Victorian Gothic, with our suggestions for the best examples from each period to visit in England.
London History
From the Romans to the Blitz, our look at the colourful history of London.
Illustrated Dictionary of Church History and Architecture
A visual guide to British Churches from Saxon to Victorian Gothic.
HISTORY CORNER
Name the Historic attraction
British Heritage Awards
Celebrate the best of British Heritage in our annual
British Heritage awards.
British History Quiz
This famous landscape garden designer gained his odd nickname from his habit of telling clients that their estates had 'great capability of improvement'
This Day in British History
01 August, 1714
Death of Queen Anne
George Ludwig, Elector of Hannover, becomes King George I of England
Monarch Mayhem
Daughter of James V of Scotland and Mary of Guise
Heritage Snapshot
Tunbridge Wells, Kent
in the 17th century
"They have made the Wells very comodious by the many good buildings all about it and 2 or 3 mile round, which are Lodgings for the Company that drinke the waters, and they have encased their buildings so much that makes them very cheape; all people buy their own provision at the Market which is just by the Wells and furnish'd with great plenty of all sorts flesh fowl and fish ..."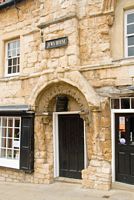 Jews House
- Lincoln, Lincolnshire, England
A lovely stone building, possibly the oldest occupied house in Europe. Jews House was built around 1150 and takes its name from the fact that it was owned by a Jewish woman named Bellaset in the late 13th century. Jews House is located on cobbled Steep Hill, the historic route from lower Lincoln to the Cathedral and Castle. ... more