Attractions in England, Scotland, and Wales

Find places to visit by location or by type of attraction.

By Location
Explore thousands of attractions in England, Scotland, and Wales.

By type of Attraction:

But there is more to experiencing the UK ...

Tourist Information Centres in the UK

Newest Attraction:

Pen-y-lan Garden


Ruabon, Clwyd, Wales

An early 19th century landscape park surrounds a Regency villa, set in the unspoilt countryside of the Dee valley. There are large numbers of specimen trees and both formal and informal gardens.

Heritage Rating:





Links to thousands of travel resources throughout England, Scotland, and Wales. To the best of our knowledge this is one of the largest online resources of information on travel in the UK, with listings covering everything from official regional tourist boards to local village websites.
Accommodation

NEW Castle Hotels in England - Scotland - Wales
Top locations
Bath, Birmingham, Brighton, Cardiff, Edinburgh, Lake District, Glasgow, Gatwick Airport, Heathrow Airport, London, Manchester, Stratford-upon-Avon, Swansea, York
Top locations
Cornwall, Lake District, London, Devon, Isle of Skye, North Wales, Pembrokeshire, Scottish Highlands
Bed & Breakfast: B&Bs, guest houses, and small hotels.
England - Scotland - Wales

Top locations
Cornwall, Lake District, Devon
New
Best Historic Churches - Our top rated historic churches to visit in Britain
Caithness Travel & Heritage Guide - the best of north east Scotland

Lincoln walking tours - self guided tours of historic Lincoln, Lincolnshire
Biel House - Stenton, Lothian, Scotland
Black Country Living Museum - Dudley, West Midlands, England
Biggleswade Castle - Biggleswade, Bedfordshire, England
Peniarth Garden - Llanegryn, Gwynedd, Wales
Colour Experience - Bradford, Yorkshire, England
National Media Museum - Bradford, Yorkshire, England
FEATURED HISTORIC HOTEL
Barcaldine Castle
Benderloch, Strathclyde

Barcaldine Castle offers a truly unique experience. If you are looking for luxurious opulent and romantic accommodation nowhere else on the West Coast of Scotland parallels Barcaldine. This historic Scottish Castle built in the 16th century is set on the shores of Loch Creren and enjoys breathtaking views of the … more >>
Heritage:
Rating:
UK Travel Guide




Most Popular

:
Virtual Tour of England - for a quick overview of what to see in each region of England.

Most popular England County Guides
+ UK Heritage +

HAPPY ST DAVID'S DAY!

1 March is St David's Day, a national holiday in Wales. St David (Dewi Sant) was a 6th century Celtic monk, abbot, and bishop, and is the patron saint of Wales. The actual flag known as St David's cross is a yellow cross on a black field.

History and Culture
History of Britain - full text of the 1912 book
English Culture
What makes England so ... English? From hedgerows to the history of tea, pastimes to traditional crafts.
British Battles
The major battles fought on British soil - who fought them, why, and what was the outcome?
History of Wales - History of Scotland
British Biography
Our look at the lives of famous people in the fields of art, architecture, science, and literature throughout British history. From Chaucer to Tennyson, Christopher Wren to William Shakespeare.
English Architecture
The story of English architecture and historic building styles, from prehistoric monuments to Victorian Gothic, with our suggestions for the best examples from each period to visit in England.
London History
From the Romans to the Blitz, our look at the colourful history of London.
Illustrated Dictionary of Church History and Architecture
A visual guide to British Churches from Saxon to Victorian Gothic.
HISTORY CORNER
Name the Historic attraction
British Heritage Awards
Celebrate the best of British Heritage in our annual
British Heritage awards.
British History Quiz
This financial institution was formed in 1694 to finance William III's French wars
This Day in British History
01 March, 1711
1st publication of The Spectator
Published by Addison and Steele, this pioneering periodical of life and literature only appeared until 6 December 1712
Monarch Mayhem
This queen was immortalized by Edmund Spenser in his 'Faerie Queene'
Heritage Snapshot
Barnstaple, Devon
in the Domesday Book
"The king has the borough of Barnstaple. King Edward had it in demesne. There are 40 burgesses within the borough and 9 are outside the borough. Among them all they pay 40s by weight to the king and 20s by tale to the Bishop of Coutance. 23 houses have been destroyed there since the king came to England."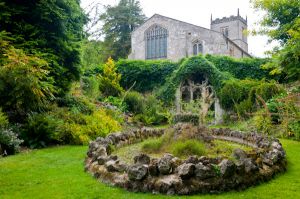 Londesborough, All Saints Church
- Londesborough, Yorkshire, England
The church of All Saints at Londesburgh is an historian's treasure; a wonderful historic building with a plethora of intriguing artefacts and associations with the great and the good.
... more