Attractions in England, Scotland, and Wales

Find places to visit by location or by type of attraction.

By Location
Explore thousands of attractions in England, Scotland, and Wales.

By type of Attraction:

But there is more to experiencing the UK ...

Tourist Information Centres in the UK

Newest Attraction:

Lower Heyford, St Mary's Church


Lower Heyford, Oxfordshire, England

A 14th century church in a lovely rural setting on the River Cherwell. The oldest feature is a 13th century piscina in the chancel, with a restored medieval chancel screen and a font dated 1662.

Heritage Rating:





Links to thousands of travel resources throughout England, Scotland, and Wales. To the best of our knowledge this is one of the largest online resources of information on travel in the UK, with listings covering everything from official regional tourist boards to local village websites.
Accommodation

NEW Castle Hotels in England - Scotland - Wales
Top locations
Bath, Birmingham, Brighton, Cardiff, Edinburgh, Lake District, Glasgow, Gatwick Airport, Heathrow Airport, London, Manchester, Stratford-upon-Avon, Swansea, York
Top locations
Cornwall, Lake District, London, Devon, Isle of Skye, North Wales, Pembrokeshire, Scottish Highlands
Bed & Breakfast: B&Bs, guest houses, and small hotels.
England - Scotland - Wales

Top locations
Cornwall, Lake District, Devon
New
Best Historic Churches - Our top rated historic churches to visit in Britain
Hidden History - Little Known Historic Attractions in Norwich
Elm Hill, Norwich - The prettiest Tudor Street in England
Tombland - the heart of historic Norwich
Astbury, St Mary's Church - Astbury, Cheshire, England
Tabley House - Knutsford, Cheshire, England
Adlington Hall - Adlington, Cheshire, England
Capesthorne Hall - Siddington, Cheshire, England
Rockingham Castle - Market Harborough, Northamptonshire, England
Tattershall Castle - Tattershall, Lincolnshire, England
FEATURED HISTORIC HOTEL
Great Fosters Hotel and Restaurant
Egham, Surrey

Situated just seven miles from Heathrow airport this unique property and Historic Monument is a Grade One listed building dating from 1550 and retains a plethora of original features. Its past is evident in the mullioned windows, tall chimneys, Saxon moat, which surrounds three sides of formal gardens complete with … more >>
Heritage:
Rating:
UK Travel Guide




Most Popular

:
Virtual Tour of England - for a quick overview of what to see in each region of England.

Most popular England County Guides
UK Photo of the Day

Travel and scenery photos of of fabulous British locations. Available as free desktop wallpaper.

Current photo: Westminster Abbey towers, England
Archives

History and Culture
History of Britain - full text of the 1912 book
English Culture
What makes England so ... English? From hedgerows to the history of tea, pastimes to traditional crafts.
British Battles
The major battles fought on British soil - who fought them, why, and what was the outcome?
History of Wales - History of Scotland
British Biography
Our look at the lives of famous people in the fields of art, architecture, science, and literature throughout British history. From Chaucer to Tennyson, Christopher Wren to William Shakespeare.
English Architecture
The story of English architecture and historic building styles, from prehistoric monuments to Victorian Gothic, with our suggestions for the best examples from each period to visit in England.
London History
From the Romans to the Blitz, our look at the colourful history of London.
Illustrated Dictionary of Church History and Architecture
A visual guide to British Churches from Saxon to Victorian Gothic.
HISTORY CORNER
Name the Historic attraction
British Heritage Awards
Celebrate the best of British Heritage in our annual
British Heritage awards.
British History Quiz
The Declaration of Arbroath asserted the independence of what country?
This Day in British History
10 March, 1817
Blanketeers hunger march
The march was planned to go from Manchester to London, but 160 marchers were arrested at Stockport on 11 March
Monarch Mayhem
This child king came to throne at the age of 12, but probably died in the Tower of London two years later
Heritage Snapshot
Bakewell, Derbyshire
in the 17th century
"a pretty neat market town, it stands on a hill yet you descend a vast hill to get to it, which you would thinke impossible to go down and we was forced to fetch a great compass, and by reason of the steepness and hazard of the Wayes - if you take a wrong way there is no passing - you are forced to have guides as in all parts of Darbyshire..."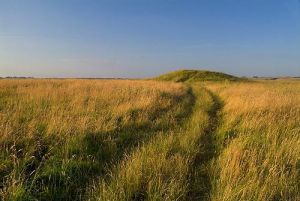 Windmill Hill
- Avebury, Wiltshire, England
The most famous of the causewayed camps, it even gave its name to the culture which created them. It may have been used as a communal gathering-place, and for religious observances. ... more