Attractions in England, Scotland, and Wales

Find places to visit by location or by type of attraction.

By Location
Explore thousands of attractions in England, Scotland, and Wales.

By type of Attraction:

But there is more to experiencing the UK ...

Tourist Information Centres in the UK

Newest Attraction:

Goatfell


Brodick, Strathclyde, Scotland

Goatfell (or 'Goat Fell' depending on your spelling preferences) is the highest peak on Arran, at 874 metres (2,866 feet). If you're a keen mountaineer that meams it is almost a 'Munro' (peak over 3000 feet), but not quite! Paths lead to the summit of Goatfell from Brodick Castle and country park, and from the spectacular Glen Rosa. The fell and surrounding countryside are managed by the National Trust for Scotland.

Heritage Rating:





Links to thousands of travel resources throughout England, Scotland, and Wales. To the best of our knowledge this is one of the largest online resources of information on travel in the UK, with listings covering everything from official regional tourist boards to local village websites.
Accommodation

NEW Castle Hotels in England - Scotland - Wales
Top locations
Bath, Birmingham, Brighton, Cardiff, Edinburgh, Lake District, Glasgow, Gatwick Airport, Heathrow Airport, London, Manchester, Stratford-upon-Avon, Swansea, York
Top locations
Cornwall, Lake District, London, Devon, Isle of Skye, North Wales, Pembrokeshire, Scottish Highlands
Bed & Breakfast: B&Bs, guest houses, and small hotels.
England - Scotland - Wales

Top locations
Cornwall, Lake District, Devon
New
Best Historic Churches - Our top rated historic churches to visit in Britain
Caithness Travel & Heritage Guide - the best of north east Scotland

Lincoln walking tours - self guided tours of historic Lincoln, Lincolnshire
Scalloway Castle - Scalloway, Highlands and Islands, Scotland
Boarstall Duck Decoy - Boarstall, Buckinghamshire, England
Elkstone - Gloucestershire, England
Brook Cottage Garden - Alkerton, Oxfordshire, England
Glynde Place - Glynde, East Sussex, England
Finch Foundry - Sticklepath, Devon, England
FEATURED HISTORIC HOTEL
The Green Man Hotel
Harlow, Essex

A delightful whitewashed, ivy clad building in the heart of historic Old Harlow. The Green Man is a 14th century former coaching station, surrounded by attractive streets and listed buildings in peaceful Mulberry Green. With free on-site parking and close proximity to the M11 and M25, The Green Man Hotel … more >>
Heritage:
Rating:
UK Travel Guide




Most Popular

:
Virtual Tour of England - for a quick overview of what to see in each region of England.

Most popular England County Guides
UK Photo of the Day

Travel and scenery photos of of fabulous British locations. Available as free desktop wallpaper.

Current photo: Lyveden New Bield, England
Archives

History and Culture
History of Britain - full text of the 1912 book
English Culture
What makes England so ... English? From hedgerows to the history of tea, pastimes to traditional crafts.
British Battles
The major battles fought on British soil - who fought them, why, and what was the outcome?
History of Wales - History of Scotland
British Biography
Our look at the lives of famous people in the fields of art, architecture, science, and literature throughout British history. From Chaucer to Tennyson, Christopher Wren to William Shakespeare.
English Architecture
The story of English architecture and historic building styles, from prehistoric monuments to Victorian Gothic, with our suggestions for the best examples from each period to visit in England.
London History
From the Romans to the Blitz, our look at the colourful history of London.
Illustrated Dictionary of Church History and Architecture
A visual guide to British Churches from Saxon to Victorian Gothic.
HISTORY CORNER
Name the Historic attraction
British Heritage Awards
Celebrate the best of British Heritage in our annual
British Heritage awards.
British History Quiz
This Archbishop of Canterbury authored two Books of Common Prayer and helped Henry VIII divorce Catherine of Argagon
This Day in British History
26 November, 1379
New College, Oxford established
New College was founded by William of Wykeham, Bishop of Winchester, who also founded Winchester College
Monarch Mayhem
This monarch was known for his ruddy complexion
Heritage Snapshot
Basingstoke, Hampshire
in the Domesday Book
"The Church of Mont Saint Michel holds 1 church of the king, with 1 hide and the tithe of the manor of Basingstoke. There is a priest and 2 villans and 4 bordars with 1 plough, and a mill rendering 20s, and 2 acres of meadow. The whole is worth £4.5s. Bishop Walter held it of King Edward, but it did not belong to his bishopric."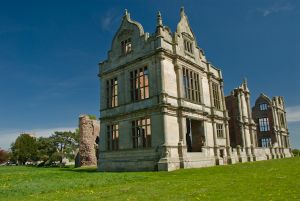 Moreton Corbet Castle
- Moreton Corbet, Shropshire, England
Moreton Corbet Castle encompasses the remains of a 12th century moated castle and the exquisite shell of an Elizabethan mansion built to replace the medieval castle. The first castle was construictsd as an earthwork enclosure with a moat, and a keep in the north west of the enclosure. The castle is attributed to a nobleman by the name of Bartholomew Torret. ... more