Attractions in England, Scotland, and Wales

Find places to visit by location or by type of attraction.

By Location
Explore thousands of attractions in England, Scotland, and Wales.

By type of Attraction:

But there is more to experiencing the UK ...

Tourist Information Centres in the UK

Newest Attraction:

St George Tombland


Norwich, Norfolk, England

An attractive 13th century town church on one side of the old Saxon market place of Norwich, directly opposite the Cathedral gates. Highlights include a 13th century Purbeck marble font, 17th and 18th century memorials, a wonderful Georgian reredos, and a 17th century pulpit.

Heritage Rating:





Links to thousands of travel resources throughout England, Scotland, and Wales. To the best of our knowledge this is one of the largest online resources of information on travel in the UK, with listings covering everything from official regional tourist boards to local village websites.
Accommodation

NEW Castle Hotels in England - Scotland - Wales
Top locations
Bath, Birmingham, Brighton, Cardiff, Edinburgh, Lake District, Glasgow, Gatwick Airport, Heathrow Airport, London, Manchester, Stratford-upon-Avon, Swansea, York
Top locations
Cornwall, Lake District, London, Devon, Isle of Skye, North Wales, Pembrokeshire, Scottish Highlands
Bed & Breakfast: B&Bs, guest houses, and small hotels.
England - Scotland - Wales

Top locations
Cornwall, Lake District, Devon
New
Best Historic Churches - Our top rated historic churches to visit in Britain
Sir John Vanbrugh biography of the architect of Blenheim Palace
Norwich, St Stephen's Church - Norwich, Norfolk, England
All Saints Westlegate - Norwich, Norfolk, England
Armada House - Norwich, Norfolk, England
Surrey House - Norwich, Norfolk, England
Dragon Hall - Norwich, Norfolk, England
Strangers Hall - Norwich, Norfolk, England
FEATURED HISTORIC HOTEL
Crown Inn
Sarre, Kent

A traditional village inn set in leafy grounds with easy access to local attractions and neighbouring business parks. The Crown Inn is Grade 1 listed 15th Century building, fully restored yet still retaining many original features. Brimming with history, the inn boasts visits from scores of glamorous stars of the … more >>
Heritage:
Rating:
UK Travel Guide




Most Popular

:
Virtual Tour of England - for a quick overview of what to see in each region of England.

Most popular England County Guides
UK Photo of the Day

Travel and scenery photos of of fabulous British locations. Available as free desktop wallpaper.

Current photo: White Castle, Monmouthshire, Wales, Wales
Archives

History and Culture
History of Britain - full text of the 1912 book
English Culture
What makes England so ... English? From hedgerows to the history of tea, pastimes to traditional crafts.
British Battles
The major battles fought on British soil - who fought them, why, and what was the outcome?
History of Wales - History of Scotland
British Biography
Our look at the lives of famous people in the fields of art, architecture, science, and literature throughout British history. From Chaucer to Tennyson, Christopher Wren to William Shakespeare.
English Architecture
The story of English architecture and historic building styles, from prehistoric monuments to Victorian Gothic, with our suggestions for the best examples from each period to visit in England.
London History
From the Romans to the Blitz, our look at the colourful history of London.
Illustrated Dictionary of Church History and Architecture
A visual guide to British Churches from Saxon to Victorian Gothic.
HISTORY CORNER
Name the Historic attraction
British Heritage Awards
Celebrate the best of British Heritage in our annual
British Heritage awards.
British History Quiz
The first major battle of the English Civil War was fought 23 October 1642
This Day in British History
12 December, 1889
Death of Robert Browning
Best known as a poet and playwright, Browning (b. 1812) was married to poet Elizabeth Barrett Browning.
Monarch Mayhem
His nickname meant 'ill council'
Heritage Snapshot
Delabole, Cornwall
in the Domesday Book
"The same man [Roger] holds Delabole. Leofwine held it in the time of King Edward and it paid geld for 2 ferdings. There is 1 hide. There is land for 4 ploughs. There is 1 plough with 1 slave and 1 villan and 3 bordars, and 1 acre of meadow and 40 acres of pasture. Formerly 20s; now it is worth 10s."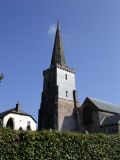 North Huish, St Mary's Church
- North Huish, Devon, England
On the southern frnge of Dartmoor, North Huish church is a mainly 15th century building in Decorated style. Though the interior was rebuilt during the Victorian period, the west tower and spire are essentially unaltered from their medieval state. ... more