Attractions in England, Scotland, and Wales

Find places to visit by location or by type of attraction.

By Location
Explore thousands of attractions in England, Scotland, and Wales.

By type of Attraction:

But there is more to experiencing the UK ...

Tourist Information Centres in the UK

Newest Attraction:

Browsholme Hall


Clitheroe, Lancashire, England

Browsholme is an early Tudor house with the addition of a Regency wing. Within the house are a collection of portraits, weapons, armour, and antiquities. In local dialect Brownholme is pronounced 'Brewsom', and it has been the home of the Parker family since it was built in 1507.

Heritage Rating:





Links to thousands of travel resources throughout England, Scotland, and Wales. To the best of our knowledge this is one of the largest online resources of information on travel in the UK, with listings covering everything from official regional tourist boards to local village websites.
Accommodation

NEW Castle Hotels in England - Scotland - Wales
Top locations
Bath, Birmingham, Brighton, Cardiff, Edinburgh, Lake District, Glasgow, Gatwick Airport, Heathrow Airport, London, Manchester, Stratford-upon-Avon, Swansea, York
Top locations
Cornwall, Lake District, London, Devon, Isle of Skye, North Wales, Pembrokeshire, Scottish Highlands
Bed & Breakfast: B&Bs, guest houses, and small hotels.
England - Scotland - Wales

Top locations
Cornwall, Lake District, Devon
New
Best Historic Churches - Our top rated historic churches to visit in Britain
St Mary's church, Sudeley Castle - last resting place of Queen Katherine Parr
Wallington Hall - Morpeth, Northumberland, England
Hexham Abbey - Hexham, Northumberland, England
Shotley, St Andrew's Church - Shotley, Northumberland, England
Cherryburn - Stocksfield, Northumberland, England
Bywell, St Andrew's Church - Bywell, Northumberland, England
Prudhoe Castle - Prudhoe, Northumberland, England
FEATURED HISTORIC HOTEL
Hazlitts
London, Greater London

Hazlitt's occupies three historic houses in Frith Street just off Soho Square. When these were built in 1718 there were no elevators. There still aren't but they have updated the plumbing installed ensuite bathrooms and replaced most of the candles with electricity. This Soho home of the 18th-century essayist William … more >>
Heritage:
Rating:
UK Travel Guide




Most Popular

:
Virtual Tour of England - for a quick overview of what to see in each region of England.

Most popular England County Guides
UK Photo of the Day

Travel and scenery photos of of fabulous British locations. Available as free desktop wallpaper.

Current photo: Taversoe Tuick Chambered Cairn, Rousay, Orkney Islands, Scotland
Archives

History and Culture
History of Britain - full text of the 1912 book
English Culture
What makes England so ... English? From hedgerows to the history of tea, pastimes to traditional crafts.
British Battles
The major battles fought on British soil - who fought them, why, and what was the outcome?
History of Wales - History of Scotland
British Biography
Our look at the lives of famous people in the fields of art, architecture, science, and literature throughout British history. From Chaucer to Tennyson, Christopher Wren to William Shakespeare.
English Architecture
The story of English architecture and historic building styles, from prehistoric monuments to Victorian Gothic, with our suggestions for the best examples from each period to visit in England.
London History
From the Romans to the Blitz, our look at the colourful history of London.
Illustrated Dictionary of Church History and Architecture
A visual guide to British Churches from Saxon to Victorian Gothic.
HISTORY CORNER
Name the Historic attraction
British Heritage Awards
Celebrate the best of British Heritage in our annual
British Heritage awards.
British History Quiz
This northern British kingdom was formed the merger of Bernicia and Deira in the 6th century
This Day in British History
28 August, 1857
Matrimonial Causes Act
The first divorce courts set up in England and Wales
Monarch Mayhem
The protoypical 'wicked uncle', this king was popularly blamed for murdering Edward V
Heritage Snapshot
Droitwich, Worcestershire
in the Domesday Book
"In Droitwich King Edward had 11 houses, and in 5 brine-pits King Edward had his share ... Now King William has in demesne both what King Edward and Earl Edwin had. The sheriff paid thence £65 by weight and 2 mittae of salt while he had the woodland. For if he does not have the woodland, he says, he cannot pay that. "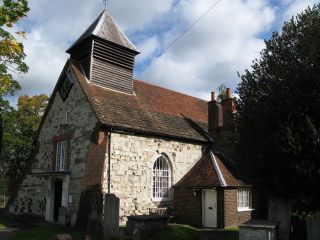 Esher, St George's Church
- Esher, Surrey, England
A rare Tudor church, built at the height of the Reformation in 1540, on the site of an early medieval church. In 1725 the south transept was added to form a family pew for the Duke of Newcastle, then resident at the Claremont estate nearby. ... more