Attractions in England, Scotland, and Wales

Find places to visit by location or by type of attraction.

By Location
Explore thousands of attractions in England, Scotland, and Wales.

By type of Attraction:

But there is more to experiencing the UK ...

Tourist Information Centres in the UK

Newest Attraction:

Caerwent Roman Town


Caerwent, Gwent, Wales

Known as Venta Silurium, this Roman town stretches to 44 acres, much of it enclosed within 2nd century walls. Within the town walls are excavated houses, a forum, and a Romano-British temple.

Heritage Rating:





Links to thousands of travel resources throughout England, Scotland, and Wales. To the best of our knowledge this is one of the largest online resources of information on travel in the UK, with listings covering everything from official regional tourist boards to local village websites.
Accommodation

NEW Castle Hotels in England - Scotland - Wales
Top locations
Bath, Birmingham, Brighton, Cardiff, Edinburgh, Lake District, Glasgow, Gatwick Airport, Heathrow Airport, London, Manchester, Stratford-upon-Avon, Swansea, York
Top locations
Cornwall, Lake District, London, Devon, Isle of Skye, North Wales, Pembrokeshire, Scottish Highlands
Bed & Breakfast: B&Bs, guest houses, and small hotels.
England - Scotland - Wales

Top locations
Cornwall, Lake District, Devon
New
Best Historic Churches - Our top rated historic churches to visit in Britain
Caithness Travel & Heritage Guide - the best of north east Scotland
Caerleon Roman Fortress, Baths, and Amphitheatre - Caerleon, Gwent, Wales
National Roman Legion Museum, Caerleon - Caerleon, Gwent, Wales
Dunfallandy Stone - Pitlochry, Tayside, Scotland
Linn of Tummel - Pitlochry, Tayside, Scotland
Rendall Doocot - Rendall, Highlands and Islands, Scotland
Sunnybrae Cottage - Pitlochry, Tayside, Scotland
FEATURED HISTORIC HOTEL
Lifeboat Inn
Thornham, Norfolk

Lifeboat Inn is a three star property located in the picturesque village of Thornham near Hunstanton. Just a two minute walk from the marshes and sand dunes. The hotel has been receiving guests since the 16th century. The Inn's original character has been carefully preserved throughout the hotel. Lifeboat offers … more >>
Heritage:
Rating:
UK Travel Guide




Most Popular

:
Virtual Tour of England - for a quick overview of what to see in each region of England.

Most popular England County Guides
UK Photo of the Day

Travel and scenery photos of of fabulous British locations. Available as free desktop wallpaper.

Current photo: Newenden font carving, England
Archives

History and Culture
History of Britain - full text of the 1912 book
English Culture
What makes England so ... English? From hedgerows to the history of tea, pastimes to traditional crafts.
British Battles
The major battles fought on British soil - who fought them, why, and what was the outcome?
History of Wales - History of Scotland
British Biography
Our look at the lives of famous people in the fields of art, architecture, science, and literature throughout British history. From Chaucer to Tennyson, Christopher Wren to William Shakespeare.
English Architecture
The story of English architecture and historic building styles, from prehistoric monuments to Victorian Gothic, with our suggestions for the best examples from each period to visit in England.
London History
From the Romans to the Blitz, our look at the colourful history of London.
Illustrated Dictionary of Church History and Architecture
A visual guide to British Churches from Saxon to Victorian Gothic.
HISTORY CORNER
Name the Historic attraction
British Heritage Awards
Celebrate the best of British Heritage in our annual
British Heritage awards.
British History Quiz
The Venerable Bede was ...
This Day in British History
20 October, 1714
George I crowned king
George, who spoke no English, had only entered the country for the first time a month earlier
Monarch Mayhem
This monarch put down the 1715 Jacobite Rising of James Stewart, The Old Pretender
Heritage Snapshot
Carlisle, Cumbria
in the 17th century
"the towne and battlements and towers are all in very good repaire and looks well; the Cathedrall wall built of stone which looked stately but nothing Curious; there was some few houses as the Deanes and Treasurer and some of the Doctors houses walled in with little gardens their fronts looked gracefully ... there remaines only some of the walls and ruines of the Castle which shows it to have been a very strong town formerly ..."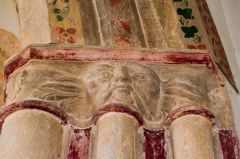 Winterborne Whitechurch, St Mary's Church
- Winterborne Whitechurch, Dorset, England
This delightful church dates to the 13th century. The restored 15th century pulpit is generally thought to have been brought here from nearby Milton Abbey. The wonderful font dates to around 1450 and is composed of a bowl decorated with vine leaf carvings, unusual for this period, supported on a central stem with four ornamented legs. ... more