Attractions in England, Scotland, and Wales

Find places to visit by location or by type of attraction.

By Location
Explore thousands of attractions in England, Scotland, and Wales.

By type of Attraction:

But there is more to experiencing the UK ...

Tourist Information Centres in the UK

Newest Attraction:

Browsholme Hall


Clitheroe, Lancashire, England

Browsholme is an early Tudor house with the addition of a Regency wing. Within the house are a collection of portraits, weapons, armour, and antiquities. In local dialect Brownholme is pronounced 'Brewsom', and it has been the home of the Parker family since it was built in 1507.

Heritage Rating:





Links to thousands of travel resources throughout England, Scotland, and Wales. To the best of our knowledge this is one of the largest online resources of information on travel in the UK, with listings covering everything from official regional tourist boards to local village websites.
Accommodation

NEW Castle Hotels in England - Scotland - Wales
Top locations
Bath, Birmingham, Brighton, Cardiff, Edinburgh, Lake District, Glasgow, Gatwick Airport, Heathrow Airport, London, Manchester, Stratford-upon-Avon, Swansea, York
Top locations
Cornwall, Lake District, London, Devon, Isle of Skye, North Wales, Pembrokeshire, Scottish Highlands
Bed & Breakfast: B&Bs, guest houses, and small hotels.
England - Scotland - Wales

Top locations
Cornwall, Lake District, Devon
New
Best Historic Churches - Our top rated historic churches to visit in Britain
St Mary's church, Sudeley Castle - last resting place of Queen Katherine Parr
Wallington Hall - Morpeth, Northumberland, England
Hexham Abbey - Hexham, Northumberland, England
Shotley, St Andrew's Church - Shotley, Northumberland, England
Cherryburn - Stocksfield, Northumberland, England
Bywell, St Andrew's Church - Bywell, Northumberland, England
Prudhoe Castle - Prudhoe, Northumberland, England
FEATURED HISTORIC HOTEL
The Royal Hop Pole- a JD Wetherspoon Hotel
Tewkesbury, Gloucestershire

This well-known landmark is an amalgamation of historic buildings dating from the 15th and 18th centuries, known as a number of names, including The Crown during King Henry VIII's reign. However, eventually it was named The Royal Hop Pole when Queen Mary stayed in 1937 and gave it the official … more >>
Heritage:
Rating:
UK Travel Guide




Most Popular

:
Virtual Tour of England - for a quick overview of what to see in each region of England.

Most popular England County Guides
UK Photo of the Day

Travel and scenery photos of of fabulous British locations. Available as free desktop wallpaper.

Current photo: Wast Water, late summer evening, England
Archives

History and Culture
History of Britain - full text of the 1912 book
English Culture
What makes England so ... English? From hedgerows to the history of tea, pastimes to traditional crafts.
British Battles
The major battles fought on British soil - who fought them, why, and what was the outcome?
History of Wales - History of Scotland
British Biography
Our look at the lives of famous people in the fields of art, architecture, science, and literature throughout British history. From Chaucer to Tennyson, Christopher Wren to William Shakespeare.
English Architecture
The story of English architecture and historic building styles, from prehistoric monuments to Victorian Gothic, with our suggestions for the best examples from each period to visit in England.
London History
From the Romans to the Blitz, our look at the colourful history of London.
Illustrated Dictionary of Church History and Architecture
A visual guide to British Churches from Saxon to Victorian Gothic.
HISTORY CORNER
Name the Historic attraction
British Heritage Awards
Celebrate the best of British Heritage in our annual
British Heritage awards.
British History Quiz
George, Duke of Clarence, brother of Edward IV, was executed by drowning in ...
This Day in British History
22 August, 1138
Battle of the Standard
Archbishop Thurlstan of York leads English army behind banners of saints, to defeat Scots under David I
Monarch Mayhem
This king was captured at the Battle of Lincoln on 2 February, 1141
Heritage Snapshot
Leicester, Leicestershire
in the Domesday Book
"In the time of King Edward the city of Leicester rendered to the king £30 a year by tale at 20d to the ora and 15 sesters of honey. When the king went with his army by land 12 burgesses went with him. If, however, he went against an enemy by sea they sent him 4 horses from the same borough as far as London to carry weapons or other things of which there might be need. King William now has £42.10s by weight for all the rents of the same city and shire."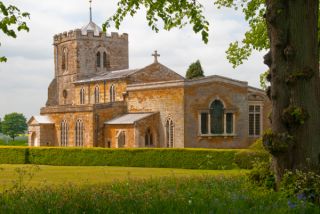 Lamport, All Saints Church
- Lamport, Northamptonshire, England
A 12th century church with much later remodelling, especially in the 18th century when Justinian Isham of Lamport Hall had the church rebuilt in Italianate style. All Saints is worth visiting to see memorials to 400 years of Ishams, in styles ranging from 16th century brasses to neo-classically opulent tombs. ... more