Attractions in England, Scotland, and Wales

Find places to visit by location or by type of attraction.

By Location
Explore thousands of attractions in England, Scotland, and Wales.

By type of Attraction:

But there is more to experiencing the UK ...

Tourist Information Centres in the UK

Newest Attraction:

Gwydir Castle


Llanrwst, Gwynedd, Wales

A fortified manor house built around 1500 by the Wynn family, with 17th and 19th century additions. The Tudor courtyard house sits amid Grade 1 listed gardens with a large peacock population. Gwydir is known as one of the most haunted houses in Wales.

Heritage Rating:





Links to thousands of travel resources throughout England, Scotland, and Wales. To the best of our knowledge this is one of the largest online resources of information on travel in the UK, with listings covering everything from official regional tourist boards to local village websites.
Accommodation

NEW Castle Hotels in England - Scotland - Wales
Top locations
Bath, Birmingham, Brighton, Cardiff, Edinburgh, Lake District, Glasgow, Gatwick Airport, Heathrow Airport, London, Manchester, Stratford-upon-Avon, Swansea, York
Top locations
Cornwall, Lake District, London, Devon, Isle of Skye, North Wales, Pembrokeshire, Scottish Highlands
Bed & Breakfast: B&Bs, guest houses, and small hotels.
England - Scotland - Wales

Top locations
Cornwall, Lake District, Devon
New
Best Historic Churches - Our top rated historic churches to visit in Britain
St Mary's church, Sudeley Castle - last resting place of Queen Katherine Parr
Branklyn Garden - Perth, Tayside, Scotland
Gwydir Uchaf Chapel - Llanrwst, Gwynedd, Wales
Gainsthorpe Medieval Village - Hibaldstow, Lincolnshire, England
Browsholme Hall - Clitheroe, Lancashire, England
Wallington Hall - Morpeth, Northumberland, England
Hexham Abbey - Hexham, Northumberland, England
FEATURED HISTORIC HOTEL
The Bedford Swan Hotel
Bedford, Bedfordshire

The Bedford Swan Hotel in Bedford is a delightful 18th century hotel located in the centre of Bedford, only a few miles from Luton Airport, and only an hour drive from the university towns of Oxford and Cambridge and central London is only 40 minutes by train.This elegant hotel, built … more >>
Heritage:
Rating:
UK Travel Guide




Most Popular

:
Virtual Tour of England - for a quick overview of what to see in each region of England.

Most popular England County Guides
UK Photo of the Day

Travel and scenery photos of of fabulous British locations. Available as free desktop wallpaper.

Current photo: Conwy Suspension Bridge, Wales
Archives

History and Culture
History of Britain - full text of the 1912 book
English Culture
What makes England so ... English? From hedgerows to the history of tea, pastimes to traditional crafts.
British Battles
The major battles fought on British soil - who fought them, why, and what was the outcome?
History of Wales - History of Scotland
British Biography
Our look at the lives of famous people in the fields of art, architecture, science, and literature throughout British history. From Chaucer to Tennyson, Christopher Wren to William Shakespeare.
English Architecture
The story of English architecture and historic building styles, from prehistoric monuments to Victorian Gothic, with our suggestions for the best examples from each period to visit in England.
London History
From the Romans to the Blitz, our look at the colourful history of London.
Illustrated Dictionary of Church History and Architecture
A visual guide to British Churches from Saxon to Victorian Gothic.
HISTORY CORNER
Name the Historic attraction
British Heritage Awards
Celebrate the best of British Heritage in our annual
British Heritage awards.
British History Quiz
This architect was responsible for the design of the Bank of England building and the Dulwich Art Gallery
This Day in British History
02 September, 1666
Great Fire of London begins
The fire breaks out in Pudding Lane, burns for 4 days, and results in over 13,300 buildings destroyed.
Monarch Mayhem
The second surviving son of Charles I and Henrietta Maria, he ruled only 3 years before being deposed
Heritage Snapshot
Hawkshead, Cumbria
local history
"The name 'Hawkshead' has nothing to do with birds of prey; it is thought to have been named for a Norse settler named Haukr, with the addition of a second Norse word, 'Saetr', or settlement. So the name as a whole translates roughly as 'the place where Haukr lives'."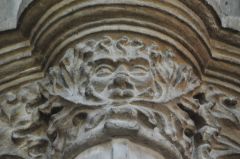 Oakham, All Saints Church
- Oakham, Rutland, England
All Saints church is one of three historic buildings at the heart of the county town of Rutland (the others are Oakham School and Oakham Castle). The first church on the site dates to around 1200, but the current building is mostly 13th and 14th century, in a mix of Decorated and Perpendicular styles. The font is probably the earliest feature; it dates to around 1180. ... more