Attractions in England, Scotland, and Wales

Find places to visit by location or by type of attraction.

By Location
Explore thousands of attractions in England, Scotland, and Wales.

By type of Attraction:

But there is more to experiencing the UK ...

Tourist Information Centres in the UK

Newest Attraction:

Andrew Logan Museum of Sculpture


Berriew, Powys, Wales

A rare museum by and about a living artist! The ALMS showcases the sculpture, art, and jewelry of Andrew Logan.

Heritage Rating:





Links to thousands of travel resources throughout England, Scotland, and Wales. To the best of our knowledge this is one of the largest online resources of information on travel in the UK, with listings covering everything from official regional tourist boards to local village websites.
Accommodation

NEW Castle Hotels in England - Scotland - Wales
Top locations
Bath, Birmingham, Brighton, Cardiff, Edinburgh, Lake District, Glasgow, Gatwick Airport, Heathrow Airport, London, Manchester, Stratford-upon-Avon, Swansea, York
Top locations
Cornwall, Lake District, London, Devon, Isle of Skye, North Wales, Pembrokeshire, Scottish Highlands
Bed & Breakfast: B&Bs, guest houses, and small hotels.
England - Scotland - Wales

Top locations
Cornwall, Lake District, Devon
New
Best Historic Churches - Our top rated historic churches to visit in Britain
Caithness Travel & Heritage Guide - the best of north east Scotland

Lincoln walking tours - self guided tours of historic Lincoln, Lincolnshire
Linn o' Dee - Braemar, Grampian, Scotland
JM Barrie's Birthplace - Kirriemuir, Tayside, Scotland
Barry Mill - Barry, Tayside, Scotland
Belmont House - Throwley, Kent, England
Bedford Castle - Bedford, Bedfordshire, England
Banchory Museum - Banchory, Grampian, Scotland
FEATURED HISTORIC HOTEL
Mercure Southampton Dolphin Hotel
Southampton, Hampshire

The Mercure Southampton Centre Hotel is located in the city centre where it has stood for over five hundred years. In 2010 the hotel completed a £3 million refurbishment programme creating a 90 bedroom hotel offering its guests a truly memorable experience. The Hotel is steeped in tradition and hosted … more >>
Heritage:
Rating:
UK Travel Guide




Most Popular

:
Virtual Tour of England - for a quick overview of what to see in each region of England.

Most popular England County Guides
UK Photo of the Day

Travel and scenery photos of of fabulous British locations. Available as free desktop wallpaper.

Current photo: Hemingford Grey Manor Garden, East Anglia, England
Archives

History and Culture
History of Britain - full text of the 1912 book
English Culture
What makes England so ... English? From hedgerows to the history of tea, pastimes to traditional crafts.
British Battles
The major battles fought on British soil - who fought them, why, and what was the outcome?
History of Wales - History of Scotland
British Biography
Our look at the lives of famous people in the fields of art, architecture, science, and literature throughout British history. From Chaucer to Tennyson, Christopher Wren to William Shakespeare.
English Architecture
The story of English architecture and historic building styles, from prehistoric monuments to Victorian Gothic, with our suggestions for the best examples from each period to visit in England.
London History
From the Romans to the Blitz, our look at the colourful history of London.
Illustrated Dictionary of Church History and Architecture
A visual guide to British Churches from Saxon to Victorian Gothic.
HISTORY CORNER
Name the Historic attraction
British Heritage Awards
Celebrate the best of British Heritage in our annual
British Heritage awards.
British History Quiz
A plot to kill Elizabeth I, gain support for a Spanish invasion, and free Mary, Queen of Scots from captivity
This Day in British History
24 November, 1200
King John acts as pallbearer at funeral of Bishop Hugh of Lincoln
John had only been crowned a few months earlier
Monarch Mayhem
This king was imprisoned and eventually murdered at Berkeley Castle
Heritage Snapshot
Shillingstone, Dorset
in the Domesday Book
"Schelin holds Shillingstone. Earl Harold held it in the time of King Edward and it paid geld for 16 hides. There is land for 16 ploughs. In demesne are 3 ploughs, and 5 slaves, and 15 villans and 26 bordars with 8 ploughs. There is a mill rendering 23s6d, and 200 acres of meadow less 17, pasture 42 furlongs long and 8 furlongs wide, and woodland 23 furlongs long and 9 furlongs wide. It was worth £16, now £19."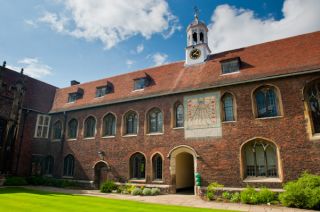 Queens College
- Cambridge, Cambridgeshire, England
Queens' College Cambridge was founded by not one, but two queens of England (which explains why the apostrophe in the name comes after the s, not before it as you might expect). The queens concerned were Margaret of Anjou, wife of Henry VI, and Elizabeth Woodville, wife of Edward IV. Queen Margaret obtained a patent from her husband in 1448 to launch a new college here. The first part of Queens' to be built was … ... more