Attractions in England, Scotland, and Wales

Find places to visit by location or by type of attraction.

By Location
Explore thousands of attractions in England, Scotland, and Wales.

By type of Attraction:

But there is more to experiencing the UK ...

Tourist Information Centres in the UK

Newest Attraction:

Gants Mill and Garden


Bruton, Somerset, England

A restored mill with roots going back to the Domesday Book (at least!) Water powers a grain mill and provides electricty for 10 nearby homes. Named for a 13th century owner of a fulling mill, Gants Mill has over the centuries served as a woollen factory, silk weaving centre, and grain mill. Set in lovely gardens featuring riverside walks, water features, and Spring and Summer colours.

Heritage Rating:





Links to thousands of travel resources throughout England, Scotland, and Wales. To the best of our knowledge this is one of the largest online resources of information on travel in the UK, with listings covering everything from official regional tourist boards to local village websites.
Accommodation

NEW Castle Hotels in England - Scotland - Wales
Top locations
Bath, Birmingham, Brighton, Cardiff, Edinburgh, Lake District, Glasgow, Gatwick Airport, Heathrow Airport, London, Manchester, Stratford-upon-Avon, Swansea, York
Top locations
Cornwall, Lake District, London, Devon, Isle of Skye, North Wales, Pembrokeshire, Scottish Highlands
Bed & Breakfast: B&Bs, guest houses, and small hotels.
England - Scotland - Wales

Top locations
Cornwall, Lake District, Devon
New
Best Historic Churches - Our top rated historic churches to visit in Britain
Caithness Travel & Heritage Guide - the best of north east Scotland

Lincoln walking tours - self guided tours of historic Lincoln, Lincolnshire
Gordon Russell Museum - Broadway, Worcestershire, England
Gelli Aur Country Park - Llandeilo, Dyfed, Wales
Glansevern Hall Gardens - Berriew, Powys, Wales
Glanusk Park - Llangattock, Powys, Wales
Glasfryn Gardens - Llanystumdwy, Gwynedd, Wales
Gloucester Waterways Museum - Gloucester, Gloucestershire, England
FEATURED HISTORIC HOTEL
Rookery Hall Hotel & Spa
Nantwich, Cheshire

Rookery Hall is set in 38 acres of beautiful Cheshire countryside, and yet conveniently located close to the M6, Crewe, Manchester and Liverpool. The Hall was built in 1816 and today is a fully refurbished country house mansion. As you pass through the wrought iron gates beside the lodge, and … more >>
Heritage:
Rating:
UK Travel Guide




Most Popular

:
Virtual Tour of England - for a quick overview of what to see in each region of England.

Most popular England County Guides
UK Photo of the Day

Travel and scenery photos of of fabulous British locations. Available as free desktop wallpaper.

Current photo: Countryside near Shap, Cumbria, Lake District, England
Archives

History and Culture
History of Britain - full text of the 1912 book
English Culture
What makes England so ... English? From hedgerows to the history of tea, pastimes to traditional crafts.
British Battles
The major battles fought on British soil - who fought them, why, and what was the outcome?
History of Wales - History of Scotland
British Biography
Our look at the lives of famous people in the fields of art, architecture, science, and literature throughout British history. From Chaucer to Tennyson, Christopher Wren to William Shakespeare.
English Architecture
The story of English architecture and historic building styles, from prehistoric monuments to Victorian Gothic, with our suggestions for the best examples from each period to visit in England.
London History
From the Romans to the Blitz, our look at the colourful history of London.
Illustrated Dictionary of Church History and Architecture
A visual guide to British Churches from Saxon to Victorian Gothic.
HISTORY CORNER
Name the Historic attraction
British Heritage Awards
Celebrate the best of British Heritage in our annual
British Heritage awards.
British History Quiz
This cartoon character humourously reprsented the essence of an Englishman
This Day in British History
31 January, 1606
Guy Fawkes executed
Fawkes was kiled for his part in the Gunpowder Plot against James I of England
Monarch Mayhem
This queen's reign saw the union of England and Scotland in 1707
Heritage Snapshot
Scarborough, Yorkshire
in the 17th century
"Scarborough is a very pretty Sea-port town built on the side of a high hill, the Churc h stands in the most eminent place above all the town; the ruins of a large Castle remaines, the Walls in compass severall acres of ground that feeds many beasts and milch cows, the hillon which the Castle stands is very steep and severall trenches over one another round the walls ..."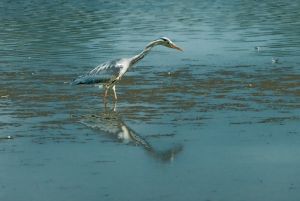 Anglian Water Birdwatching Centre
- Egleton, Rutland, England
The Anglian Water Birdwatching visitor centre lies at the very western edge of Rutland Water, at the southern end of Egleton village. The Birdwatching centre is the access point for trails which lead along the shore of Rutland Water and lead to a number of bird watching hides. A map of the hides is located outside the visitor centre.
... more