Attractions in England, Scotland, and Wales

Find places to visit by location or by type of attraction.

By Location
Explore thousands of attractions in England, Scotland, and Wales.

By type of Attraction:

But there is more to experiencing the UK ...

Tourist Information Centres in the UK

Newest Attraction:

Penbedw Stone Circle


Nannerch, Clwyd, Wales

A small stone circle set within the confines of a Grade II listed 18th century park surrounding Penbedw Hall. The circle may be Bronze age, but may also have been erected as a folly during picturesque landscaping of Penbedw Hall parkland in the 18th19th century.

Heritage Rating:





Links to thousands of travel resources throughout England, Scotland, and Wales. To the best of our knowledge this is one of the largest online resources of information on travel in the UK, with listings covering everything from official regional tourist boards to local village websites.
Accommodation

NEW Castle Hotels in England - Scotland - Wales
Top locations
Bath, Birmingham, Brighton, Cardiff, Edinburgh, Lake District, Glasgow, Gatwick Airport, Heathrow Airport, London, Manchester, Stratford-upon-Avon, Swansea, York
Top locations
Cornwall, Lake District, London, Devon, Isle of Skye, North Wales, Pembrokeshire, Scottish Highlands
Bed & Breakfast: B&Bs, guest houses, and small hotels.
England - Scotland - Wales

Top locations
Cornwall, Lake District, Devon
New
Best Historic Churches - Our top rated historic churches to visit in Britain
Caithness Travel & Heritage Guide - the best of north east Scotland

Lincoln walking tours - self guided tours of historic Lincoln, Lincolnshire
Torridon - Torridon, Highlands and Islands, Scotland
Brynkinalt - Chirk, Clwyd, Wales
Dunfermline Museum - Dunfermline, Fife, Scotland
Dapdune Wharf - Guildford, Surrey, England
Brynderwen Garden - Bettws Newydd, Gwent, Wales
Bryngwyn Hall - Llanfyllin, Powys, Wales
FEATURED HISTORIC HOTEL
Charlton House
Shepton Mallet, Somerset

A luxury country house with a unique story- built in 1630 and opened as a hotel in 1996 by Roger Saul the creator of the British design label, Mulberry and his wife Monty. Nestling peacefully on the edge of an English market town, this atmospheric country house hotel has retained … more >>
Heritage:
Rating:
UK Travel Guide




Most Popular

:
Virtual Tour of England - for a quick overview of what to see in each region of England.

Most popular England County Guides
UK Photo of the Day

Travel and scenery photos of of fabulous British locations. Available as free desktop wallpaper.

Current photo: Kimbolton Tiffany Window, East Anglia, England
Archives

History and Culture
History of Britain - full text of the 1912 book
English Culture
What makes England so ... English? From hedgerows to the history of tea, pastimes to traditional crafts.
British Battles
The major battles fought on British soil - who fought them, why, and what was the outcome?
History of Wales - History of Scotland
British Biography
Our look at the lives of famous people in the fields of art, architecture, science, and literature throughout British history. From Chaucer to Tennyson, Christopher Wren to William Shakespeare.
English Architecture
The story of English architecture and historic building styles, from prehistoric monuments to Victorian Gothic, with our suggestions for the best examples from each period to visit in England.
London History
From the Romans to the Blitz, our look at the colourful history of London.
Illustrated Dictionary of Church History and Architecture
A visual guide to British Churches from Saxon to Victorian Gothic.
HISTORY CORNER
Name the Historic attraction
British Heritage Awards
Celebrate the best of British Heritage in our annual
British Heritage awards.
British History Quiz
This scholar and Freemason donated a collection of curiosities that became the basis for one of Britain's - and the world's - great museums.
This Day in British History
05 March, 1133
Henry Plantagent, later Henry II, is born
Henry's mother is Matilda, daughter of Henry I, his father is Geoffrey, Count of Anjou
Monarch Mayhem
Daughter of James V of Scotland and Mary of Guise
Heritage Snapshot
Canterbury, Kent
in the 17th century
"Canterbury opens to view 6 miles distant, by the advantage of a high hill we pass over to it, its a noble Citty, the gates are high tho' narrow, the streetes are most of them large and long and the buildings handsome, very neate but not very lofty, most are of brickwork; its a flourishing town, good tradeing in the Weaving of Silks ..."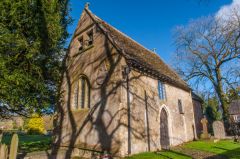 Alton Barnes, St Mary's Church
- Alton Barnes, Wiltshire, England
A Saxon church with an 18th century chancel. The interior has Georgian box pews, a triple-decker pulpit, west gallery, and font. There is 18th century glass in the chancel, and memorials to the Crowe and Hare families. ... more