Attractions in England, Scotland, and Wales

Find places to visit by location or by type of attraction.

By Location
Explore thousands of attractions in England, Scotland, and Wales.

By type of Attraction:

But there is more to experiencing the UK ...

Tourist Information Centres in the UK

Newest Attraction:

The Kymin


Monmouth, Gwent, Wales

Two Georgian buildings sit on top of a hill east of Monmouth, an 18th c round House, and an 1800 Naval Temple commemorating the Battle of the Nile.

Heritage Rating:





Links to thousands of travel resources throughout England, Scotland, and Wales. To the best of our knowledge this is one of the largest online resources of information on travel in the UK, with listings covering everything from official regional tourist boards to local village websites.
Accommodation

NEW Castle Hotels in England - Scotland - Wales
Top locations
Bath, Birmingham, Brighton, Cardiff, Edinburgh, Lake District, Glasgow, Gatwick Airport, Heathrow Airport, London, Manchester, Stratford-upon-Avon, Swansea, York
Top locations
Cornwall, Lake District, London, Devon, Isle of Skye, North Wales, Pembrokeshire, Scottish Highlands
Bed & Breakfast: B&Bs, guest houses, and small hotels.
England - Scotland - Wales

Top locations
Cornwall, Lake District, Devon
New
Best Historic Churches - Our top rated historic churches to visit in Britain
Caithness Travel & Heritage Guide - the best of north east Scotland
Borde Hill Garden - Hayward's Heath, West Sussex, England
High Beeches Gardens - Handcross, West Sussex, England
Sheffield Park - Sheffield Green, East Sussex, England
Bodysgallen Hall - Llandudno, Clwyd, Wales
North Yorkshire Moors Railway - Pickering, Yorkshire, England
Wheeldale Roman Road - Pickering, Yorkshire, England
FEATURED HISTORIC HOTEL
Wentbridge House Hotel
Wentbridge, Yorkshire

Wentbridge House dates from 1700 and is set in 20 acres of gardens and grounds in the beautiful Went Valley. The hotel is steeped in history, surrounded by century old trees and provides a relaxed and peaceful setting within easy reach of Wakefield, Doncaster, Leeds and York.Wentbridge House is independently … more >>
Heritage:
Rating:
UK Travel Guide




Most Popular

:
Virtual Tour of England - for a quick overview of what to see in each region of England.

Most popular England County Guides
UK Photo of the Day

Travel and scenery photos of of fabulous British locations. Available as free desktop wallpaper.

Current photo: Kew Gardens Palm House, England
Archives

History and Culture
History of Britain - full text of the 1912 book
English Culture
What makes England so ... English? From hedgerows to the history of tea, pastimes to traditional crafts.
British Battles
The major battles fought on British soil - who fought them, why, and what was the outcome?
History of Wales - History of Scotland
British Biography
Our look at the lives of famous people in the fields of art, architecture, science, and literature throughout British history. From Chaucer to Tennyson, Christopher Wren to William Shakespeare.
English Architecture
The story of English architecture and historic building styles, from prehistoric monuments to Victorian Gothic, with our suggestions for the best examples from each period to visit in England.
London History
From the Romans to the Blitz, our look at the colourful history of London.
Illustrated Dictionary of Church History and Architecture
A visual guide to British Churches from Saxon to Victorian Gothic.
HISTORY CORNER
Name the Historic attraction
British Heritage Awards
Celebrate the best of British Heritage in our annual
British Heritage awards.
British History Quiz
This essayist and poet is best known for his 'Dictionery of the English Language', published in 1755
This Day in British History
25 October, 1154
Death of King Stephen
Stephen is succeeded by Henry Plantagenet, son of Empress Matilda (Queen Maud)
Monarch Mayhem
A king that was simultaneously the VIth and the Ist monarch of his name
Heritage Snapshot
Tavistock, Devon
in the Domesday Book
"Tavistock Church holds Tavistock Manor. In the time of King Edward it paid geld for 3 1/2 hides. Thee is land for 40 ploughs. In demesne are 5 ploughs, and 12 slaves, and 17 villans and 20 bordars with 14 ploughs. There is a mill serving the court, and 16 acres of meadow, pasture 10 furlongs long and as much broad, woodland 2 leagues long and 1 league broad."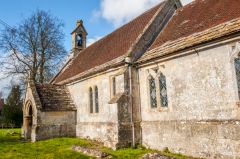 Sherrington, St Cosmas & St Damian Church
- Sherrington, Wiltshire, England
An ancient church beside a Norman castle motte. The interior features an almost complete set of Jacobean Biblical wall text paintings, fragments of 14th century glass, and a lovely Jacobean pulpit. ... more