Attractions in England, Scotland, and Wales

Find places to visit by location or by type of attraction.

By Location
Explore thousands of attractions in England, Scotland, and Wales.

By type of Attraction:

But there is more to experiencing the UK ...

Tourist Information Centres in the UK

Newest Attraction:

Borde Hill Garden


Hayward's Heath, West Sussex, England

Borde Hill is an informal country garden, covering over 200 acres, with woodland and parkland areas as well as 17 acres of formal garden areas arranged as a series of distinct garden rooms, each with a different theme. There are enjoyable lakeside and woodland walks.

Heritage Rating:





Links to thousands of travel resources throughout England, Scotland, and Wales. To the best of our knowledge this is one of the largest online resources of information on travel in the UK, with listings covering everything from official regional tourist boards to local village websites.
Accommodation

NEW Castle Hotels in England - Scotland - Wales
Top locations
Bath, Birmingham, Brighton, Cardiff, Edinburgh, Lake District, Glasgow, Gatwick Airport, Heathrow Airport, London, Manchester, Stratford-upon-Avon, Swansea, York
Top locations
Cornwall, Lake District, London, Devon, Isle of Skye, North Wales, Pembrokeshire, Scottish Highlands
Bed & Breakfast: B&Bs, guest houses, and small hotels.
England - Scotland - Wales

Top locations
Cornwall, Lake District, Devon
New
Best Historic Churches - Our top rated historic churches to visit in Britain
Caithness Travel & Heritage Guide - the best of north east Scotland
High Beeches Gardens - Handcross, West Sussex, England
Sheffield Park - Sheffield Green, East Sussex, England
Bodysgallen Hall - Llandudno, Clwyd, Wales
North Yorkshire Moors Railway - Pickering, Yorkshire, England
Wheeldale Roman Road - Pickering, Yorkshire, England
St Mary's House - Bramber, West Sussex, England
FEATURED HISTORIC HOTEL
Macdonald Pittodrie House Hotel
Inverurie, Grampian

Set in a Highland Estate of over 2400 acres in the mountain shadow of Bennachie, Pittodrie House offers a unique atmosphere which is great for weekend, romantic or family breaks. We can also provide a huge range of outdoor activities. Ranging from Quad Biking through 4x4 Adventure and Trail Driving … more >>
Heritage:
Rating:
UK Travel Guide




Most Popular

:
Virtual Tour of England - for a quick overview of what to see in each region of England.

Most popular England County Guides
UK Photo of the Day

Travel and scenery photos of of fabulous British locations. Available as free desktop wallpaper.

Current photo: Clywedog Dam, Wales
Archives

History and Culture
History of Britain - full text of the 1912 book
English Culture
What makes England so ... English? From hedgerows to the history of tea, pastimes to traditional crafts.
British Battles
The major battles fought on British soil - who fought them, why, and what was the outcome?
History of Wales - History of Scotland
British Biography
Our look at the lives of famous people in the fields of art, architecture, science, and literature throughout British history. From Chaucer to Tennyson, Christopher Wren to William Shakespeare.
English Architecture
The story of English architecture and historic building styles, from prehistoric monuments to Victorian Gothic, with our suggestions for the best examples from each period to visit in England.
London History
From the Romans to the Blitz, our look at the colourful history of London.
Illustrated Dictionary of Church History and Architecture
A visual guide to British Churches from Saxon to Victorian Gothic.
HISTORY CORNER
Name the Historic attraction
British Heritage Awards
Celebrate the best of British Heritage in our annual
British Heritage awards.
British History Quiz
This Protestant martyr was burned at the stake at Smithfield in 1546
This Day in British History
25 October, 1154
Death of King Stephen
Stephen is succeeded by Henry Plantagenet, son of Empress Matilda (Queen Maud)
Monarch Mayhem
This queen reluctantly put Mary, Queen of Scots to death
Heritage Snapshot
Hexham, Northumberland
in the 17th century
"... this is one of the best towns in Northumberland except Newcastle, which is one place the sessions are kept for the shire, its built of stone and looks very well, there are 2 gates to it many streetes many are pretty broad all well pitch'd with a spacious Market place with a Town Hall on the Market Crosse ..."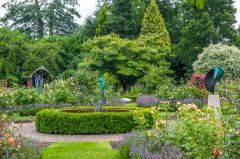 Borde Hill Garden
- Hayward's Heath, West Sussex, England
Borde Hill is an informal country garden, covering over 200 acres, with woodland and parkland areas as well as 17 acres of formal garden areas arranged as a series of distinct garden rooms, each with a different theme. There are enjoyable lakeside and woodland walks. ... more