Attractions in England, Scotland, and Wales

Find places to visit by location or by type of attraction.

By Location
Explore thousands of attractions in England, Scotland, and Wales.

By type of Attraction:

But there is more to experiencing the UK ...

Tourist Information Centres in the UK

Newest Attraction:

Ness Botanic Gardens


Ness, Cheshire, England

The botanic gardens of the University of Liverpool, sheltered by a belt of Lombardy poplars, oaks, and scotch pines from the winds of the Irish Sea, allowing year round interest.

Heritage Rating:





Links to thousands of travel resources throughout England, Scotland, and Wales. To the best of our knowledge this is one of the largest online resources of information on travel in the UK, with listings covering everything from official regional tourist boards to local village websites.
Accommodation

NEW Castle Hotels in England - Scotland - Wales
Top locations
Bath, Birmingham, Brighton, Cardiff, Edinburgh, Lake District, Glasgow, Gatwick Airport, Heathrow Airport, London, Manchester, Stratford-upon-Avon, Swansea, York
Top locations
Cornwall, Lake District, London, Devon, Isle of Skye, North Wales, Pembrokeshire, Scottish Highlands
Bed & Breakfast: B&Bs, guest houses, and small hotels.
England - Scotland - Wales

Top locations
Cornwall, Lake District, Devon
New
Best Historic Churches - Our top rated historic churches to visit in Britain
Caithness Travel & Heritage Guide - the best of north east Scotland

Lincoln walking tours - self guided tours of historic Lincoln, Lincolnshire
Aberdeunant - Llansadwrn, Dyfed, Wales
Owain Glyndwr Centre - Machynlleth, Powys, Wales
Octavia Hill Birthplace Museum - Wisbech, Cambridgeshire, England
York, St Denys Walmgate Church - York, Yorkshire, England
Dinefwr Park - Llandeilo, Dyfed, Wales
Shaw's Corner - Aylot St Lawrence, Hertfordshire, England
FEATURED HISTORIC HOTEL
Ascot House Hotel
Torbay, Devon

Set in an impressive early Victorian villa, Ascot House is a family-run hotel which has recently been acquired by Bernard, a French expatriate. He is partnered by Janice, who is English. Ascot House Hotel, which is being fully refurbished into a small boutique hotel, has free, private, off-road parking and … more >>
Heritage:
Rating:
UK Travel Guide




Most Popular

:
Virtual Tour of England - for a quick overview of what to see in each region of England.

Most popular England County Guides
UK Photo of the Day

Travel and scenery photos of of fabulous British locations. Available as free desktop wallpaper.

Current photo: Miserden Church, Cotswolds, England
Archives

History and Culture
History of Britain - full text of the 1912 book
English Culture
What makes England so ... English? From hedgerows to the history of tea, pastimes to traditional crafts.
British Battles
The major battles fought on British soil - who fought them, why, and what was the outcome?
History of Wales - History of Scotland
British Biography
Our look at the lives of famous people in the fields of art, architecture, science, and literature throughout British history. From Chaucer to Tennyson, Christopher Wren to William Shakespeare.
English Architecture
The story of English architecture and historic building styles, from prehistoric monuments to Victorian Gothic, with our suggestions for the best examples from each period to visit in England.
London History
From the Romans to the Blitz, our look at the colourful history of London.
Illustrated Dictionary of Church History and Architecture
A visual guide to British Churches from Saxon to Victorian Gothic.
HISTORY CORNER
Name the Historic attraction
British Heritage Awards
Celebrate the best of British Heritage in our annual
British Heritage awards.
British History Quiz
In 1678-81 this clergyman claimed to have knowledge of a 'Popish Plot' to kill Charles II
This Day in British History
30 October, 1485
Coronation of Henry VII
The first Tudor monarch, Henry gained the crown by defeating Richard III at the Battle of Bosworth on 22 August
Monarch Mayhem
This queen was executed after a long imprisonment by order of Elizabeth I
Heritage Snapshot
Appleby-in-Westmorland, Cumbria
local history
"Once the county town of Westmorland, Appleby boasts the ruins of a 12th century castle once owned by Lady Anne Clifford. During the Civil War the castle was besieged by Parliament, and when it finally surrendered the Parliamentarians claimed 1200 horses as penalty from the Royalists of the town."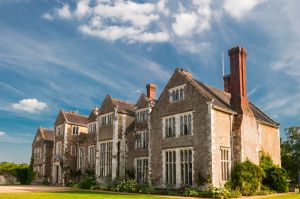 Loseley Park
- Guildford, Surrey, England
This wonderfully atmospheric Elizabethan Manor House has been the home of the More-Molyneux family for over 400 years and was built by an ancestor of the present owner. The richly furnished interiors feature fine portraits and works of art, furniture from the 16th century and panelling from Henry VIII's Nonsuch Palace. ... more