Attractions in England, Scotland, and Wales

Find places to visit by location or by type of attraction.

By Location
Explore thousands of attractions in England, Scotland, and Wales.

By type of Attraction:

But there is more to experiencing the UK ...

Tourist Information Centres in the UK

Newest Attraction:

Biddulph Grange Garden


Biddulph, Staffordshire, England

A series of small themed gardens linked by tunnels, banks, and walls. See a Chinese garden, Egyptian garden, lily pool, and a sunken dahlia walk among other delights.

Heritage Rating:





Links to thousands of travel resources throughout England, Scotland, and Wales. To the best of our knowledge this is one of the largest online resources of information on travel in the UK, with listings covering everything from official regional tourist boards to local village websites.
Accommodation

NEW Castle Hotels in England - Scotland - Wales
Top locations
Bath, Birmingham, Brighton, Cardiff, Edinburgh, Lake District, Glasgow, Gatwick Airport, Heathrow Airport, London, Manchester, Stratford-upon-Avon, Swansea, York
Top locations
Cornwall, Lake District, London, Devon, Isle of Skye, North Wales, Pembrokeshire, Scottish Highlands
Bed & Breakfast: B&Bs, guest houses, and small hotels.
England - Scotland - Wales

Top locations
Cornwall, Lake District, Devon
New
Best Historic Churches - Our top rated historic churches to visit in Britain
Caithness Travel & Heritage Guide - the best of north east Scotland

Lincoln walking tours - self guided tours of historic Lincoln, Lincolnshire
Andrew Logan Museum of Sculpture - Berriew, Powys, Wales
Boston Guildhall Museum - Boston, Lincolnshire, England
Linn o' Dee - Braemar, Grampian, Scotland
Blairquhan - Kirkmichael, Strathclyde, Scotland
JM Barrie's Birthplace - Kirriemuir, Tayside, Scotland
Barry Mill - Barry, Tayside, Scotland
FEATURED HISTORIC HOTEL
Stoke Park Club Hotel and Spa
Slough, Berkshire

Stoke Park Club with its 27 hole golf course, Stoke Poges, and award winning spa, SPA SPC, is one of the most special places in the world. With a recorded history of more than nine hundred years, the 350 acre estate provides a unique combination of the traditions of a … more >>
Heritage:
Rating:
UK Travel Guide




Most Popular

:
Virtual Tour of England - for a quick overview of what to see in each region of England.

Most popular England County Guides
UK Photo of the Day

Travel and scenery photos of of fabulous British locations. Available as free desktop wallpaper.

Current photo: Glastonbury Tor, England
Archives

History and Culture
History of Britain - full text of the 1912 book
English Culture
What makes England so ... English? From hedgerows to the history of tea, pastimes to traditional crafts.
British Battles
The major battles fought on British soil - who fought them, why, and what was the outcome?
History of Wales - History of Scotland
British Biography
Our look at the lives of famous people in the fields of art, architecture, science, and literature throughout British history. From Chaucer to Tennyson, Christopher Wren to William Shakespeare.
English Architecture
The story of English architecture and historic building styles, from prehistoric monuments to Victorian Gothic, with our suggestions for the best examples from each period to visit in England.
London History
From the Romans to the Blitz, our look at the colourful history of London.
Illustrated Dictionary of Church History and Architecture
A visual guide to British Churches from Saxon to Victorian Gothic.
HISTORY CORNER
Name the Historic attraction
British Heritage Awards
Celebrate the best of British Heritage in our annual
British Heritage awards.
British History Quiz
What important document was signed at Runnymede in 1215?
This Day in British History
24 November, 1200
King John acts as pallbearer at funeral of Bishop Hugh of Lincoln
John had only been crowned a few months earlier
Monarch Mayhem
This king imprisoned his mother Isabella at Castle Rising
Heritage Snapshot
Wareham, Dorset
in the Domesday Book
"In Wareham in the time of King Edward there were 120 houses in the king's demesne. This vill was assessed for every service of the king and paid geld for 10 hides, that is, 1 silver mark for the king's housecarls excepting the customs which belonged to the farm of 1 knight. There were 2 moneyers each paying 1 silver mark to the king and 20s, when the coinage was changed. Now there are 70 houses, and 73 have been completely destroyed from the time of Hugh the sheriff."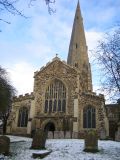 All Saints, Leighton Buzzard
- Leighton Buzzard, Bedfordshire, England
The 13th century edifice of All Saints Church is the second church to stand on this site. The most striking part of the church as you approach it is the spire, which juts upward to a height of 190 feet. On the south west pier is carved a depiction of a woman waving a spoon at a man. These figures may represent an elderly couple, Simon and Nellie, supposed originators of the Simnel cake. ... more