Attractions in England, Scotland, and Wales

Find places to visit by location or by type of attraction.

By Location
Explore thousands of attractions in England, Scotland, and Wales.

By type of Attraction:

But there is more to experiencing the UK ...

Tourist Information Centres in the UK

Newest Attraction:

Cawston


Norfolk, England

A medium sized village near Aylsham, Cawston draws visitors from every corner of the country to see the fabulous hammer-beam roof of St Agnes church. There was a church here as early as the 12th century, but the present building dates to the 14th century. The superb roof is one of the first examples in Britain to be built in a double hammer-beam style. In addition, St Agnes boasts a lovely 15th century painted rood screen.

Heritage Rating:





Links to thousands of travel resources throughout England, Scotland, and Wales. To the best of our knowledge this is one of the largest online resources of information on travel in the UK, with listings covering everything from official regional tourist boards to local village websites.
Accommodation

NEW Castle Hotels in England - Scotland - Wales
Top locations
Bath, Birmingham, Brighton, Cardiff, Edinburgh, Lake District, Glasgow, Gatwick Airport, Heathrow Airport, London, Manchester, Stratford-upon-Avon, Swansea, York
Top locations
Cornwall, Lake District, London, Devon, Isle of Skye, North Wales, Pembrokeshire, Scottish Highlands
Bed & Breakfast: B&Bs, guest houses, and small hotels.
England - Scotland - Wales

Top locations
Cornwall, Lake District, Devon
New
Best Historic Churches - Our top rated historic churches to visit in Britain
Caithness Travel & Heritage Guide - the best of north east Scotland

Lincoln walking tours - self guided tours of historic Lincoln, Lincolnshire
Cole Museum of Zoology - Reading, Berkshire, England
Norham Castle - Norham, Northumberland, England
Flodden Battlefield Site - Branxton, Northumberland, England
Caerau Roman Fort - Beulah, Powys, Wales
Brithdir Roman Fort - Brithdir, Gwynedd, Wales
Hawford Dovecote - Hawford, Worcestershire, England
FEATURED HISTORIC HOTEL
The Swan
Tarporley, Cheshire

The Swan is the heartbeat of Tarporley village - dating back to the 16th Century this old coaching inn was sympathetically refurbished in February 2009. The Swan has 16 individually designed en-suite bedrooms, six of which are located in our converted Coaching House - nothing has been forgotten. With a … more >>
Heritage:
Rating:
UK Travel Guide




Most Popular

:
Virtual Tour of England - for a quick overview of what to see in each region of England.

Most popular England County Guides
UK Photo of the Day

Travel and scenery photos of of fabulous British locations. Available as free desktop wallpaper.

Current photo: Harmony Garden, Scotland
Archives

History and Culture
History of Britain - full text of the 1912 book
English Culture
What makes England so ... English? From hedgerows to the history of tea, pastimes to traditional crafts.
British Battles
The major battles fought on British soil - who fought them, why, and what was the outcome?
History of Wales - History of Scotland
British Biography
Our look at the lives of famous people in the fields of art, architecture, science, and literature throughout British history. From Chaucer to Tennyson, Christopher Wren to William Shakespeare.
English Architecture
The story of English architecture and historic building styles, from prehistoric monuments to Victorian Gothic, with our suggestions for the best examples from each period to visit in England.
London History
From the Romans to the Blitz, our look at the colourful history of London.
Illustrated Dictionary of Church History and Architecture
A visual guide to British Churches from Saxon to Victorian Gothic.
HISTORY CORNER
Name the Historic attraction
British Heritage Awards
Celebrate the best of British Heritage in our annual
British Heritage awards.
British History Quiz
This headmaster of Rugby School popularized 'muscular Christianity', combining sports and learning with a heavy religious focus
This Day in British History
28 March, 1296
Edward I invades Scotland, sacking Berwick
Edward would later steal the Stone of Scone, traditional coronation stone of Scottish kings
Monarch Mayhem
This king was imprisoned and eventually murdered at Berkeley Castle
Heritage Snapshot
Guildford, Surrey
in the Domesday Book
"In Guildford King William has 75 closes in which dwell 175 men. In the time of King Edward it rendered £18.0s3d; now it is valued at £30, and yet it renders £32. Of the afforsaid closes, Randolph the clerk has 3 closes in which 6 men dwell, and of these the same Randolph has sake and soke unless the common geld from which no one may escape be laid upon the vill. If his man commits an offence in the vill, and, after being distrained, escapes, the king's reeve has nothing from him."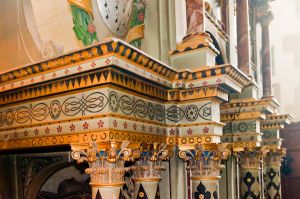 Wimborne St Giles Church
- Wimborne St Giles, Dorset, England
There has been a church in the litte Dorset village of Wimborne St Giles since at least 1207, when the first rector is recorded. The church stands beside a row of attractive almshouses erected in 1624. The current church was built around 1514 by Sir Anthony Ashley, then almost entirely rebuilt in classical Georgian style in 1732. The Georgian work was Gothicised by Bodley in the … ... more