Attractions in England, Scotland, and Wales

Find places to visit by location or by type of attraction.

By Location
Explore thousands of attractions in England, Scotland, and Wales.

By type of Attraction:

But there is more to experiencing the UK ...

Tourist Information Centres in the UK

Newest Attraction:

Handel House Museum


London, Greater London, England

This museum is located in the attractive Georgian house where composer George Frideric Handel lived from 1723 until his death in 1759. The museum celebrates Handel's life and works and offers regular recitals of Baroque music in the superb setting of the period rooms. The museum is really 2 houses, numbers 25, where Handel lived, and number 23, the upper floor of which was the home of rock star Jimi Hendrix in 1968-69.

Heritage Rating:





Links to thousands of travel resources throughout England, Scotland, and Wales. To the best of our knowledge this is one of the largest online resources of information on travel in the UK, with listings covering everything from official regional tourist boards to local village websites.
Accommodation

NEW Castle Hotels in England - Scotland - Wales
Top locations
Bath, Birmingham, Brighton, Cardiff, Edinburgh, Lake District, Glasgow, Gatwick Airport, Heathrow Airport, London, Manchester, Stratford-upon-Avon, Swansea, York
Top locations
Cornwall, Lake District, London, Devon, Isle of Skye, North Wales, Pembrokeshire, Scottish Highlands
Bed & Breakfast: B&Bs, guest houses, and small hotels.
England - Scotland - Wales

Top locations
Cornwall, Lake District, Devon
New
Best Historic Churches - Our top rated historic churches to visit in Britain
Caithness Travel & Heritage Guide - the best of north east Scotland

Lincoln walking tours - self guided tours of historic Lincoln, Lincolnshire
Oakhurst Cottage - Hambledon, Surrey, England
Ness Botanic Gardens - Ness, Cheshire, England
Leighton Hall - Carnforth, Lancashire, England
Aberdeunant - Llansadwrn, Dyfed, Wales
Owain Glyndwr Centre - Machynlleth, Powys, Wales
Octavia Hill Birthplace Museum - Wisbech, Cambridgeshire, England
FEATURED HISTORIC HOTEL
Coombe Abbey Hotel
Coventry, West Midlands

A warm welcome awaits as we invite you to step straight into the history books and enjoy the unique experience that is Coombe Abbey Hotel.Originally a 12th Century Cisterican Abbey set in 500 acres of breathtaking parkland, with formal gardens designed by Lancelot Capability Brown, Coombe Abbey offers a haven … more >>
Heritage:
Rating:
UK Travel Guide




Most Popular

:
Virtual Tour of England - for a quick overview of what to see in each region of England.

Most popular England County Guides
UK Photo of the Day

Travel and scenery photos of of fabulous British locations. Available as free desktop wallpaper.

Current photo: Argyll's Lodging, Stirling, Stirlingshire, Scotland
Archives

History and Culture
History of Britain - full text of the 1912 book
English Culture
What makes England so ... English? From hedgerows to the history of tea, pastimes to traditional crafts.
British Battles
The major battles fought on British soil - who fought them, why, and what was the outcome?
History of Wales - History of Scotland
British Biography
Our look at the lives of famous people in the fields of art, architecture, science, and literature throughout British history. From Chaucer to Tennyson, Christopher Wren to William Shakespeare.
English Architecture
The story of English architecture and historic building styles, from prehistoric monuments to Victorian Gothic, with our suggestions for the best examples from each period to visit in England.
London History
From the Romans to the Blitz, our look at the colourful history of London.
Illustrated Dictionary of Church History and Architecture
A visual guide to British Churches from Saxon to Victorian Gothic.
HISTORY CORNER
Name the Historic attraction
British Heritage Awards
Celebrate the best of British Heritage in our annual
British Heritage awards.
British History Quiz
This ransom was first paid during the reign of Aethelred the Unready to prevent Danish attack
This Day in British History
31 October, 1147
Death of Earl Robert of Gloucester
Robert was Empress Maud's military leader in her struggle for the throne with King Stephen
Monarch Mayhem
This queen escaped from Oxford Castle by walking through enemy lines in the middle of the night
Heritage Snapshot
Bassenthwaite, Cumbria
local history
"The church of St Bega in Bassenthwaite must be one of the beautifully situated in Cumbria. Certainly Alfred, Lord Tennyson was inspired by the church, and describes it in the opening lines of his epic poem, 'Morte d'Arthur'. The church dates to at least 950 AD, and possibly marks the spot where the Irish nun, St Bega stayed in the 7th century."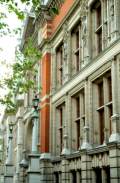 Victoria and Albert Museum
- London, Greater London, England
Museum of the decorative arts, including furniture, jewellery, carpets, sculpture, reliquaries, prints, Dress Collection, and more. One of the world's great museums. ... more