Attractions in England, Scotland, and Wales

Find places to visit by location or by type of attraction.

By Location
Explore thousands of attractions in England, Scotland, and Wales.

By type of Attraction:

But there is more to experiencing the UK ...

Tourist Information Centres in the UK

Newest Attraction:

Llanddewi, St David's Church


Knelston, Glamorgan, Wales

St David's is a 12th-13th century church with intriguing memorial slabs, the lagest bell on the Gower, and a Norman tub font.

Heritage Rating:





Links to thousands of travel resources throughout England, Scotland, and Wales. To the best of our knowledge this is one of the largest online resources of information on travel in the UK, with listings covering everything from official regional tourist boards to local village websites.
Accommodation

NEW Castle Hotels in England - Scotland - Wales
Top locations
Bath, Birmingham, Brighton, Cardiff, Edinburgh, Lake District, Glasgow, Gatwick Airport, Heathrow Airport, London, Manchester, Stratford-upon-Avon, Swansea, York
Top locations
Cornwall, Lake District, London, Devon, Isle of Skye, North Wales, Pembrokeshire, Scottish Highlands
Bed & Breakfast: B&Bs, guest houses, and small hotels.
England - Scotland - Wales

Top locations
Cornwall, Lake District, Devon
New
Best Historic Churches - Our top rated historic churches to visit in Britain
Caithness Travel & Heritage Guide - the best of north east Scotland

Lincoln walking tours - self guided tours of historic Lincoln, Lincolnshire
Llanbadarn-y-Garreg, St Padarn Church - Llanbadarn-y-Garreg, Powys, Wales
Llanddew, St David - Llanddew, Powys, Wales
Llanddewi Brefi, St David's Church - Llanddewi Brefi, Dyfed, Wales
Llanmadoc, St Madoc Church - Llanmadoc, Glamorgan, Wales
Llantarnam Abbey - Llantarnam, Gwent, Wales
Llanilid Castle Ringwork - Llanilid, Glamorgan, Wales
FEATURED HISTORIC HOTEL
Crewe Hall - A QHotel
Crewe, Cheshire

Contrasting the best mix of old and new styles, Crewe Hall is a Grade 1 stately home with a sympathetic modern addition offering stylish comfort. Enjoy a break in the modern West Wing and dine in the contemporary Brasserie with its unique revolving bar (open all week), whilst soaking in … more >>
Heritage:
Rating:
UK Travel Guide




Most Popular

:
Virtual Tour of England - for a quick overview of what to see in each region of England.

Most popular England County Guides
UK Photo of the Day

Travel and scenery photos of of fabulous British locations. Available as free desktop wallpaper.

Current photo: East Shefford Church, England
Archives

History and Culture
History of Britain - full text of the 1912 book
English Culture
What makes England so ... English? From hedgerows to the history of tea, pastimes to traditional crafts.
British Battles
The major battles fought on British soil - who fought them, why, and what was the outcome?
History of Wales - History of Scotland
British Biography
Our look at the lives of famous people in the fields of art, architecture, science, and literature throughout British history. From Chaucer to Tennyson, Christopher Wren to William Shakespeare.
English Architecture
The story of English architecture and historic building styles, from prehistoric monuments to Victorian Gothic, with our suggestions for the best examples from each period to visit in England.
London History
From the Romans to the Blitz, our look at the colourful history of London.
Illustrated Dictionary of Church History and Architecture
A visual guide to British Churches from Saxon to Victorian Gothic.
HISTORY CORNER
Name the Historic attraction
British Heritage Awards
Celebrate the best of British Heritage in our annual
British Heritage awards.
British History Quiz
This architect was responsible for the design of the Bank of England building and the Dulwich Art Gallery
This Day in British History
20 December, 1192
Richard I captured and imprisoned by Leopold V of Austria
Richard (the Lionheart) and Leopold had become enemies on the 3rd Crusade. Richard was only freed after payment of a heavy ransom.
Monarch Mayhem
This king was captured at the Battle of Lincoln on 2 February, 1141
Heritage Snapshot
Lavenham, Suffolk
in the Domesday Book
"Alwig held Lavenham under St Edmund with the soke in the time of King Edward as a manor with 2 carucates of land which he could not sell without the abbot's permission. Now Frodo holds it from King William and claims it for his fief saying that it was delivered to him."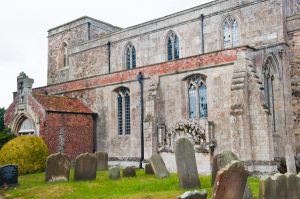 Welwick, St Mary's Church
- Welwick, Yorkshire, England
It isn't easy to get to Welwick; it is situated off the beaten path in the most southerly area of the Holderness peninsula, but its well worth the trip, for the church of St Mary is full of historic interest, with a fantastic late 14th century tomb and associations with the Gunpowder Plot. ... more