Attractions in England, Scotland, and Wales

Find places to visit by location or by type of attraction.

By Location
Explore thousands of attractions in England, Scotland, and Wales.

By type of Attraction:

But there is more to experiencing the UK ...

Tourist Information Centres in the UK

Newest Attraction:

Browsholme Hall


Clitheroe, Lancashire, England

Browsholme is an early Tudor house with the addition of a Regency wing. Within the house are a collection of portraits, weapons, armour, and antiquities. In local dialect Brownholme is pronounced 'Brewsom', and it has been the home of the Parker family since it was built in 1507.

Heritage Rating:





Links to thousands of travel resources throughout England, Scotland, and Wales. To the best of our knowledge this is one of the largest online resources of information on travel in the UK, with listings covering everything from official regional tourist boards to local village websites.
Accommodation

NEW Castle Hotels in England - Scotland - Wales
Top locations
Bath, Birmingham, Brighton, Cardiff, Edinburgh, Lake District, Glasgow, Gatwick Airport, Heathrow Airport, London, Manchester, Stratford-upon-Avon, Swansea, York
Top locations
Cornwall, Lake District, London, Devon, Isle of Skye, North Wales, Pembrokeshire, Scottish Highlands
Bed & Breakfast: B&Bs, guest houses, and small hotels.
England - Scotland - Wales

Top locations
Cornwall, Lake District, Devon
New
Best Historic Churches - Our top rated historic churches to visit in Britain
St Mary's church, Sudeley Castle - last resting place of Queen Katherine Parr
Wallington Hall - Morpeth, Northumberland, England
Hexham Abbey - Hexham, Northumberland, England
Shotley, St Andrew's Church - Shotley, Northumberland, England
Cherryburn - Stocksfield, Northumberland, England
Bywell, St Andrew's Church - Bywell, Northumberland, England
Prudhoe Castle - Prudhoe, Northumberland, England
FEATURED HISTORIC HOTEL
Ravenwood Hall Hotel
Bury St Edmunds, Suffolk

One of the most historic hotels in in Suffolk Ravenwood Hall is steeped in nearly 500 years of history Set in seven acres of landscaped woodlands and gardens this country house hotel is easily accessible from the main A14 running through the heart of East Anglia. Whether your visit is … more >>
Heritage:
Rating:
UK Travel Guide




Most Popular

:
Virtual Tour of England - for a quick overview of what to see in each region of England.

Most popular England County Guides
UK Photo of the Day

Travel and scenery photos of of fabulous British locations. Available as free desktop wallpaper.

Current photo: Elizabethan pulpit, Kettlethorpe Lincolnshire, England
Archives

History and Culture
History of Britain - full text of the 1912 book
English Culture
What makes England so ... English? From hedgerows to the history of tea, pastimes to traditional crafts.
British Battles
The major battles fought on British soil - who fought them, why, and what was the outcome?
History of Wales - History of Scotland
British Biography
Our look at the lives of famous people in the fields of art, architecture, science, and literature throughout British history. From Chaucer to Tennyson, Christopher Wren to William Shakespeare.
English Architecture
The story of English architecture and historic building styles, from prehistoric monuments to Victorian Gothic, with our suggestions for the best examples from each period to visit in England.
London History
From the Romans to the Blitz, our look at the colourful history of London.
Illustrated Dictionary of Church History and Architecture
A visual guide to British Churches from Saxon to Victorian Gothic.
HISTORY CORNER
Name the Historic attraction
British Heritage Awards
Celebrate the best of British Heritage in our annual
British Heritage awards.
British History Quiz
This revolutionary artist, architect, and landscape gardener helped develop the peculiarly English style of landscape gardening
This Day in British History
20 August, 1912
Death of William Booth
Booth (b. 1829) founded the Salvation Army in 1865 and served as its first General
Monarch Mayhem
One of this king's numerous mistresses was Nell Gwynn, a flower seller at Covent Garden
Heritage Snapshot
Skelbrooke, Yorkshire
in the Domesday Book
"In Skelbrooke, Godric and Alwine had 5 carucates of land to the geld, where there could be 4 ploughs. Now Hervey has it of Ilbert. He himself has 2 ploughs there, and 9 villans and 2 bordars having 4 ploughs, and there are 5 acres of meadow. In the time of King Edward worth £4, now 3."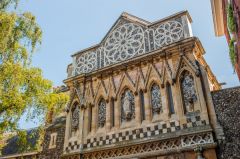 The Ethelbert Gate
- Norwich, Norfolk, England
Dating to 1320, this gateway gives access to the cathedral close from the southern end of Tombland. The decorative stonework is exceptional, especially in its early use of flint flushwork. The gate was built by the citizens of Norwich as expiation for burning the cathedral and priory in 1272. ... more