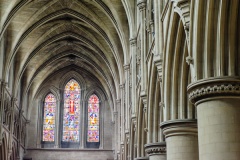 Norwich is blessed with an astounding collection of historic churches, a legacy of the city's wealth during the medieval period, when only London and York had larger populations. At the height of its prosperity there were over 50 churches in greater Norwich, and even today, over 30 medieval churches still stand. Some are redundant, cared for by heritage organisations like the Churches Conservation Trust (CCT) or the
Norwich Historic Churches Trust
(NHCT), some are used for other purposes such as art or community centres, but others still serve as they have done for hundreds, or - in some cases - over a thousand years.
Here are links to articles we've written on churches in the city. These are places we've visited in person - though in the case of a couple of redundant churches the visit consisted of gazing longingly through locked churchyard gates! Where humanly possible we've taken photos of the church interiors and included visiting information. All of these churches are easily reached on foot from Norwich town centre, though in a few cases its a bit of a walk to get there!
There are few surprises in this list; there are two non-Conformist chapels, a Quaker meeting house, and a shrine included in the list.
Let's start with the obvious:
Norwich Cathedral
One of the great churches of western Europe, Norwich Cathedral was begun by Bishop Henry de Losinga in 1096 on low-lying land in a loop of the River Wensum. There is a 9th century stone cathedra, or bishop's chair, and over 1100 superb 12th century roof bosses.
But there is another cathedral in Norwich, one sadly overlooked by most visitors.
Norwich Catholic Cathedral
Henry Howard, 15th Duke of Norfolk, was a staunch Catholic. In 1882 he brought in George Gilbert Scott to build a new church at his own expense to serve the Catholics of Norfolk. The result is a superb building in richly decorated High Victorian Gothic style. The quality of workmanship is astounding, with gleaming columns of Frosterley marble and intricate carving detail.


Parish Churches
All Saints Westlegate
This small church stands close to the castle and to St John Timberhill. The oldest part of the church is 13th century, though much was rebuilt in the 15th century. Now used as a Christian hospitality centre, the church boasts interesting fragments of stained glass in the nave, and memorials from the 17th-19th centuries.
St Andrew's
A large hall church dating to the 15th century, with a large collection of historic memorials including many to the Suckling family. Look for the tomb of Robert Garsett, owner of Armada House on Princes Street.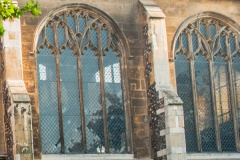 St Augustine
A redundant medieval church with a striking 17th century brick tower. Look for colourful Victorian stained glass and the tomb of Matthew Brettingham, architect of Holkham Hall.
St Clement Colegate
Standing near Fye Bridge, this redundant church is still open as a quiet place for meditation. Begun in the 11th century, rebuilt in Perpendicular style in the 15th century. There is a 15th century font, and a brass to Margaret Petwoode (d. 1514). In the churchyard is a table tomb to an Elizabethan Archbishop of Canterbury, Matthew Parker, who preached against Kett's Rebellion here.


St George Colegate
Set in a wealthy area of medieval Norwich, St George's boasts sexcellent tombs of rich merchant families. One of the earliest is a rare terra-cotta memorial to Robert Jannys (1530). Look for the wall tablet to John Crome, fouder of the Norwich School.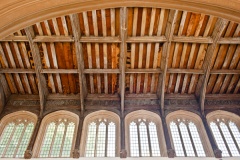 St George Tombland
A 13th century church with a Purbeck marble font, a Georgian pulpit and reredos, and 17th century memorials.
St Giles-on-the-Hill
The tallest tower in Norwich graces this Perpendicular church. The highlight is a wonderful 15th century hammerbeam roof with carved wooden angels and a 15th century brass eagle lectern.
St Helen
Attatched to the 13th century Great Hospital, this attractive building has beautifully decorated roof bosses of 1480, a memorial to John Hecker (1532) and the only box pews in Norwich.
St John Maddermarket
A late 15th century church with the largest collection of medieval brasses in Norwich. There are elaborate tombs to Mayors of Norwich, including John Terry (d. 1524), Christopher Layer (d. 1600), Nicholas Sotherton (d. 1540), and his grandson Thomas (d. 1608).


St John Timberhill
This large church near the castle takes its name from a medieval lumber market. There is Saxon stonework in the walls, and a 16th century candelabrum over the altar.
St Julian's Church and Julian of Norwich Shrine
The 14th century mystic Julian of Norwich had a small anchoress cell attatched to this 12th century church. The cell was destroyed in the Reformation, but both church and cell were rebuilt with the original materials after being hit by WWII bombs.
St Laurence
Another late 15th century church with a 1490 hammerbeam roof, 15th century font, and peculiar Edwardian painted panels in the sanctuary.
St Margaret
A 15th century church in lovely Perpendicular style. There is a 1707 gallery made with reused communion rails, a monument to Anne Rede (1577), and colourful modern stained glass. Redundant, and now used as an exhibition space.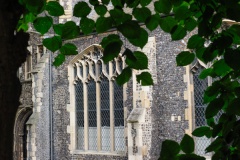 St Michael at Plea
A 14th century church with a carved frieze around the nave exterior. The roof is 15th century, with carved angel decoration. There is a 15th century font topped by a beautifully carved 17th century cover. Look for the simple tomb of Jecques de Hem (d. 1603).
St Peter Hungate
This redundant church at the top of
Elm Hill
is now Hungate Medieval Art, showcasing changing exhibits of church art from around Norwich, including stained glass, carved pews, and painted screens.
St Peter Mancroft
One of the finest town churches in England, mostly Perpendicular, with wonderful medieval glass in the east window. There is a 16th century tapestry depicting the Resurrection, and a glorious 15th century carved font cover.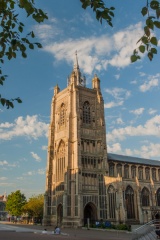 St Peter Parmentergate
Dating to the 11th century, rebuilt in the 15th, and redundant since 1981. The 15th century tower is beautifully carved, and there is a Perpendicular font carved with figures of lions, wildmen and women. Look for the 1623 Berney tomb, with an ornate Jacobean canopy.
St Simon and St Jude
On the site of a Saxon church, this medieval building features tombs to members of the wealthy Pettus family, including Sir Augustus Pettus (d. 1613).


St Stephen
Featuring an unusual north tower, St Stephen's has a Tudor hammerbeam roof, medieval brasses, and an elaborate memorial to John Mingay (d. 1615).
St Swithin
One of 4 medieval churches on St Benedict's Street, St Swithins is a 15th century building now used as a centre for the arts. Look for Decorated windows at ground level and Perpendicular windows in the clerestorey.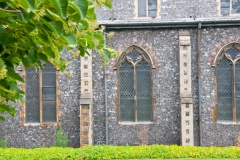 Those are parish churches, either current or redundant. Then there's a bit of a special case ...
The Halls
Two medieval church halls once part of a Dominican friary. The Halls were purchased by the city of Norwich when the friary was dissolved by Henry VIII, and have acted as an exhibition and event space for civic functions for over 400 years. Look for the 13th century vaulted chapel of Thomas Becket.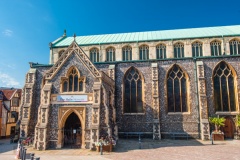 Norwich has a long history as a centre of non-Conformist religion. In fact, some of the earliest surviving non-Conformist churches and chapels can be found in the area. Here are some we've visited.
Octagon Chapel
A mid-18th century Methodist chapel built by Thomas Ivory in Palladian style. Called the most beautiful meeting house in Europe by John Wesley, its design heavily influenced Methodist chapel design.
Old Meeting House
Built in 1693 to house the growing Congregationalist population of Norwich. Contains a late 17th century organ and the earliest sash windows inn Norwich.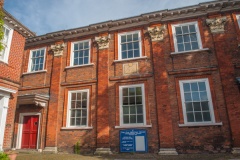 Quaker Meeting House
Built in 1679, making it among the oldest purpose-built meeting houses in England. Rebuilt completely in 1826, its most famous association is with prison reformer Elizabeth Fry who worshipped in both the 'old' and 'new' meeting houses.
And these are just the ones we've managed to visit! There are more churches that we haven't had time to get to yet. For more information I highly recommend the
Norwich Historic Churches Trust
, who have an extremely useful page of essential information on church visiting, including normal openimg hours and contact details for each church.