York is dominated by York Minster, but there are a wide variety of other historic churches which deserve visitor attention. Here are just a few.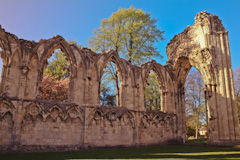 All Saints
North Street
All Saints possesses a fine collection of original 14th century stained glass. Two windows of note depict "Corporal acts of Mercy", and the "Pricke of Conscience". Look for the stained glass figure depicted wearing eyeglasses. The church dates back as far as the 12th century, though much of what remains was added in the 14th and 15th centuries. The West tower, 120 feet high, is 15th century. The church was heavily restored after a 1997 fire.
Admission: Free.
All Saints Pavement
High Ousegate
The second All Saints church in York is easily noticed due to its striking octagonal 15th century lantern tower. In the medieval period a lantern was hung from the tower to act as a beacon for travellers in the Forest of Galtres to the north. The church, first mentioned in the Domesday Book, is the burial place of 39 Lord Mayors. Look for the 12th century door knocker depicting the Mouth of Hell.
Open: 8am-5.30pm for visitors. Admission: Free.
Bar Convent
Chapel
This small convent of Cathoilc sisters was founded in 1686. The splendid neo-classical domed chapel was built in 1766 to designs by Thomas Atkinson. The dome is painted white, with accents in gold. Eight fluted columns support the dome. Joseph Hansom, inventor of the Hansom cab, was baptised here in 1803.
Holy Trinity Church
Goodramgate
Tucked behind a row of houses said to be among the oldest in England is the 15th century Holy Trinity church. There was a church on this site at the time of the Domesday Book, but most of the present church exterior dates from the 17th and 18th centuries. The red brick entrance was built in 1776. The interior is notable for its irregular box pews, also 17th century, and some fine medieval stained glass. Admission: Free, but donations welcome. Disabled access. See our Photo Gallery of Holy Trinity, York, for a closer look at this hidden gem. Also see the church's own website.
St. Michael-le-Belfry
High Petergate
Just to the south of the Minster is the low, squat shape of St. Michael-le-Belfry. Just inside the entrance is an enlarged copy of the church registry dated April 16, 1570, recording the baptism of Guy Fawkes. The current church was built in 1525-37, replacing an even earlier building. The interior contains an elegant 1702 gilded reredos and 16th century carved benches. Admission: Free. Disabled access.
And for good measure we'll throw in the wonderfully atmospheric ruins of ...
St Mary's Abbey
Once one of the most powerful monasteries in the north of England, St Mary's was established in the Norman period and extended in the 13th century. Now the abbey ruins stand in picturesque splendour within the gardens of the Yorkshire Museum.
Other historic church resources:
St Olave's
St Martin-le-Grand
St Helens Stonegate