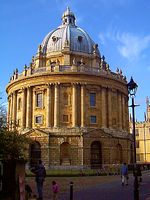 Self Catering cottages in Oxfordshire
Here is a browseable listing of our holiday cottages in Oxfordshire, England. Please select your desired location from the menu below, or use the search form to the right. You may also wish to consult the listings for cottages in nearby Gloucestershire, Buckinghamshire, or Bedfordshire, which border on Oxfordshire. For alternative accommodation, see our Oxfordshire hotel guide, and for suggestions on what to see and do in the area, visit our Oxfordshire Travel Guide or our in-depth travel guide to the historic city of Oxford.
Alternative accommodation: Hotels - Bed & Breakfast
ACCOMMODATION MAP

- Featured Cottages - Location list
Refine Your Search

Locations are approximate and should be used for guidance purposes only. Please see individual cottages for more precise location information.
FEATURED COTTAGES
Oxfordshire Self Catering Locations
Attraction search

photo of the Radcliffe Camera, Oxford, Oxfordshire is © David Ross and Britain Express