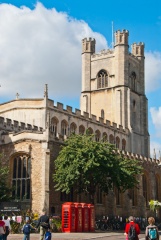 Of all Cambridge churches and chapels, one stands head and shoulders above the others in terms of popularity; King's College Chapel. Certainly the queues are long enough during chapel opening hours! But there are many more wonderful churches around the old city centre. In fact, I can't think of another place in England that has a greater concentration of historic churches within easy strolling distance of each other, and that's not even mentioning all the college chapels, many of which deserve equal billing in terms of historical importance. See King's College Chapel by all means, it is well worth visiting. But for goodness sake, don't stop there, there are so many other fascinating churches just minutes away!
Cambridge Leper Chapel
Around 1125 a small leper hospital was established at Stourbridge, just outside the town walls. This simple building has now been engulfed the expanding maw of modern Cambridge.
Newmarket Road, Cambridge, Cambridgeshire, England, CB5 8LG
Heritage Rating:
All Saints
In amongst all the medieval jewels of Cambridge is a Victorian gem; designed by GF Bodley and standing opposite the entrance to Jesus College, All Saints is a wonderful Gothic Revival building, begun in 1863, with a richly decorated interior.
Jesus Lane, Cambridge, Cambridgeshire, England, CB5 8BS
Heritage Rating:
St Peter's Church
A late 11th century church built beside one of the main roads into Cambridge, later extended but retains many Norman features.
Castle Hill, Cambridge, Cambridgeshire, England, CB3 0AJ
Heritage Rating:
Great St Mary's
As the name 'Great' might suggest, this is the largest church in Cambridge, and has outstanding carvings within the ornate interior. It was used as a meeting hall in medieval times, and as a venue for conferring degrees until Senate House was built opposite in 1730.
Cambridge, Cambridgeshire, England
Heritage Rating:
King's College Chapel
Founded in 1441 by Henry VI for students of his new King's College. Designed by Henry's own royal architect, Reginald of Ely, the result is one of the most beatiful medieval buildings in England, known for its superlative Perpendicular vaulting.
Kings College, Cambridge, East Anglia, Cambridgeshire, England, CB2 1ST
Heritage Rating:
Little St Mary's
The original 12th century church on this site was known as St. Peter-without-Trumpington-Gate. This dedication provided the name for the neighbouring college of Peterhouse. Students at Peterhouse worshipped in the church until the college chapel was erected in 1632.
Trumpington Street, Cambridge, Cambridgeshire, England, CB2 1QG
Heritage Rating:


Round Church
One of just four round medieval churches in Britain, this striking building was erected around 1130 to emulate the design of the Church of the Holy Sepulchre in Jerusalem. Wonderful carved heads around the inner dome.
Round Church Street, Cambridge, Cambridgeshire, England
Heritage Rating:


St Bene't's (St Benedicts)
Commonly known as St Bene't's, this ancient building was begun in 1020. The tower of St Bene't's is thus the oldest intact building in Cambridgeshire. Surviving Saxon features include the chancel arch and traditional long-and-short quoins at the building corners.
Bene't Street, Cambridge, Cambridgeshire, England
Heritage Rating: