New College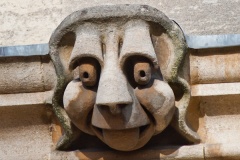 New College began life as St. Mary's College, the brainchild of William Wykeham, influential Bishop of Winchester and Chancellor of England. The trouble was, there was already a college at Oxford named St. Mary's (now Oriel College), so Wykeham's foundation became the "new St. Mary's", and eventually simply "New College".
When New College was founded in 1379 it was the first college to be designed around the now obligatory quadrangle (although Merton's Mob Quad is older, it grew up organically, rather than by plan).
Bishop Wykeham intended New College to serve a dual purpose; supply clergy to replace those who had died in the Black Plague, and provide a chantry chapel whose priests would sing daily prayers for his soul.
Wykeham made certain that there would be a steady supply of well educated students for his new college by also founding a grammar school at Winchester (now Winchester College). At first New College took all its students from Winchester, a practice which did not cease until 1854.
The original charter to New College stipulated that the college was responsible for the upkeep of that section of the city wall which formed its boundary. The original wall still stands in the college garden - proof that the college upheld its bargain.
The chapel backs onto the hall, and next to that is the Muniment Tower, originally built to protect the college's valuables. The lower floor is now a museum showcasing the college's collection of gold and silver plate, as well as curiosities such as a unicorn's horn and William Wykeham's bishops mitre.
Another notable aspect of New College is its garden, arguably the finest among Oxford colleges. Apart from the section of medieval city wall (see above), the garden contains an authentic Elizabethan mound, a common decorative feature of Tudor gardens.

New College
Holywell Street
Oxford
OX1 3BN
website
Open most days, from New College Lane. Shorter hours in winter (access via the main entrance on Holywell Street). Fee charged. Entry includes visitor map and guide and allows access to the Cloisters, Chapel, Hall, Gardens and City Wall.
Attraction search