Attractions in England, Scotland, and Wales

Find places to visit by location or by type of attraction.

By Location
Explore thousands of attractions in England, Scotland, and Wales.

By type of Attraction:

But there is more to experiencing the UK ...

Tourist Information Centres in the UK

Newest Attraction:

Falkland Palace


Falkland, Fife, Scotland

Falkland was the country retreat of the Stewart kings and queens of Scotland, located within easy reach of Edinburgh, yet far enough distant to provide a welcome escape. Here the royal court could indulge in hawking and hunting, plus more genteel recreations like archery. Falkland boasts the oldest real (or 'royal') tennis court in the world, built in 1539 for James V.

Heritage Rating:





Links to thousands of travel resources throughout England, Scotland, and Wales. To the best of our knowledge this is one of the largest online resources of information on travel in the UK, with listings covering everything from official regional tourist boards to local village websites.
Accommodation

NEW Castle Hotels in England - Scotland - Wales
Top locations
Bath, Birmingham, Brighton, Cardiff, Edinburgh, Lake District, Glasgow, Gatwick Airport, Heathrow Airport, London, Manchester, Stratford-upon-Avon, Swansea, York
Top locations
Cornwall, Lake District, London, Devon, Isle of Skye, North Wales, Pembrokeshire, Scottish Highlands
Bed & Breakfast: B&Bs, guest houses, and small hotels.
England - Scotland - Wales

Top locations
Cornwall, Lake District, Devon
New
Best Historic Churches - Our top rated historic churches to visit in Britain
Hidden History - Little Known Historic Attractions in Norwich
Elm Hill, Norwich - The prettiest Tudor Street in England
Tombland - the heart of historic Norwich
Hill of Tarvit House - Cupar, Fife, Scotland
Bostadh Iron Age House - Bostadh, Highlands and Islands, Scotland
Farndon, St Chad's Church - Farndon, Cheshire, England
Ravenscraig Castle - Kirkcaldy, Fife, Scotland
Lower Heyford, St Mary's Church - Lower Heyford, Oxfordshire, England
North Aston, St Mary's Church - North Aston, Oxfordshire, England
FEATURED HISTORIC HOTEL
17th Century Orton Hall
Orton, Cumbria

Orton Hall is a superb Jacobean Mansion built in 1662 standing in 7 acres of its own mature parkland. We have 3 suites, each with its own unique charm. All guests have full use of the grounds and the Great Hall, with its grand piano, snooker table, fireplace and spectacular … more >>
Heritage:
Rating:
UK Travel Guide




Most Popular

:
Virtual Tour of England - for a quick overview of what to see in each region of England.

Most popular England County Guides
UK Photo of the Day

Travel and scenery photos of of fabulous British locations. Available as free desktop wallpaper.

Current photo: Hereford Cathedral from Castle Street, England
Archives

History and Culture
History of Britain - full text of the 1912 book
English Culture
What makes England so ... English? From hedgerows to the history of tea, pastimes to traditional crafts.
British Battles
The major battles fought on British soil - who fought them, why, and what was the outcome?
History of Wales - History of Scotland
British Biography
Our look at the lives of famous people in the fields of art, architecture, science, and literature throughout British history. From Chaucer to Tennyson, Christopher Wren to William Shakespeare.
English Architecture
The story of English architecture and historic building styles, from prehistoric monuments to Victorian Gothic, with our suggestions for the best examples from each period to visit in England.
London History
From the Romans to the Blitz, our look at the colourful history of London.
Illustrated Dictionary of Church History and Architecture
A visual guide to British Churches from Saxon to Victorian Gothic.
HISTORY CORNER
Name the Historic attraction
British Heritage Awards
Celebrate the best of British Heritage in our annual
British Heritage awards.
British History Quiz
This conflict between King John and his most powerful nobles resulted in the signing of the Magna Carta in 1215
This Day in British History
12 March, 1901
Whitechapel Art Gallery opens
The gallery was one of the first publicly financed art venues in London
Monarch Mayhem
A king that was simultaneously the VIth and the Ist monarch of his name
Heritage Snapshot
Norwich, Norfolk
in the 17th century
"... all their buildings are of an old form, mostly in deep poynts and much tileing, and their building timber and they playster on laths which they strike out into squares like broad free stone on the outside, which makes their fronts look pretty well, and some they build high and contract the roofs like London houses, but none of brick except some few beyond the river which are built like some of the rich factors like London buildings ..."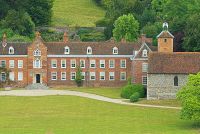 Stonor Park
- Henley On Thames, Oxfordshire, England
Stonor Park has been the home of the staunchly Catholic Stonor family for over 8 centuries. The elegant house sits beside a 14th century chapel, with walled Italianate gardens to the rear. The oldest part of the house dates to the 12th century, with a 14th century hall. A Georgian front was added in the 18th century, but little has changed since that time, meaning that visitors today see a house essentially unchanged for over … ... more