Attractions in England, Scotland, and Wales

Find places to visit by location or by type of attraction.

By Location
Explore thousands of attractions in England, Scotland, and Wales.

By type of Attraction:

But there is more to experiencing the UK ...

Tourist Information Centres in the UK

Newest Attraction:

Borde Hill Garden


Hayward's Heath, West Sussex, England

Borde Hill is an informal country garden, covering over 200 acres, with woodland and parkland areas as well as 17 acres of formal garden areas arranged as a series of distinct garden rooms, each with a different theme. There are enjoyable lakeside and woodland walks.

Heritage Rating:





Links to thousands of travel resources throughout England, Scotland, and Wales. To the best of our knowledge this is one of the largest online resources of information on travel in the UK, with listings covering everything from official regional tourist boards to local village websites.
Accommodation

NEW Castle Hotels in England - Scotland - Wales
Top locations
Bath, Birmingham, Brighton, Cardiff, Edinburgh, Lake District, Glasgow, Gatwick Airport, Heathrow Airport, London, Manchester, Stratford-upon-Avon, Swansea, York
Top locations
Cornwall, Lake District, London, Devon, Isle of Skye, North Wales, Pembrokeshire, Scottish Highlands
Bed & Breakfast: B&Bs, guest houses, and small hotels.
England - Scotland - Wales

Top locations
Cornwall, Lake District, Devon
New
Best Historic Churches - Our top rated historic churches to visit in Britain
Caithness Travel & Heritage Guide - the best of north east Scotland
High Beeches Gardens - Handcross, West Sussex, England
Sheffield Park - Sheffield Green, East Sussex, England
Bodysgallen Hall - Llandudno, Clwyd, Wales
North Yorkshire Moors Railway - Pickering, Yorkshire, England
Wheeldale Roman Road - Pickering, Yorkshire, England
St Mary's House - Bramber, West Sussex, England
FEATURED HISTORIC HOTEL
Wentbridge House Hotel
Wentbridge, Yorkshire

Wentbridge House dates from 1700 and is set in 20 acres of gardens and grounds in the beautiful Went Valley. The hotel is steeped in history, surrounded by century old trees and provides a relaxed and peaceful setting within easy reach of Wakefield, Doncaster, Leeds and York.Wentbridge House is independently … more >>
Heritage:
Rating:
UK Travel Guide




Most Popular

:
Virtual Tour of England - for a quick overview of what to see in each region of England.

Most popular England County Guides
UK Photo of the Day

Travel and scenery photos of of fabulous British locations. Available as free desktop wallpaper.

Current photo: Lubas Bay, Isle of Bute, Argyll and Bute, Scotland
Archives

History and Culture
History of Britain - full text of the 1912 book
English Culture
What makes England so ... English? From hedgerows to the history of tea, pastimes to traditional crafts.
British Battles
The major battles fought on British soil - who fought them, why, and what was the outcome?
History of Wales - History of Scotland
British Biography
Our look at the lives of famous people in the fields of art, architecture, science, and literature throughout British history. From Chaucer to Tennyson, Christopher Wren to William Shakespeare.
English Architecture
The story of English architecture and historic building styles, from prehistoric monuments to Victorian Gothic, with our suggestions for the best examples from each period to visit in England.
London History
From the Romans to the Blitz, our look at the colourful history of London.
Illustrated Dictionary of Church History and Architecture
A visual guide to British Churches from Saxon to Victorian Gothic.
HISTORY CORNER
Name the Historic attraction
British Heritage Awards
Celebrate the best of British Heritage in our annual
British Heritage awards.
British History Quiz
Queen Victoria's refusal to dismiss those of her attendants married to Whig politiciians precipitated a constitutional conflict called ...
This Day in British History
25 October, 1154
Death of King Stephen
Stephen is succeeded by Henry Plantagenet, son of Empress Matilda (Queen Maud)
Monarch Mayhem
This queen was immortalized by Edmund Spenser in his 'Faerie Queene'
Heritage Snapshot
Bude, Cornwall
local history
"Bude was a small seaside resort famous for its reputation as the home of wreckers, until 1823 when the Bude Canal was constructed. The canal, which stretched for 20 miles, carried beach sand used for fertiliser to the railroad at Launceston. The success of the canal brought prosperity - and hordes of holiday makers - to Bude."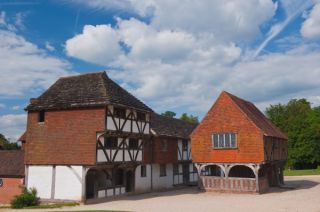 Weald and Downland Open Air Museum
- Singleton, West Sussex, England
Over 35 historic buildings rescued from demolition have been carefully dismantled and reconstructed in this fascinating site. Among the many buildings on display are a medieval farmstead, complete with furniture and livestock, a watermill, and a Tudor market hall. There are numerous hands-on exhibits of building materials and techniques. ... more