Attractions in England, Scotland, and Wales

Find places to visit by location or by type of attraction.

By Location
Explore thousands of attractions in England, Scotland, and Wales.

By type of Attraction:

But there is more to experiencing the UK ...

Tourist Information Centres in the UK

Newest Attraction:

Sutton House


London, Greater London, England

A unique survival in London's East End, Sutton House was built in 1535 by Sir Ralph Sadleir, a rising star at the court of Henry VIII. It became home to a succession of merchants, Huguenot silk weavers, Victorian schoolmistresses and Edwardian clergy, and, although altered over the years, remains essentially a Tudor house.

Heritage Rating:





Links to thousands of travel resources throughout England, Scotland, and Wales. To the best of our knowledge this is one of the largest online resources of information on travel in the UK, with listings covering everything from official regional tourist boards to local village websites.
Accommodation

NEW Castle Hotels in England - Scotland - Wales
Top locations
Bath, Birmingham, Brighton, Cardiff, Edinburgh, Lake District, Glasgow, Gatwick Airport, Heathrow Airport, London, Manchester, Stratford-upon-Avon, Swansea, York
Top locations
Cornwall, Lake District, London, Devon, Isle of Skye, North Wales, Pembrokeshire, Scottish Highlands
Bed & Breakfast: B&Bs, guest houses, and small hotels.
England - Scotland - Wales

Top locations
Cornwall, Lake District, Devon
New
Best Historic Churches - Our top rated historic churches to visit in Britain
Caithness Travel & Heritage Guide - the best of north east Scotland

Lincoln walking tours - self guided tours of historic Lincoln, Lincolnshire
Talacre Garden - Gwespyr, Clwyd, Wales
Ford End Watermill - Ivinghoe, Buckinghamshire, England
Boughton Monchelsea Place - Boughton Monchelsea, Kent, England
Bicton Park Botanical Gardens - East Budleigh, Devon, England
Compton Castle - Marldon, Devon, England
Riverside Museum at Blake's Lock - Reading, Berkshire, England
FEATURED HISTORIC HOTEL
Coombe Abbey Hotel
Coventry, West Midlands

A warm welcome awaits as we invite you to step straight into the history books and enjoy the unique experience that is Coombe Abbey Hotel.Originally a 12th Century Cisterican Abbey set in 500 acres of breathtaking parkland, with formal gardens designed by Lancelot Capability Brown, Coombe Abbey offers a haven … more >>
Heritage:
Rating:
UK Travel Guide




Most Popular

:
Virtual Tour of England - for a quick overview of what to see in each region of England.

Most popular England County Guides
UK Photo of the Day

Travel and scenery photos of of fabulous British locations. Available as free desktop wallpaper.

Current photo: Ardkinglas Woodland Gardens, Argyll and Bute, Scotland
Archives

History and Culture
History of Britain - full text of the 1912 book
English Culture
What makes England so ... English? From hedgerows to the history of tea, pastimes to traditional crafts.
British Battles
The major battles fought on British soil - who fought them, why, and what was the outcome?
History of Wales - History of Scotland
British Biography
Our look at the lives of famous people in the fields of art, architecture, science, and literature throughout British history. From Chaucer to Tennyson, Christopher Wren to William Shakespeare.
English Architecture
The story of English architecture and historic building styles, from prehistoric monuments to Victorian Gothic, with our suggestions for the best examples from each period to visit in England.
London History
From the Romans to the Blitz, our look at the colourful history of London.
Illustrated Dictionary of Church History and Architecture
A visual guide to British Churches from Saxon to Victorian Gothic.
HISTORY CORNER
Name the Historic attraction
British Heritage Awards
Celebrate the best of British Heritage in our annual
British Heritage awards.
British History Quiz
Known as the mistress of Edward III
This Day in British History
26 November, 1379
New College, Oxford established
New College was founded by William of Wykeham, Bishop of Winchester, who also founded Winchester College
Monarch Mayhem
This monarch died at Pontefract Castle in Yorkshire, in early 1400, probably of starvation
Heritage Snapshot
Pershore, Worcestershire
in the Domesday Book
"The Church of St Mary of Pershore held and holds the manor itself of Pershore. There are 26 hides paying geld. These berewicks belong there: Chivington, Abberton, Wadborough, Drake's Broughton, Wick, Comberton. Of the above mentioned 26 hides the church itself now holds 21 hides. In demesne are 5 ploughs; and 24 villans and 8 bordars with 22 ploughs. There are 7 slaves, and a mill rendering 4s, and at Wyre Piddle half a mill rendering 10s and 20 sticks of eels. There are 60 acres of meadow and woodland 1 league long and half a league wide. In Droitwich 1 salt-pan renders 30 mittae of salt. In the time of King Edward it was worth £13, now £12."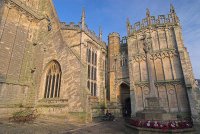 Cirencester
- Cirencester, Gloucestershire, England
Once the second-largest town in England, after London, Cirencester was established in 75 AD for the local Dobunni tribe. The original Roman grew until by the 2nd century it was a fortified town of 240 acres, with its own amphitheatre. Many of the Roman artefacts unearthed over the centuries are displayed in the award-winnning Corinium Museum. A short stroll from the museum is the superb edieval church of St John the Baptist, notable for its … ... more