Attractions in England, Scotland, and Wales

Find places to visit by location or by type of attraction.

By Location
Explore thousands of attractions in England, Scotland, and Wales.

By type of Attraction:

But there is more to experiencing the UK ...

Tourist Information Centres in the UK

Newest Attraction:

Cawston


Norfolk, England

A medium sized village near Aylsham, Cawston draws visitors from every corner of the country to see the fabulous hammer-beam roof of St Agnes church. There was a church here as early as the 12th century, but the present building dates to the 14th century. The superb roof is one of the first examples in Britain to be built in a double hammer-beam style. In addition, St Agnes boasts a lovely 15th century painted rood screen.

Heritage Rating:





Links to thousands of travel resources throughout England, Scotland, and Wales. To the best of our knowledge this is one of the largest online resources of information on travel in the UK, with listings covering everything from official regional tourist boards to local village websites.
Accommodation

NEW Castle Hotels in England - Scotland - Wales
Top locations
Bath, Birmingham, Brighton, Cardiff, Edinburgh, Lake District, Glasgow, Gatwick Airport, Heathrow Airport, London, Manchester, Stratford-upon-Avon, Swansea, York
Top locations
Cornwall, Lake District, London, Devon, Isle of Skye, North Wales, Pembrokeshire, Scottish Highlands
Bed & Breakfast: B&Bs, guest houses, and small hotels.
England - Scotland - Wales

Top locations
Cornwall, Lake District, Devon
New
Best Historic Churches - Our top rated historic churches to visit in Britain
Caithness Travel & Heritage Guide - the best of north east Scotland

Lincoln walking tours - self guided tours of historic Lincoln, Lincolnshire
Cole Museum of Zoology - Reading, Berkshire, England
Norham Castle - Norham, Northumberland, England
Flodden Battlefield Site - Branxton, Northumberland, England
Caerau Roman Fort - Beulah, Powys, Wales
Brithdir Roman Fort - Brithdir, Gwynedd, Wales
Hawford Dovecote - Hawford, Worcestershire, England
FEATURED HISTORIC HOTEL
The Swan Hotel
Alton, Hampshire

An ideal base for Business and Leisure Guests. Situated in the Heart of Alton, you do not need a Taxi or Bus to access the Towns local facilities.Our guests include many people of sense and sensibility - that is to say, devotees of Jane Austen, who make their pilgrimage to … more >>
Heritage:
Rating:
UK Travel Guide




Most Popular

:
Virtual Tour of England - for a quick overview of what to see in each region of England.

Most popular England County Guides
UK Photo of the Day

Travel and scenery photos of of fabulous British locations. Available as free desktop wallpaper.

Current photo: Mainwaring effigies, Over Peover Church, England
Archives

History and Culture
History of Britain - full text of the 1912 book
English Culture
What makes England so ... English? From hedgerows to the history of tea, pastimes to traditional crafts.
British Battles
The major battles fought on British soil - who fought them, why, and what was the outcome?
History of Wales - History of Scotland
British Biography
Our look at the lives of famous people in the fields of art, architecture, science, and literature throughout British history. From Chaucer to Tennyson, Christopher Wren to William Shakespeare.
English Architecture
The story of English architecture and historic building styles, from prehistoric monuments to Victorian Gothic, with our suggestions for the best examples from each period to visit in England.
London History
From the Romans to the Blitz, our look at the colourful history of London.
Illustrated Dictionary of Church History and Architecture
A visual guide to British Churches from Saxon to Victorian Gothic.
HISTORY CORNER
Name the Historic attraction
British Heritage Awards
Celebrate the best of British Heritage in our annual
British Heritage awards.
British History Quiz
This writer, politician, and philosopher is best known for 'Novum Organum', and his 'Essays', published in 1597 and 1625
This Day in British History
31 March, 1854
Britain declares war on Russia
British troops had already left Britain for the Crimea
Monarch Mayhem
This king's son and heir was dubbed The Black Prince
Heritage Snapshot
Sibthorpe, Nottinghamshire
in the Domesday Book
"In Sibthorpe Ospak had 2 1/2 bovates of land to the geld. There is land for 1 plough. Count Alan has it. Fredigis holds it of him, and there is 1 plough and 4 sokemen on 1 bovate of land and 2 bordars having 1 plough. There is a priest and a church to which the fourth part of the land belongs. There are 10 acres of meadow. In the time of King Edward worth 20s, now 12s."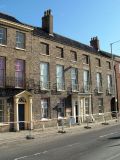 Elizabethan House Museum
- Great Yarmouth, Norfolk, England
An historic 16th century house on Great Yarmouth's Quayside. The house has been transformed into a treasure-trove of Elizabethan domestic history, with displays of daily life. ... more