Attractions in England, Scotland, and Wales

Find places to visit by location or by type of attraction.

By Location
Explore thousands of attractions in England, Scotland, and Wales.

By type of Attraction:

But there is more to experiencing the UK ...

Tourist Information Centres in the UK

Newest Attraction:

Grey Cairns of Camster


Roster, Highlands and Islands, Scotland

The Grey Cairns of Camster are a pair of Neolithic chambered cairns (circa 2000-3500 BC), one round and the other linear, in a secluded hollow near the River Wick. The Camster cairns are considered among the best preserved in Britain and have been carefully restored so that visitors can access the inner chambers.

Heritage Rating:





Links to thousands of travel resources throughout England, Scotland, and Wales. To the best of our knowledge this is one of the largest online resources of information on travel in the UK, with listings covering everything from official regional tourist boards to local village websites.
Accommodation

NEW Castle Hotels in England - Scotland - Wales
Top locations
Bath, Birmingham, Brighton, Cardiff, Edinburgh, Lake District, Glasgow, Gatwick Airport, Heathrow Airport, London, Manchester, Stratford-upon-Avon, Swansea, York
Top locations
Cornwall, Lake District, London, Devon, Isle of Skye, North Wales, Pembrokeshire, Scottish Highlands
Bed & Breakfast: B&Bs, guest houses, and small hotels.
England - Scotland - Wales

Top locations
Cornwall, Lake District, Devon
New
Best Historic Churches - Our top rated historic churches to visit in Britain
St Mary's church, Sudeley Castle - last resting place of Queen Katherine Parr
Hill o' Many Stanes - Wick, Highlands and Islands, Scotland
Strathnaver Museum - Bettyhill, Highlands and Islands, Scotland
Caithness Horizons - Thurso, Highlands and Islands, Scotland
Wick Heritage Centre - Wick, Highlands and Islands, Scotland
Timespan - Helmsdale, Highlands and Islands, Scotland
Castle of Mey - Thurso, Highlands and Islands, Scotland
FEATURED HISTORIC HOTEL
Bowood Hotel, Spa and Golf Resort
Studley, Wiltshire

Here at Beautiful Bowood, set in one of England's finest parks, can be found something for all ages and tastes. Whilst staying at our luxury hotel or golf lodge enjoy our championship course, then why not relax in the spa. Rolling lawns, magnificent trees, the tranquil lake; Bowood boasts a … more >>
Heritage:
Rating:
UK Travel Guide




Most Popular

:
Virtual Tour of England - for a quick overview of what to see in each region of England.

Most popular England County Guides
UK Photo of the Day

Travel and scenery photos of of fabulous British locations. Available as free desktop wallpaper.

Current photo: Beaumaris Castle, Isle of Anglesey, Wales
Archives

History and Culture
History of Britain - full text of the 1912 book
English Culture
What makes England so ... English? From hedgerows to the history of tea, pastimes to traditional crafts.
British Battles
The major battles fought on British soil - who fought them, why, and what was the outcome?
History of Wales - History of Scotland
British Biography
Our look at the lives of famous people in the fields of art, architecture, science, and literature throughout British history. From Chaucer to Tennyson, Christopher Wren to William Shakespeare.
English Architecture
The story of English architecture and historic building styles, from prehistoric monuments to Victorian Gothic, with our suggestions for the best examples from each period to visit in England.
London History
From the Romans to the Blitz, our look at the colourful history of London.
Illustrated Dictionary of Church History and Architecture
A visual guide to British Churches from Saxon to Victorian Gothic.
HISTORY CORNER
Name the Historic attraction
British Heritage Awards
Celebrate the best of British Heritage in our annual
British Heritage awards.
British History Quiz
This writer, politician, and philosopher is best known for 'Novum Organum', and his 'Essays', published in 1597 and 1625
This Day in British History
22 September, 1761
George III crowned with Queen Charlotte
The couple had only married 2 weeks previously at St James's Palace
Monarch Mayhem
This king of England died in exile in France in 1701
Heritage Snapshot
Canterbury, Kent
in the 17th century
"Canterbury opens to view 6 miles distant, by the advantage of a high hill we pass over to it, its a noble Citty, the gates are high tho' narrow, the streetes are most of them large and long and the buildings handsome, very neate but not very lofty, most are of brickwork; its a flourishing town, good tradeing in the Weaving of Silks ..."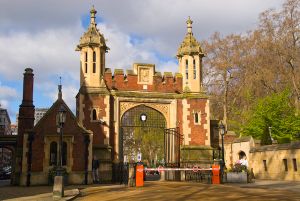 Lincoln's Inn Gatehouse
- London, Greater London, England
The oldest of three entrances to Lincoln's Inn courts of law. The gatehouse was built between 1517 and 1521 by Sir Thomas Lovell. Lovell got the contract in no small part because of his court connections; his father served as Chancellor to Henry VIII. ... more