Attractions in England, Scotland, and Wales

Find places to visit by location or by type of attraction.

By Location
Explore thousands of attractions in England, Scotland, and Wales.

By type of Attraction:

But there is more to experiencing the UK ...

Tourist Information Centres in the UK

Newest Attraction:

Penbedw Stone Circle


Nannerch, Clwyd, Wales

A small stone circle set within the confines of a Grade II listed 18th century park surrounding Penbedw Hall. The circle may be Bronze age, but may also have been erected as a folly during picturesque landscaping of Penbedw Hall parkland in the 18th19th century.

Heritage Rating:





Links to thousands of travel resources throughout England, Scotland, and Wales. To the best of our knowledge this is one of the largest online resources of information on travel in the UK, with listings covering everything from official regional tourist boards to local village websites.
Accommodation

NEW Castle Hotels in England - Scotland - Wales
Top locations
Bath, Birmingham, Brighton, Cardiff, Edinburgh, Lake District, Glasgow, Gatwick Airport, Heathrow Airport, London, Manchester, Stratford-upon-Avon, Swansea, York
Top locations
Cornwall, Lake District, London, Devon, Isle of Skye, North Wales, Pembrokeshire, Scottish Highlands
Bed & Breakfast: B&Bs, guest houses, and small hotels.
England - Scotland - Wales

Top locations
Cornwall, Lake District, Devon
New
Best Historic Churches - Our top rated historic churches to visit in Britain
Caithness Travel & Heritage Guide - the best of north east Scotland

Lincoln walking tours - self guided tours of historic Lincoln, Lincolnshire
Torridon - Torridon, Highlands and Islands, Scotland
Brynkinalt - Chirk, Clwyd, Wales
Dunfermline Museum - Dunfermline, Fife, Scotland
Dapdune Wharf - Guildford, Surrey, England
Brynderwen Garden - Bettws Newydd, Gwent, Wales
Bryngwyn Hall - Llanfyllin, Powys, Wales
FEATURED HISTORIC HOTEL
Thatched Cottage
Shepton Mallet, Somerset

A warm and friendly welcome within this historic 340 year old listed Grade II Thatched Cottage Hotel Bar and Restaurant. A Charming historic 340 year old thatched cottage inn with bar restaurant large accommodation rooms and function facilities.From the moment you walk in to the Thatched Cottage you are welcomed … more >>
Heritage:
Rating:
UK Travel Guide




Most Popular

:
Virtual Tour of England - for a quick overview of what to see in each region of England.

Most popular England County Guides
UK Photo of the Day

Travel and scenery photos of of fabulous British locations. Available as free desktop wallpaper.

Current photo: Dun Carloway broch, Isle of Lewis, Western Isles, Scotland
Archives

History and Culture
History of Britain - full text of the 1912 book
English Culture
What makes England so ... English? From hedgerows to the history of tea, pastimes to traditional crafts.
British Battles
The major battles fought on British soil - who fought them, why, and what was the outcome?
History of Wales - History of Scotland
British Biography
Our look at the lives of famous people in the fields of art, architecture, science, and literature throughout British history. From Chaucer to Tennyson, Christopher Wren to William Shakespeare.
English Architecture
The story of English architecture and historic building styles, from prehistoric monuments to Victorian Gothic, with our suggestions for the best examples from each period to visit in England.
London History
From the Romans to the Blitz, our look at the colourful history of London.
Illustrated Dictionary of Church History and Architecture
A visual guide to British Churches from Saxon to Victorian Gothic.
HISTORY CORNER
Name the Historic attraction
British Heritage Awards
Celebrate the best of British Heritage in our annual
British Heritage awards.
British History Quiz
She was Queen Consort of Scotland (1589-1619) and England (1601-1619)
This Day in British History
06 March, 1340
Birth of John of Gaunt
Gaunt (from Ghent, in modern Belgium) was the 1st Duke of Lancaster, 3rd son of Edward III and regent for the young Richard II
Monarch Mayhem
This king defeated Guthrun the Dane at the Battle of Edington
Heritage Snapshot
Wells, Somerset
in the Domesday Book
"The Bishop of Wells holds Wells. He himself held it in the time of King Edward. and it pad geld for 50 hides. There is land for 60 ploughs. Of these, 8 hides are in demesne and there are 6 ploughs, and 6 slaves and 20 villans, and 14 bordars with 15 ploughs. There are 4 mills rendering 30s, and 300 acres of meadow, pasture 3 leagues long and 1 league broad, woodland 2 leagues long and 2 furlongs broad, and 3 leagues of moor. It is worth £30 for the use of the bishop."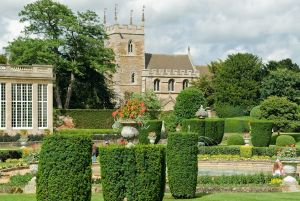 Grantham
- Grantham, Lincolnshire, England
A large market town in south western Lincolnshire, situated on the River Witham. The church of St Wulfram has a spire reaching 282 feet, making it the 6th highest in England. Just outside Grantham is the stately home of Belton House, while Belvoir Castle is only 6 miles away. Sir Isaac Newton was a student at the Grammar School in Grantham, and grew up at nearby Woolsthorpe Manor. The Angel & Royal Hotel in Grantham … ... more