Attractions in England, Scotland, and Wales

Find places to visit by location or by type of attraction.

By Location
Explore thousands of attractions in England, Scotland, and Wales.

By type of Attraction:

But there is more to experiencing the UK ...

Tourist Information Centres in the UK

Newest Attraction:

Prestatyn Roman Fort


Prestatyn, Clwyd, Wales

Remains of a 1st century fort (or possibly a civilian settlement), and bath house, have been excavated at Prestatyn. The timbers which supported an aqueduct leading to the bathouse, were found preserved, and a nearby metalsmith's shop was unearthed.

Heritage Rating:





Links to thousands of travel resources throughout England, Scotland, and Wales. To the best of our knowledge this is one of the largest online resources of information on travel in the UK, with listings covering everything from official regional tourist boards to local village websites.
Accommodation

NEW Castle Hotels in England - Scotland - Wales
Top locations
Bath, Birmingham, Brighton, Cardiff, Edinburgh, Lake District, Glasgow, Gatwick Airport, Heathrow Airport, London, Manchester, Stratford-upon-Avon, Swansea, York
Top locations
Cornwall, Lake District, London, Devon, Isle of Skye, North Wales, Pembrokeshire, Scottish Highlands
Bed & Breakfast: B&Bs, guest houses, and small hotels.
England - Scotland - Wales

Top locations
Cornwall, Lake District, Devon
New
Best Historic Churches - Our top rated historic churches to visit in Britain
Caithness Travel & Heritage Guide - the best of north east Scotland

Lincoln walking tours - self guided tours of historic Lincoln, Lincolnshire
Pontypool Museum - Pontypool, Gwent, Wales
Modern Art Oxford - Oxford, Oxfordshire, England
London Transport Museum - London, Greater London, England
Perth Museum and Art Gallery - Perth, Tayside, Scotland
London, St Andrew's Holborn Church - London, Greater London, England
Prior Park Landscape Garden - Bath, Somerset, England
FEATURED HISTORIC HOTEL
The Crown Hotel
Alton, Hampshire

The oldest part of The Crown Hotel is thought to have been built in the mid-1500s, with much of the timber frame of the building reputedly being taken from old warships in Hampshires dockyards.Legend has it that the hotel is haunted by at least four ghosts.Weather permitting , why not … more >>
Heritage:
Rating:
UK Travel Guide




Most Popular

:
Virtual Tour of England - for a quick overview of what to see in each region of England.

Most popular England County Guides
UK Photo of the Day

Travel and scenery photos of of fabulous British locations. Available as free desktop wallpaper.

Current photo: All Souls College, Oxford, England
Archives

History and Culture
History of Britain - full text of the 1912 book
English Culture
What makes England so ... English? From hedgerows to the history of tea, pastimes to traditional crafts.
British Battles
The major battles fought on British soil - who fought them, why, and what was the outcome?
History of Wales - History of Scotland
British Biography
Our look at the lives of famous people in the fields of art, architecture, science, and literature throughout British history. From Chaucer to Tennyson, Christopher Wren to William Shakespeare.
English Architecture
The story of English architecture and historic building styles, from prehistoric monuments to Victorian Gothic, with our suggestions for the best examples from each period to visit in England.
London History
From the Romans to the Blitz, our look at the colourful history of London.
Illustrated Dictionary of Church History and Architecture
A visual guide to British Churches from Saxon to Victorian Gothic.
HISTORY CORNER
Name the Historic attraction
British Heritage Awards
Celebrate the best of British Heritage in our annual
British Heritage awards.
British History Quiz
Who rebuilt St Paul's Cathedral after the Great Fire of London?
This Day in British History
28 January, 1547
Death of Henry VIII at Whitehall Palace
Henry is succeeded by his 9 year old son, Edward, with the Earl of Hertford as Lord Protector (soon replaced by the Duke of Somerset)
Monarch Mayhem
This king was held responsible for the death of Archbishop Thomas Becket
Heritage Snapshot
Leeds, Yorkshire
in the 17th century
"Leeds is a large town, severall large streetes cleane and well pitch'd and good houses all built of stone, some have good gardens and steps up up to their houses and walls before them; this is esteemed the wealthyest town of its bigness in the Country, its manufacture is the woollen cloth the Yorkshire Cloth in which they are all employ'd sand are esteemed very rich and very proud ..."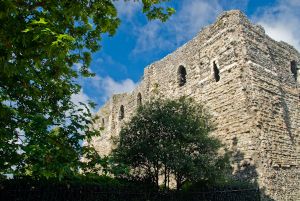 Canterbury Castle
- Canterbury, Kent, England
When William the Conqueror overcame King Harold and his Saxons at the Battle of Hastings, one of his first acts was to establish three powerful castles in the southeast of his new realm, at Canterbury, Dover, and Rochester. His new castle at Canterbury is what is now called Dane John, a corruption of the French word for donjon, or keep. ... more