Illustrated Dictionary of British Churches
History and Architecture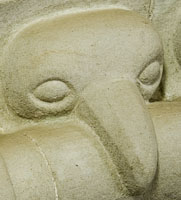 This dictionary is an attempt to show in an easy to understand, visual format, some of the features that helped form the historic churches of Britain. When you visit churches with any regularity you will often run across a confusing mix of terms which may be difficult to understand without a visual illustration. While we can't claim to have covered every feature of church history and architecture, we hope that you will find enough useful illustrations and definitions that will help you to get the most of visiting these wonderful heritage treasures. You can find short definitions in our Glossary of Medieval Church Architecture, and there are also useful biographies of some of the more important church architects in our British Biographies section. For a more in-depth look at architectural styles and time periods, check our English Architecture articles.
Visual Quick Start
Text and images © David Ross and Britain Express
HISTORY CORNER
Name the Historic attraction
British Heritage Awards
Celebrate the best of British Heritage in our annual
British Heritage awards.
British History Quiz
This Benedictine monk and scholar succeeded Lanfranc as Archbishop of Canterbury in 1093
This Day in British History
25 April, 1284
Birth of Prince Edward (Edward II) at Caernarfon Castle
He was later named 'Prince of Wales', a title conferred on heirs to the English throne since
Monarch Mayhem
This monarch was dubbed the Virgin Queen, for she never married