Henry VIII 's Act of Supremacy (1534) - original text
Albeit the king's Majesty justly and rightfully is and ought to be the supreme head of the Church of England, and so is recognized by the clergy of this realm in their convocations, yet nevertheless, for corroboration and confirmation thereof, and for increase of virtue in Christ's religion within this realm of England, and to repress and extirpate all errors, heresies, and other enormities and abuses heretofore used in the same, be it enacted, by authority of this present Parliament, that the king, our sovereign lord, his heirs and successors, kings of this realm, shall be taken, accepted, and reputed the only supreme head in earth of the Church of England, called Anglicans Ecclesia; and shall have and enjoy, annexed and united to the imperial crown of this realm, as well the title and style thereof, as all honors, dignities, preeminences, jurisdictions, privileges, authorities, immunities, profits, and commodities to the said dignity of the supreme head of the same Church belonging and appertaining; and that our said sovereign lord, his heirs and successors, kings of this realm, shall have full power and authority from time to time to visit, repress, redress, record, order, correct, restrain, and amend all such errors, heresies, abuses, offenses, contempts and enormities, whatsoever they be, which by any manner of spiritual authority or jurisdiction ought or may lawfully be reformed, repressed, ordered, redressed, corrected, restrained, or amended, most to the pleasure of Almighty God, the increase of virtue in Christ's religion, and for the conservation of the peace, unity, and tranquility of this realm; any usage, foreign land, foreign authority, prescription, or any other thing or things to the contrary hereof notwithstanding.

Related:
Act of Supremacy
Tudor History
© David Ross and Britain Express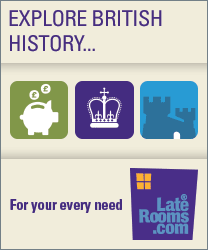 HISTORY CORNER
Name the Historic attraction
British Heritage Awards
Celebrate the best of British Heritage in our annual
British Heritage awards.
British History Quiz
Who is the patron saint of Scotland?
This Day in British History
06 March, 1340
Birth of John of Gaunt
Gaunt (from Ghent, in modern Belgium) was the 1st Duke of Lancaster, 3rd son of Edward III and regent for the young Richard II
Monarch Mayhem
This queen's reign saw the union of England and Scotland in 1707