Wales

Swansea, Gower and the Vale of Neath
Castles

Click on a thumbnal image to see a larger photo
Kenfig Castle
Minor road northwest Porthcawl (A4229/M4).
Rubble footings in sand are all that remain of a 13th century castle with a curtain, hall, and keep.
Llanblethian Castle
At Llanblethian, just south of Cowbridge (A48), Glamorgan.
A ruined rectangular building c1200, and later ruins of walls and keep, tower and gatehouse are all that remain.
Neath Castle
By a carpark in the town of Neath off A465/A474.
This was a stronghold of the lords of Glamorgan. The Norman castle's twin towered gatehouse remains. Parts, including a ruined curtain wall, were destroyed by Welsh attacks.
Oystermouth Castle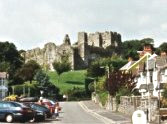 In the village of Mumbles on A4067 at head of Gower peninsula.
This early Norman castle on a hilltop has well preserved domestic buildings and keep.
Oxwich Castle

Off A4118, southwest of Swansea in Oxwich village. Tel. 01792 390359. Cadw.
This castle is a 16th century ruined Tudor manor house built in courtyard style by Sir Rice Mansel. The southeast tower still survives to six storeys.
Pennard Castle
Reached by footpath ½ mile south of Parkmill on A4118, on Gower peninsula overlooking Oxwich Bay.
The castle belonged to the lords of Gower. Original ringwork and wooden palisades was replaced by stone defenses. A Norman stone hall, tower, gatehouse, and curtain wall survive as ruins.
Penrice Castle
On the Gower peninsula off A4118, on private land, viewed from footpath.
Overgrown earthworks, overgrown keep, gatehouse, and walls.
Swansea Castle

In Swansea city centre. Cadw. Open site-exterior only.
Built in the late 13th/ early 14th centuries by the de Braose lords of Gower, William II and William III, and their descendant, John Mowbray, added to it. In the late 18th century it became, for a while, a debtor's prison. The ruins of the castle are sited in a large plaza.
Weobley Castle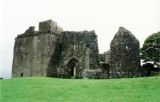 B4271 or B4295 to Llanrhidian village, then minor road. Cadw. Tel. 01792 390012.
This castle was erected by the powerful de la Bere family in the early 14th century. More fortified manor than castle, Weobley was expanded in the 15th century and provided with a tall, arched entry. Visitors can ascend to the solar.
CASTLES OF WALES
Anglesey & Snowdonia | North Wales & Borders | Mid Wales & Brecon Beacons | Ceredigion | Pembrokeshire | Carmarthenshire | Swansea & Gower | Cardiff and South Wales Coast | Wye Valley & Vale of Usk

WALES TRAVEL GUIDE
ATTRACTIONS IN WALES BY REGION
Map of Regions
Anglesey and Snowdonia | North Wales Coast and Borderlands | Mid Wales and Brecon Beacons | Ceredigion | Pembrokeshire | Carmarthenshire | Swansea, Gower and the Vale of Neath | Cardiff, Coast, & Valleys of South Wales | Wye Valley and Vale of Usk
ATTRACTIONS IN WALES BY TYPE OF ATTRACTION
Abbeys & Monasteries | Ancient Sites | Castles | Gardens | Historic Churches & Religious Sites | Historic Houses | Museums | Roman Remains

Photo Credits - Swansea Castle courtesy Wales Tourist Board, Weobley Castle, Oxwich Castle , Oystermouth Castle © Barbara Ballard