Wastwater, Lake District Prints
Beautiful photos of England, Scotland, and Wales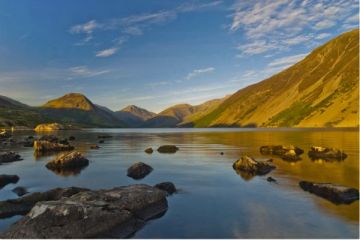 The Story Behind the Image - Wastwater
This view looking down Wast Water to the trio of peaks beyond was voted one of Britain's favourite scenic views, and it isn't hard to see why.
I almost didn't get this photo; when I arrived at the lake, the evening was overcast and drab. I despaired of getting anything approaching nice light. I was so discouraged that I phoned my wife to have a good moan about it.
Then with that sudden Lake District magic, the sky cleared, leaving me standing open-mouthed in mid-complaint to my wife. I rang off quickly and ran down to the shore where I quickly set up my tripod with its legs emerged under the water to capture this wonderful view before the sun disappeared in the west.
I'm happy to say that I learned a lesson from that experience; never give up on the Lake District weather. No matter what it's doing, it can change in an instant.
---
Britain Express UK Image Shop
Our online shop offers canvas prints, framed prints, metal prints, acrylic prints, posters, iPhone cases, Galaxy cases, and greeting cards of UK scenes, specialising in historic sites and traditional locations around England, Scotland and Wales.
We've chosen Fine Art America to host our shop. FAA is the largest worldwide print-on-demand service and offers a wide variety of printed image products from 14 fulfilment centres in 5 different countries.
You can order in a wide variety of currencies (euros, Japenese yen, American, Canadian and Australian dollars), and products ship in 2-3 business days.