Yorkshire Dales Prints
Beautiful photos of England, Scotland, and Wales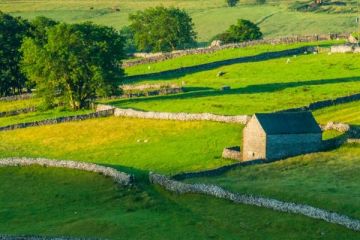 The Story Behind the Images - Yorkshire Dales
The Yorkshire Dales National Park is one of the most beautiful areas of England. This is, of course, Herriot Country, made famous in the James Herriot series of books and the TV series that followed the books. The popular TV series was filmed in the Dales, using the village of Askrigg as a base.
Not far from Askrigg is Aysgarth, where a series of three waterfalls on the River Swale has been drawing visitors for centuries. Aysgarth Falls was used as a setting for the Holywood film Robin Hood, Prince of Thieves.
Explore a more authentic version of history at Castle Bolton, a medieval fortress where Mary, Queen of Scots was held as a prisoner.
On the River Wharfe, a series of stepping stones lead across the water to the ruins of Bolton Abbey, a 12th-century Augustinian monastery. A footpath leads up the river from Bolton Abbey to The Strid, a narrow chasm in the rocks where the river rushes through. Further north still and you come to the ruins of Barden Tower, a 15th-century fortified manor house built by Henry Clifford, 'The Shepherd Lord'.

In the south-western corner of the Yorkshire Dales is the village of Ingleton, where a circular trail known as the Waterfalls Walk takes you past a series of dramatic waterfalls. My favourite is the Peca Twin Falls, but for sheer drama, Thornton Force is the best. Not far from Ingleton is the Ribblehead railway viaduct, which carries the Settle to Carlisle heritage railway across the valley.

The Yorkshire Dales has a wonderful mix of dramatic landscape scenery, including areas of limestone pavement at Winskill Stones and on top of Malham Cove.
Favourite Places to Photograph in the Yorkshire Dales
Malham Cove
Aysgarth Falls
Ingleton Waterfalls Walk
Swaledale
Bolton Abbey and the River Wharfe
---
Britain Express UK Image Shop
Our online shop offers canvas prints, framed prints, metal prints, acrylic prints, posters, iPhone cases, Galaxy cases, and greeting cards of UK scenes, specialising in historic sites and traditional locations around England, Scotland and Wales.
We've chosen Fine Art America to host our shop. FAA is the largest worldwide print-on-demand service and offers a wide variety of printed image products from 14 fulfilment centres in 5 different countries.
You can order in a wide variety of currencies (euros, Japenese yen, American, Canadian and Australian dollars), and products ship in 2-3 business days.
MORE PRINTS