Castles in Wales Prints
Beautiful photos of England, Scotland, and Wales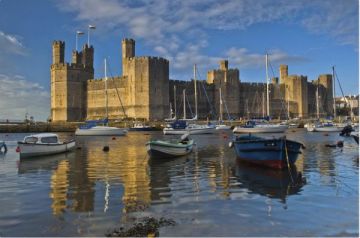 The Story Behind the Images - Castles in Wales
Wales is known for its romantic medieval castles, particularly in the north of the country where Edward I built numerous castles during his 13th-century push to seize control of the country.
By my reckoning, I've photographed about 110 castles in Wales, from small castles built by minor lords to control a small area to huge fortresses built by the Normans - and quite a few built by the Welsh to keep the Normans at bay.
It is hard to pick my favourites since they all have something unique, but there are definitely a few that spring to mind, such as Ogmore Castle in Glamorgan, with its picturesque stepping stones across the river below the castle mound and horses grazing in fields beside the castle itself.
A complete contrast is Caernarfon Castle in Gwynedd, where the very first Prince of Wales was crowned. I love photographing Caernarfon Castle from across the river, with boats bobbing in the water at the foot of the castle walls.
Another favourite of mine is Laugharne Castle in Carmarthenshire, where a lovely footbridge stands right below the castle walls. Just watch out for the tide coming in and covering the car park beside the castle!
Then there are two castles just a few miles apart, Carew Castle and Pembroke Castle. Carew is more an Elizabethan stately home in a castellated style, but you can get wonderful photos from across the mill pond. At Pembroke, there is water on three sides of the castle. I love photographing in the late evening as the castle is reflected in the water.
I could go on, and on, and still miss out someplace special!
Favourite Places to Photograph Castles in Wales
Carew Castle, Pembrokeshire
Pembroke Castle, Pembrokeshire
Laugharne Castle, Carmarthenshire
Rhuddlan Castle, Denbighshire
Harlech Castle, Gwynedd
Caernarfon Castle, Gwynedd
---
Britain Express UK Image Shop
Our online shop offers canvas prints, framed prints, metal prints, acrylic prints, posters, iPhone cases, Galaxy cases, and greeting cards of UK scenes, specialising in historic sites and traditional locations around England, Scotland and Wales.
We've chosen Fine Art America to host our shop. FAA is the largest worldwide print-on-demand service and offers a wide variety of printed image products from 14 fulfilment centres in 5 different countries.
You can order in a wide variety of currencies (euros, Japenese yen, American, Canadian and Australian dollars), and products ship in 2-3 business days.