Castles in Scotland Prints
Beautiful photos of England, Scotland, and Wales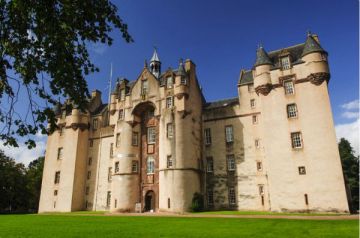 The Story Behind the Images - Castles in Scotland
It is easy to over-romanticise Scotland as the land of kilts, bagpipes and castles, but in truth, Scotland really IS blessed with an extraordinary number of incredibly picturesque - not to mention historic - medieval castles.
Some, like Edinburgh Castle, Eilean Donan Castle and Stirling Castle are easy to access and are visited by hundreds of thousands of people each year. Others, like lonely Ardvreck Castle on Loch Assynt or Castle Tioram on Little Loch Broom, take a determined effort to get to and you may find you have the castle all to yourself when you arrive.
Some of my favourite castles in Scotland are the ones that are out of the way, as it seems to me you really get more a sense of atmosphere with those sites.
Places like Auchindoun Castle in Aberdeenshire and Corgarff Castle on the southern fringe of the Cairngorms can seem desolate by comparison to the more frequently visited locations. But it is that very sense of desolation that can create an incredibly atmospheric photograph!
Favourite Places to Photograph Scottish Castles
Eilean Donan Castle
Castle Tioram, Highlands
Castle Stalker, Argyll
Ardvreck Castle, Sutherland
Dunottar Castle, Aberdeenshire
---
Britain Express UK Image Shop
Our online shop offers canvas prints, framed prints, metal prints, acrylic prints, posters, iPhone cases, Galaxy cases, and greeting cards of UK scenes, specialising in historic sites and traditional locations around England, Scotland and Wales.
We've chosen Fine Art America to host our shop. FAA is the largest worldwide print-on-demand service and offers a wide variety of printed image products from 14 fulfilment centres in 5 different countries.
You can order in a wide variety of currencies (euros, Japenese yen, American, Canadian and Australian dollars), and products ship in 2-3 business days.