Commote
A commote is an administrative district used throughout Wales from the medieval period. Commotes were introduced as subdivision of the cantref, the Welsh equivilent of the English hundred. The cantref was originally a centre for the administration of Welsh law, but this role was later taken over by the commote. There were usually 2 to 3 commotes per cantref, but there could be as many as seven.
Time period(s): Medieval
Latest History articles
Llewelyn ap Gruffudd
Dafydd ap Gruffudd
Cantref
Brut y Tywysogyon
Treaty of Aberconwy


History
Prehistory - Roman Britain - Dark Ages - Medieval Britain - The Tudor Era - The Stuarts - Georgian Britain - The Victorian Age
History of England - History of Wales - London History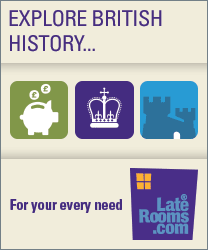 HISTORY CORNER
Name the Historic attraction
British Heritage Awards
Celebrate the best of British Heritage in our annual
British Heritage awards.
British History Quiz
This monastery on the banks of the River Tyne was the home of scholar and author The Venerable Bede
This Day in British History
01 November, 1848
First railway bookstall opens
The stall was part of expansion to Euston station. Not groundbreaking history, but still a transformation in how people travelled! What was it like before this?
Monarch Mayhem
He was married to Princess Adelaide of Saxe-Meiningen