Northumberland Passionate Gardeners Group
Posted:
2009-06-08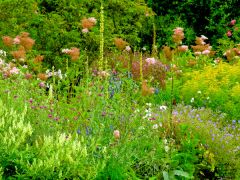 A group of five Northumbrian women operating small, intimate gardens have banded together to form the Passionate Gardeners Group. Here are the gardens involved, with contact details for each garden. If you are looking to visit places that are a bit off the tourist track this summer, perhaps the gardens of the Passionate Gardeners Group will be just your cup of tea.
The Garden Station
A secret woodland garden built around an old country railway station, and featuring permanent exhibits of silk voile garden hangings by Paddy Killer and sculptures by William Pym, Sophie Thompson, and Dennis Kilgallon. The Garden Station offers a regular programme of events and courses. Upcoming day-long courses include art, photography, poetry, vegetable growing, and keeping hens. That's quite a mix!
The Garden Station is located in Langley, Hexham, Northumberland NE47 5LA
Tel: 01434 684 391
Email: welcome@thegardenstation.co.uk
Web: http://www.thegardenstation.co.uk
Whalton Manor Gardens
A fascinating walled garden surrounding historic Whalton Manor, designed by Sir Edwin Lutyens and Gertrude Jekyll.
Whalton Manor Gardens open only to pre-booked groups and coach tours. Personal guided tours, summer lunches & afternoon teas, homegrown plants and a warm welcome.
Whalton Manor, Whalton, Morpeth, Northumberland, NE61 3UT
http://www.whaltonmanor.co.uk
Tel.01670 775205
Mindrum Garden
Come and visit this exceptional private garden hidden in the spectacular Cheviot foothills. Mindrum Garden was originally laid out in the 1930s, and offers a rose garden, lawns, woodland, and water features. Open only to pre-booked groups and coach tours for personal guided tours, delicious lunches & teas, homegrown plants for sale.
Mindrum House, Mindrum, Northumberland, TD12 4QN
Web: http://www.mindrumgarden.co.uk
Tel. 01890 850246
Dilston Physic Garden
The Physic Garden near Corbridge bills itself as a 'wonderful outdoor medicine chest', and it is easy to see why, with over 600 varieties of medicinal plants on display! The garden features a wide variety of healing herbs, all carefully signposted with details of the aspects of health they promote and how the herbs function. The Dilston Physic Garden is unique to Northumberland. Dilston Physic Garden, Dilston Mill House, Dilston, Nr. Corbridge, Northumberland NE45 5QZ
Tel: 01434 608129
Email: physic-garden@hotmail.co.uk
Web: http://www.dilstonphysicgarden.com
Garden Cottage, Bolam
A two-acre garden in a beautiful part of rural Northumberland near Morpeth. Gardeners Cottage was built around 1800 on the site of a deserted village, near Bolam Hall. The garden style can be described as modern, artistic and full of unusual plants. Garden Cottage is a member of the Hardy Plant Society.
Garden Cottage Bolam, Morpeth, Northumberland
Tel 01661 881660
Web: http://www.gardencottagebolam.com
The gardens are open to groups by pre-arranged tour, and groups will receive special, personalized tours and tea.
For a brochure detailing all five gardens in the Passionate Gardeners Group, ring 01434 684 391.
---
<< Sudeley Castle Garden Guided Tours - Free Walking Tour of Belgravia, London >>
Attraction search