National Trust
Membership Information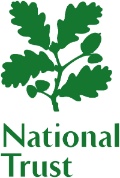 The National Trust is a registered UK charity supported by membership fees and donations, whose work has done much to preserve the heritage and culture of the UK for residents and travelers to enjoy. In plain English, the Trust manages historic buildings and preserves countryside and coastline from the ravages of progress.
Many of the historic houses you can visit in Britain today are managed by the Trust. Quite a few were given to the Trust by aristocratic owners unable to pay for upkeep themselves. Frequently the family of the owners stay on in apartments attached to the house, though these apartments are not generally available for public viewing.
If you travel in the UK - whether you are a resident of the UK or not - you should seriously consider buying a National Trust membership, which you can do at any Trust property or online, by clicking here
A note about National Trust Membership
If you enjoy exploring the heritage of Britain, a National Trust membership can pay for itself many times over - plus, you get the good feeling of knowing you are helping to preserve the best of Britain for future generations to enjoy. The Britain Express family have been National Trust members for years - even before we moved to the UK from Canada, and we would no sooner be without our National Trust membership than we would think of driving without a spare tire!
We are delighted that we can now offer readers of Britain Express the opportunity to get National Trust memberships through us. Please support the work of the National Trust, and enjoy all the benefits of membership ...
---
Current National Trust membership offers
See the full List of National Trust Properties or ...
National Trust membership
Depending on the membership you choose, it will pay for itself after about 5-7 visits to Trust properties. You'll receive a terrific guide to the Trust properties, plus a wonderful quarterly magazine. Besides, you'll get a warm and fuzzy feeling from knowing you're helping to preserve the heritage of Britain for future generations to enjoy. Its worth it.
There are other membership schemes available, including life memberships and Gift Memberships.
Membership Benefits:
Great value – with adult membership prices starting at as little as £63 you can visit over 500 fantastic places in England, Wales & Northern Ireland as many times as you like.
FREE car parking at most National Trust countryside, woodland and coastal car parks.
Children under 5 go free.
The National Trust membership pack which contains:
Members' Handbook – the essential guide to all the Trust's properties, opening times and locations.
The National Trust Magazine – published three times a year with news, views, articles, features, gardening tips and letters.
Regional Newsletters – updates on the special events and activities in your area.
Car parking sticker – free parking at most National Trust car parks.
Map Guide – your guide to over 300 beautiful buildings and 200 glorious gardens.
Free National Trust Binoculars.
NOTE: it can take up to 4 weeks to receive your membership pack
Annual membership prices
(subject to change)
Membership category
Individual: Standard: £69.00
Joint: Standard: £114.00 (Two adults living at the same address)
Family Group: Standard: £120.00 (Two adults living at the same address with children under 18)
Family One Adult: Standard £75.00 (One adult with children under 18)
Additional Individual: £45
Senior: £51.48 (60 or over and you've held an individual or joint membership for at least five of the last ten years. Can only be purchased over the phone)
Joint Senior: £85.20 (60 or over and you've held an individual or joint membership for at least five of the last ten years. Can only be purchased over the phone)
Young Person:Standard: £34.50 (Aged 13-25)

Individual Life: £1,659
Joint Life: £2,055
Joint Family Life: £2,255
Current membership offers:
Attraction search