London Travel Tips
Posted:
2009-06-14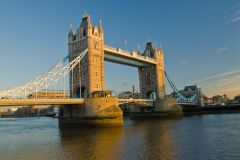 I recently spent a week in London, primarily to photograph the major (and minor) historic attractions for a new London Photo Gallery on the Britain Express. Over the course of the week I learned a lot of what works and doesn't work for getting the most out of a stay in London. Here are some of my best tips.
1. Get a London Travelcard - Transport for London has a variety of passes for travellers on the underground and bus system. The most useful by far for visitors are the Travelcards, a form of the standard Oystercard used by London residents, which come in a variety of flavours according to the number of days covered, and the number of Travel Zones you will be travelling through. London is divided into a number of travel zones, like concentric circles radiating out from the city centre, with zone 1 being nearest the centre, and zone 6 well out into the suburbs.
I got a one week Travelcard, at a cost of about £38. This covered me for unlimited travel on Zones 1-4. The savings over buying underground tickets for individual journeys is enormous, and it is infinitely easier to but just buy the pass at your first tube journey, then never have to line up to buy tickets again.
To figure out which zone you will need to be covered for, look at the London tube map and see how far out from the centre of the city you will be likely to travel. Then just get a Travelcard covering that number of zones. Travelcards can be purchased at any London underground station with a manned ticket booth. For more on getting around London, see our own London Travel guide information.
2. Get a good London street map. Don't settle for one of those small London tourist maps that show a few of the major streets and attractions. Get a proper map, like the Collins London map, which shows all of central London in great detail, including historic attractions. Mine is an old OS map at 8 inches to the mile. A good map should also have a London tube schematic drawing to help plan trips. Alternatively, get a London A-Z streetmap like this one, available at all newsagents in several sizes. Beware, though - the A-Z is great, but because it is spiral bound and includes a copious index, it is heavy to carry about.
3. Wear good shoes! I can't emphasize this enough; if you will be walking any distance around London (which is what I recommend to really get a flavour for the city - see below) then it is well worth investing in the most comfortable pair of walking shoes you can afford. Don't make the mistake of wearing ordinary shoes unless you regularly walk long distances on city pavement and are used to it. Your feet will thank you for wearing comfortable, well-cushioned shoes, believe me (mine are still trying to recover).
4. Do your research ahead of time. This is probably obvious, but for goodness sake know what you really, really want to see and what would be a nice-if-I-have-the-time extra. One site I enjoyed using to plan my trip as the Knowledge of London. And related to that is:
5. Know where attractions are grouped. This may be my best tip of all. I first compiled a list of all the places I most wanted to see, with a note to remind myself what each attraction was about (in case I forgot that I had intended to visit St Olave's church because Samuel Pepys' memorial was there, for example). Then I grouped all the places according to the nearest tube station, since that was how I planned to do most of my travelling.
Each tube station was listed alphabetically in order. Once I had the attractions all grouped by tube station I printed off the list and stapled it together, so I could easily flip from page to page. This proved to be a godsend, as I could see at a glance which attractions were near each tube station, and this made planning my next stop incredibly easy.
6. Plan a walk. I highly recommend planning at least one good walking tour as part of a stay in London. There's just no other way you will really get the flavour of the city. I use the phrase 'walking tour' advisedly; yes, you can take a commercially organized tour, and that may be fine, but I suggest printing off one (or several) of the really useful tours at the London Guide.
I combined several of these walk guides into one printed document and used them as a basis for some extremely long, extremely satisfying walks around the best bits of historic London. If the weather is fine, just make the day into one long stroll, using the Grand Itinerary from the source above, or do a shorter, more specialised walk like the Secret London or Riverside walks. Highly recommended.
7. Consider staying further out of the city. Let's face it, it is expensive to stay in central London. Yes, you can get a relatively inexpensive hostel, or budget hotel, but if you want something a bit nicer, you will pay a fair old price for the privilege of staying in the city centre. What I did was to get an inexpensive room at a hotel much further out in the suburbs (Travelodge Barking in my case) and simply take the tube into the city every day. The money I saved by staying further afield certainly had to be set against the longer travel time, but it wasn't too long a trip in my case, something like 45 minutes, so the cost savings, combined with using a 4 zone London Travelcard, made it well worthwhile.
There you have a few of my top tips for enjoying a visit to London. I hope you enjoy your stay as much as I did mine! For a bit more on what to see in London, see our London Travel Guide.
---
<< 10 Best English History websites - Best UK Tourist Board Websites >>
Attraction search