Britain's Favourite View
Posted:
2009-06-25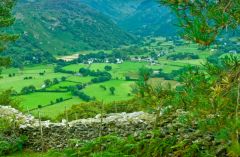 I missed the original ITV series, 'Britain's Favourite View' when it was on air a few years ago. To my delight, I just found the book made to accompany the series in my local library. Since the book is still available at Amazon UK, I thought it was worth mentioning it here.
The book is subtitled 'A Visual Celebration of the British Landscape', and that's just what it is. It starts with a short introduction by Sir Trevor McDonald, but then gets into the meat of the book; sixteen chapters, each devoted to a separate area of the UK. In order, these are Newcastle, Blackpool, Seven Sisters, London, Bath, County Down, Edinburgh, Isle of Skye, Yorkshire Dales, the Gower Peninsula, St Ives (the one in Cornwall), Lake District, Northumbrian Coast, Liverpool, Hadrian's Wall, and Stonehenge.

Each chapter is 'presented' by a different author with a tie, however tenuous, to that location. Again, there's an interesting mix of presenters; Des Lynam authors the Seven Sisters section, for example, and Sir Ranulph Fiennes guides us through Bath. Other well known 'guides' include Rory Bremner (Edinburgh), Charles Kennedy (Isle of Skye), and Rolf Harris (St Ives).

Its a bit of a peculiar mix of locations, with some very large regions (the Lake District for example) and some very specific, centralized locations (like Liverpool, for example). But that's nitpicking; each chapter chooses several significant aspects of the location, and gives some historic background, and, in some cases, fascinating historic photos, mixed with modern photographs that are simply outstanding, and really do a great job of making the location come alive. Its a terrific bit of armchair travel excitement, and should inspire a lot of readers to visit the locations profiled.
The photographs are superb; after all, its a book about scenic splendour! As a photographer myself, I thought it a bit of a shame that the photographs were not credited on the page they appeared, though to be fair, there is a list of photo acknowledgements tucked away at the back of the book.

Also at the end of the book is a section entitled Take a View, which provides useful information on how best to experience each area. There are suggestions on how to 'Hike it', 'Bike it', and relevant websites to find out more information.
Britain's Favourite View is a large softcover book, 240 pages long, and the full retail price is £16.99, though it is available for only £11.89 through Amazon. Its a terrific read, though I suspect most people will simply scan the inspirational photographs.

I was very impressed with the book - I intend to sit and sigh over some of the photographs at my leisure - and I wish I hadn't misssed the original series on television!

NB. the photo accompanying this post is not from the book - that would be plagiarism, or whatever the photographic equivalent is - its my own, of Borrowdale in the Lake District.
<<
Yorkshire Dales Travel Tips
-
Forest Heritage Scotland
>>
Attraction search