Castles in Wales: A Handbook
Posted:
2010-11-25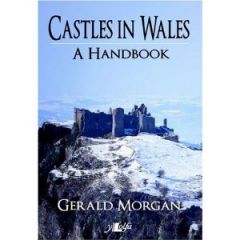 I took an extended trip to Wales this Autumn, and ended up visiting a lot of castles - no surprise there, as north Wales (and Wales in general) has some of the finest and most historically interesting castles in Britain. After a few days of bumbling about trying to find places to visit I decided I needed a guidebook to castles that would help me get the most out of my trip. Enter Castles in Wales: A Handbook
, by Gerald Morgan.
This wonderful little book is an absolute gem. In a format that makes it easy to slip into a day pack, or even into a large pocket, it offers a wealth of information about historic castles from the famous to the unknown. The book is organised into regional guides, covering the 'old' counties of Wales, with separate chapters for Anglesey, Breconshire, Caernarfonshire, Cardiganshire, Carmarthenshire, Denbighshire, Flintshire, Glamorgan, Merionethshire, Monmouthshire, Montgomeryshire, Pembrokeshire, and Radnorshire.
Each castle listing has a National Grid reference, a wonderfully detailed section on access to the site (especially useful for castles on private land), and a very colourful and detailed description of the castle history. Finally, there is a section on the buildings to be seen on the castle site today, with architectural notes. Many, though not all, of the castles are illustrated with black and white photos.
At the end of the gazetteer listings are two appendices. The first is a list of castles in each area, with a National Grid reference, type of castle, and notes. The second appendix is a really interesting list of Possible, Post-Medieval and Lost Castles, again with a grid reference to make finding the location easy.
The book is 262 pages long and measures 17.4 x 12 x 1.8 cm, which in 'old money' is about 6 inches x 4 inches x 3/4 inch thick.

I honestly cannot recommend this book highly enough. It is well written, entertaining, and full of practical information to make visiting the castle sites very enjoyable. The historical detail is wonderful, and at a suggested retail price of £6.95, I think its a steal.
Resources:
Castles in Wales: A Handbook
on Amazon.co.uk (we get a very small commission if you use this link)
Castles in Wales: our gazetteer
Castles of Wales Photo Gallery
---
<< St Andrew's Day Free Opening to Historic Scotland Properties - Scottish Castles Photo Gallery >>
Attraction search