Replica Roman Town House opens at Wroxeter
Posted:
2011-02-03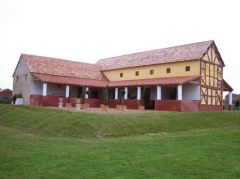 A few weeks back I mentioned the new Channel 4 series following a team of builders as they recreated an authentic Roman town house at Wroxeter Roman City in Shropshire. The 6-part television series began on 20 January, but town house has not yet opened to the public.
Well, that's about to change, and in style, as Wroxeter opens for the year on Saturday 19 February. And for the first two weeks of the season you can tour the new town house in the company of 'Romans'; costumed guides will take visitors around the 'villa urbana', or townhouse of a wealthy Roman citizen of Wroxeter.
On Sat 19 - Sun 20 and Sat 26 - Sun 27 Feb, tours will run hourly from 10.30am to 3.30pm and will last about 20 minutes. And during February half term (Mon 21 - Fri 25 Feb), there will also be activities and entertainment for children, with crafts and the opportunity to explore the new town house.
Town House was buuilt as part of the Channel 4 TV series "Rome Wasn't Built in a Day". The series follows six modern builders as they construct the villa using only tools and equipment that would have been available in Roman times. The builders, supervised by Professor Dai Morgan Evans, were helped by a manual on Roman building written by engineer Vitruvius 2000 years ago.
Resources:
English Heritage information on Wroxeter
Our article
Rome Wasn't Built in a Day TV series
<<
Wearmouth, Jarrow nominated for World Heritage Status
-
Ffynon Elian Cursing Well
>>
Attraction search