Researching Historic Buildings in Britain
Posted:
2011-03-28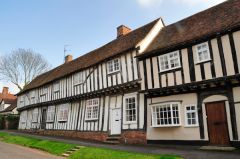 Gee, I just ran across someone who seems to be as fascinated as I am about historic buildings in Britain - I didn't think such a person existed! She does, and her name is Jean Manco, who describes herself as a British building historian. The results of Manco's passion for historic architecture is apparent when you browse her opus Researching Historic Buildings in the British Isles.
Think of RHBBI as a clearing house of information for people interested in historic buildings, a starting place for further research rather than a source in itself. But what a resource! The website features a wonderful simple arrangement of resources with historical background on subjects as diverse as historic gazetteers, maps, images, title deeds, manors, towns, villages, taxation records, building regulations, and on, and on, and on.
My goodness, there is a lot of information, and it's so fascinating that it is really easy to get lost reading something you hadn't meant to get into. There are details on types of buildings as diverse as parsonages and barns, banks and inns, shops and town walls, all with historical background and copious bibliographies.
Rather than try to describe it all - and I'm not sure I could - head on over to the website and check it out for yourself. I loved it.
Resources:
Researching Historic Buildings website
---
<< Clergy of the Church of England Database - Cardigan Castle gets Heritage funding >>
Attraction search