Caernarfon Castle, Wales Prints
Beautiful photos of England, Scotland, and Wales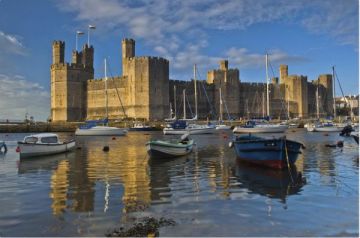 The Story Behind the Image - Caernarfon Castle
I got wet feet taking this photo - but it was worth it.
Caernarfon is a delightful gem of a castle, built in a picturesque location position at the mouth of the River Seiont by Edward II on the site of an 11th-century motte. It is most famous as the birthplace of Edward II, the first [English] 'Prince of Wales'.
This view of small boats at anchor under the high stone walls of the castle may be a cliche, but it is still a gorgeous cliche!
To get this photo I drove north from my holiday cottage at Pwllheli, on the Lleyn Peninsula, arriving just before sunset. I had carefully researched the correct time of day, but what I didn't realise was that the best view was to be found by climbing down onto the mud of the harbour and walking out as far as the tide would let me.
Not knowing this, I left my rubber boots in my car, where they were no good to anyone and too far away to easily fetch!
Undaunted (well, truth be told, just a wee bit daunted) I squelched my way to the water's edge and set up my tripod. Over the course of the next 30 minutes as the sun went down I captured dozens of photos but this was my favourite. It was worth wet feet!

---
Britain Express UK Image Shop
Our online shop offers canvas prints, framed prints, metal prints, acrylic prints, posters, iPhone cases, Galaxy cases, and greeting cards of UK scenes, specialising in historic sites and traditional locations around England, Scotland and Wales.
We've chosen Fine Art America to host our shop. FAA is the largest worldwide print-on-demand service and offers a wide variety of printed image products from 14 fulfilment centres in 5 different countries.
You can order in a wide variety of currencies (euros, Japenese yen, American, Canadian and Australian dollars), and products ship in 2-3 business days.