Flint Castle, North Wales Prints
Beautiful photos of England, Scotland, and Wales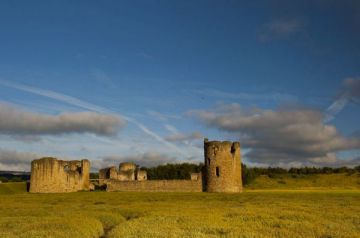 The Story Behind the Image - Flint Castle
Flint Castle is one of Edward I's ring of late 13th-century fortresses built to control north Wales after his successful invasion.
I was staying for the week at a holiday cottage near St Asaph, but I got up before dawn one morning and drove to Flint where I found the castle deserted - not too surprising given that my only company at that hour were a few sleepy birds.
The castle stands at the edge of a marsh, but I was hoping to get a photo from the seaward side, with the early morning sun behind me. Luckily a trail leads out into the marsh, keeping to high ground so I was able to walk out far enough to capture the morning light hitting the castle walls.
---
Britain Express UK Image Shop
Our online shop offers canvas prints, framed prints, metal prints, acrylic prints, posters, iPhone cases, Galaxy cases, and greeting cards of UK scenes, specialising in historic sites and traditional locations around England, Scotland and Wales.
We've chosen Fine Art America to host our shop. FAA is the largest worldwide print-on-demand service and offers a wide variety of printed image products from 14 fulfilment centres in 5 different countries.
You can order in a wide variety of currencies (euros, Japenese yen, American, Canadian and Australian dollars), and products ship in 2-3 business days.