Linn o' Dee, Cairngorms Prints
Beautiful photos of England, Scotland, and Wales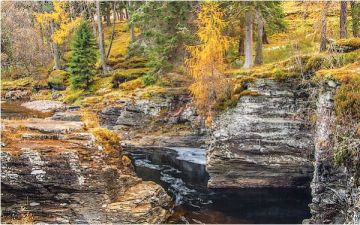 The Story Behind the Image - Linn o' Dee
The Linn o' Dee is an attractive gorge on the River Dee, west of Braemar. Its main claim to fame is that Queen Victoria enjoyed picnicking here.
Victoria lived at Balmoral Castle, further east along the River Dee from Braemar. The Linn o' Dee is well worth visiting even without its royal connections; this is a strikingly beautiful area, especially in autumn when the leaves start to change colour and the woodland is a luxurious wash of gold, orange and red colour.
I came here in early November while touring around Royal Deeside from my base at Braemar. What I remember most was the amazing peacefulness of the scene, even though the water was tumbling through the gorge.
---
Britain Express UK Image Shop
Our online shop offers canvas prints, framed prints, metal prints, acrylic prints, posters, iPhone cases, Galaxy cases, and greeting cards of UK scenes, specialising in historic sites and traditional locations around England, Scotland and Wales.
We've chosen Fine Art America to host our shop. FAA is the largest worldwide print-on-demand service and offers a wide variety of printed image products from 14 fulfilment centres in 5 different countries.
You can order in a wide variety of currencies (euros, Japenese yen, American, Canadian and Australian dollars), and products ship in 2-3 business days.