Loch Mallachie Sunset, Cairngorms Prints
Beautiful photos of England, Scotland, and Wales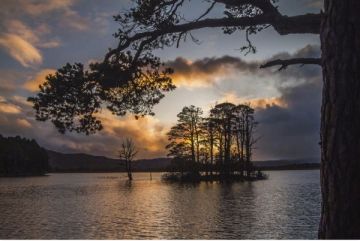 The Story Behind the Image - Loch Mallachie Sunset
One of the most memorable photography trips in my life was a week I spent near Nethy Bridge, in the Cairngorms National Park, in the last week of October, as autumn was slowly turning to winter.
I spent several happy days photographing along the shores of Loch Garten and in the wonderful ancient woodland of Abernethy Forest. One memorable evening I went further afield, taking the trail that leads past Loch Garten, through the Caledonian pinewoods to Loch Mallachie, where the trail ends.
What I remember most vividly was the amazing sense of peace and quiet. I was waiting patiently by the shore, my toes freezing while I stood, my tripod set up, while the sun sank in the west.
Suddenly, without warning, a goose burst from the reeds along the shore and shot up into the evening sky. It was so sudden and so unexpected that I had no chance to grab my camera and take a photo. Before I knew it the goose was gone, leaving the loch silent and serene.
I photographed the loch, with the colours of the sunset reflected in the still waters, but what I remember most was a sense of awe at the incredible natural world around me.
---
Britain Express UK Image Shop
Our online shop offers canvas prints, framed prints, metal prints, acrylic prints, posters, iPhone cases, Galaxy cases, and greeting cards of UK scenes, specialising in historic sites and traditional locations around England, Scotland and Wales.
We've chosen Fine Art America to host our shop. FAA is the largest worldwide print-on-demand service and offers a wide variety of printed image products from 14 fulfilment centres in 5 different countries.
You can order in a wide variety of currencies (euros, Japenese yen, American, Canadian and Australian dollars), and products ship in 2-3 business days.