Linn o' Quoich, Cairngorms Prints
Beautiful photos of England, Scotland, and Wales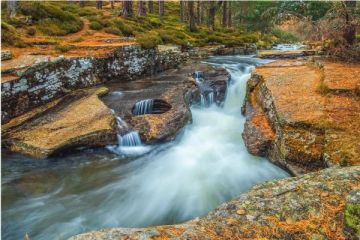 The Story Behind the Image - Linn o' Quoich
The Linn o' Quoich must be one of the most beautiful woodland areas in Scotland - and one of the least visited. There's a reason for that; it takes a determined effort to reach the Linn o' Quoich.
You have to drive west from Braemar along the south bank of the River Dee until you reach the Linn o' Dee where a picturesque bridge takes you over the river to the north bank.
Now you have to drive back in the opposite direction along the north bank of the River Dee until you come to the end of the road at the Linn o' Quoich parking area.
Ah, but those who are determined enough to make the journey are rewarded by a simply wonderful natural area of ancient woodland, and a superb series of waterfalls and pools that include the 'Punch Bowl'. It is well worth taking the time to visit Linn o' Quoich!
---
Britain Express UK Image Shop
Our online shop offers canvas prints, framed prints, metal prints, acrylic prints, posters, iPhone cases, Galaxy cases, and greeting cards of UK scenes, specialising in historic sites and traditional locations around England, Scotland and Wales.
We've chosen Fine Art America to host our shop. FAA is the largest worldwide print-on-demand service and offers a wide variety of printed image products from 14 fulfilment centres in 5 different countries.
You can order in a wide variety of currencies (euros, Japenese yen, American, Canadian and Australian dollars), and products ship in 2-3 business days.