Waterways holidays in the UK
"There is nothing - absolutely nothing - half so much
worth doing as simply messing about in boats..."
The Wind in the Willows
Looking for a different way to spend your UK holidays? Britain's network of over 2000 miles of navigable canals provides a relaxed alternative to the tour buses that cram popular holiday spots.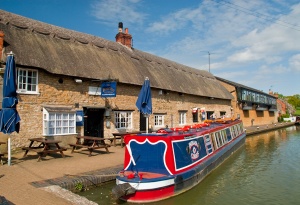 The first major period of canal building in Britain began over 240 years ago, in response to the need for better transportation for industrial goods. The Duke of Bridgewater began a canal in 1759 to carry coal from his mines at Worsley to Manchester, and that touched off a century of frantic building.
But since the coming of the railway and modern transportation spelled an end to canal-building, Britain's waterways have turned from industrial transport to holiday fun.
Canal narrowboats are available for holiday rental on most major canals in Britain. A glance at the excellent British Waterways web site shows a wide selection of narrowboats with different options to choose from.
Self-drive narrowboats
This is the most common option, and, for my money, the most enjoyable. You're the captain, and you set the course. You bring your own food and cook your own meals.
Don't be intimidated by the idea of piloting a canal boat. For one thing, they move very slowly (most are not capable of speeds greater than about 4mph), and the operator will generally give you a quick hands-on lesson to get you going.
Hotel Boats
The second major option is to choose a boat with a pilot and chef to drive you in comfort. The meals are cooked for you, and the pilot handles details like locks and mooring, although you can lend a hand if you want to learn.
If you are worried about operating the locks, don't be. They are not difficult, and you'll soon find yourself handling them with ease. There are lock-keepers to assist you on the Caledonian Canal and the Thames River, but elsewhere its a case of do-it-yourself fun.
Narrowboats are available in different configurations, sleeping anywhere from 4-9 adults, and generally, the interiors are beautifully appointed, with wood-trimmed fittings, and a fully stocked library of guidebooks and pamphlets about the area you will be travelling through. All the boats have freshwater tanks, at least one WC, and a shower.
What will you see along the canals and rivers of Britain? Everything from the bustle of major cities like London and Birmingham, to quiet country lanes, villages, and bankside pubs.
Canals and navigable rivers also run past major attractions, such as Warwick Castle, Little Moreton Hall, and the cities of Bath and York. There are spectacular aqueducts at Llangollen, the Blisworth Tunnel at Stoke Bruerne, and canal museums at Gloucester and at Foxton, near Leicester.
Of course, the canals are also famous for hosting a wide variety of wildlife and plant species, too, so keep your camera at hand.
Costs
The cost of renting a self-drive narrowboat varies by the season, with the popular summer months costing considerably more. Count on £500-700 per week in the winter months, and up to 1000 GBP per week in June, depending on the boat and the location. Shorter hire periods of 3-4 days are possible, but please book ahead.
Resources
British Waterways
London Canal Museum
List of narrowboat holiday operators
Best of Britain Express Art Prints