Kilchurn Castle, Loch Awe Prints
Beautiful photos of England, Scotland, and Wales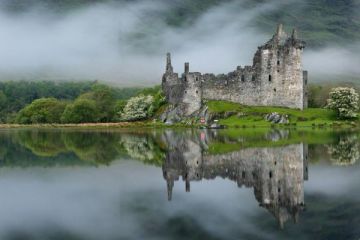 The Story Behind the Image - Kilchurn Castle, Loch Awe
The story of this photo starts at 3 am - twice.
Here's the slightly more understandable version of the story. I was staying n a holiday cottage on Seil, an island south of Oban, but I was very keen to photograph historic Kilchurn Castle at the eastern end of Loch Awe.
So to make sure that I would get the morning light I set off from my cottage at 3 am and drove over 75 minutes to Kilchurn Castle, only to discover that the forecast sunshine was nowhere to be found, and instead, what I got was steady rain. I sat in my car watching the rain sweep across the loch for an hour before I gave up and got on with some wet-weather sightseeing.
I'm nothing if not persistent (or just plain stubborn) so the next morning I did the same thing. Up and out the door by 3 am for a 75-minute drive to Kilchurn Castle. This time I was rewarded. As the day dawned, there was heavy mist over the loch, giving everything an incredible sense of mystery. And it was so quiet you could have heard a pin drop in the loch.
This photo is the result of a lot of driving, lack of sleep and good fortune
---
Britain Express UK Image Shop
Our online shop offers canvas prints, framed prints, metal prints, acrylic prints, posters, iPhone cases, Galaxy cases, and greeting cards of UK scenes, specialising in historic sites and traditional locations around England, Scotland and Wales.
We've chosen Fine Art America to host our shop. FAA is the largest worldwide print-on-demand service and offers a wide variety of printed image products from 14 fulfilment centres in 5 different countries.
You can order in a wide variety of currencies (euros, Japenese yen, American, Canadian and Australian dollars), and products ship in 2-3 business days.