Channel Islands Heritage and Tourism
The fact that the Channel Islands ended up as part of Britain rather than France is a historical anomaly, a situation not made clearer by the fact that the islands of Sark, Alderney, Guernsey, Herm, and Jersey are not legally part of the UK and are administered locally, not from Westminster.
The Channel Islands lie closer to the French mainland than to England, but their character is unique, a mix of international jet-set and family beach resort. The climate is mild all year, averaging 68 degrees Fahrenheit during the peak visitor season of June-September.

At first glance the Channel Islands may seem to lack the number of visitor attractions available on mainland Britain, but that point of view misses the real appeal of these islands, which is in their isolation from the hustle and bustle of life in the rest of the UK and the European mainland.
Here you will find whitewashed houses and sandy beaches, spectacular sunsets and rocky shorelines. Walking and cycling are popular activities, and for good reason; no matter where you go you're never far from a good place to eat, drink, or simply put your feet up and drink in the scenery. Birdwatching and golfing are other popular activities.That's not to say that the islands are without special points of interest! On Jersey, the largest island, is Gerrald Durrell's conservation zoo, one of the first and most influential such zoos in the world. Not far away is the German Underground Hospital, built by the German forces occupying these islands during WWII. Using forced labour, the German forces carved half a mile of tunnels and chambers through the solid rock.
At the capital of St. Hellier the Jersey Museum tells the story of the island's history. In the harbour is Elizabeth Castle, built by Sir Walter Raleigh when he was governor of Jersey, and dedicated to Queen Elizabeth I. The Jersey Lavender Farm welcomes visitors to explore its cultivation fields and distillery.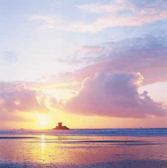 Guernsey is second in size to Jersey, but has the task of administering the smallest three islands of Sark, Alderney, and Herm. Attractions include the Norman Castle Cornet, and the house in which the exiled Victor Hugo wrote Les Miserable. Numerous German defenses remain from WWII, and the story of that unhappy time is retold at the German Occupation Museum.
For a happier experience, relax at one of Guernsey's 27 beaches or visit Guernsey Bird Gardens, where over 70 species are housed.
Alderney may be the most peaceful of the Channel Islands. There are excellent beaches and shoreline walks, and cycling is a popular activity. There are regular ferry and short-hop airplane flights to and from Jersey and Guernsey.
Sark is a wonderfully unique island, Europe's only remaining feudal state. Sark is officially ruled by its Seigneur, under a constitution dating back almost 500 years. This is wonderful walking territory, with miles of spectacular shoreline. Cycling is also popular, and it is just as well, because no cars are allowed on the island!

The smallest of the Channel Islands is tiny Herm, at only 1 1/2 mile long. The population of 40 not only outlaws motor cars, but no bicycles are allowed either! Sandy white beaches and a wide variety of shell-life make Herm a walker's delight.

Photos courtesy of Channel Islands Tourism
Best of Britain Express Art Prints
Attraction search