Glen Torridon Rainbow Prints
Beautiful photos of England, Scotland, and Wales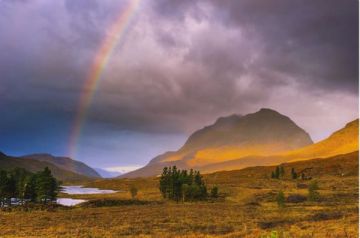 The Story Behind the Image - Glen Torridon Rainbow
This is one of my favourite photos from a wonderful autumn week I spent photographing in the Torridon region of Wester Ross in the Scottish Highlands.
I was based for the week in a holiday cottage near Torridon village and most days I started by getting up before dawn and driving into Glen Torridon where I would hike around with my camera gear exploring the landscape and waiting to see what the light of day would bring.
What it usually brought was incredible scenery and extremely changeable weather. On this occasion, I was simply exploring the north slopes of the glen when the weather turned suddenly wet and windy.
I considered heading back to the shelter of my car but just as quickly as the weather had turned unpleasant the clouds parted and a glorious rainbow appeared at the far end of the glen.
I quickly grabbed my camera and took this photo showing the rainbow arcing through the clouds over the peak of Liathach. Wow.
---
Britain Express UK Image Shop
Our online shop offers canvas prints, framed prints, metal prints, acrylic prints, posters, iPhone cases, Galaxy cases, and greeting cards of UK scenes, specialising in historic sites and traditional locations around England, Scotland and Wales.
We've chosen Fine Art America to host our shop. FAA is the largest worldwide print-on-demand service and offers a wide variety of printed image products from 14 fulfilment centres in 5 different countries.
You can order in a wide variety of currencies (euros, Japenese yen, American, Canadian and Australian dollars), and products ship in 2-3 business days.