Brecon Beacons Waterfalls Walk
Posted:
2009-06-04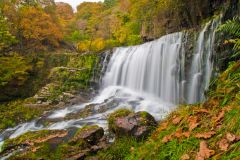 The Brecon Beacons is one of the most popular areas of the UK for walkers. The National Park is criss-crossed by walking trails, and though the Beacons are not terribly high, the terrain can make for some challenging walks. Thankfully, there are other, less challenging walks that still offer a taste of the wonderful natural beauty that Brecons offer. Among the best - and best known - of these less challenging trails is the Waterfalls Walk, which can be joined at several places, but most often begins at the Porth-yr-Ogof car park near Ystradfellte.
The walk follows the Hepste and the Mellte rivers through wooded gorges flanked by lovely woodland, and on the way passes four waterfalls. We came in early October, which had two big advantages; the popular trails were less crowded and the autumn colours were simply stunning.

White Horse Cave

Immediately below the car park is the mouth of Porth-yr-Ogof, the White Horse Cave. The cave mouth is said to be the largest in Wales, and I can see why; its huge, at 20 metres by 3 metres high (about 65 feet by 10 feet in old money). Its also a popular destination for cavers, and there was a party of rather damp school children emerging from the cave mouth as we arrived for a peek. White Horse Cave is not really something you should tackle on your own unless you are a very experienced caver; the River Mellte runs through the cave, making everything extremely wet and slippery.
After a peek inside the cave, it was time for us to join the trail. The Mellte emerges from the ground about a quarter mile past the cave, at which point it is not terribly wide, or, indeed, swift flowing. The woodland surrounding the river was stunning, however, and the autumn leaves were a colourful symphony of yellow, green, red, and gold. The woods are fairly thick, so views of the surrounding countryside were limited, but, on the other hand, the river was lovely enough to compensate.
The way is well marked, but damp, and muddy in places, so good waterproof footwear is definitely advisable.
After a mile we reached the first stop of note; Sgwd Isaf Clwn-gwyn falls. There is a wide ledge which allows good views over the falls, which is overhung with long branches in places. The path then carries through open woodland before another path splits off towards a second falls at Sgwd yr Pannwr. The trail then becomes a trifle more challenging, and some scrambling is required before reaching a third falls, Sgwd Isaf Clwn-gwyn. We then retraced our steps to the split in the path and carried on downstream to the final falls.
The biggest treat of the Waterfalls Walk is the last; Sgwd Y Eira, the Spout of Snow. This delightful waterfall spills down over a cliff face that has eroded at the base to form a recess, where the trail passes right behind the waterfall. It is quite an experience to stand in a [comparatively] dry state 'inside' the waterfall, while only a few feet away the water thunders down like a thick veil of translucent snow.

The most common way to complete the Waterfalls Walk is to simply turn around and head back the way you came, to Porth-yr-Ogof. But if you have a fancy for something a bit more challenging, the trail leads straight on through the falls and up to the fields above, from whence it leads to Penderyn, a mile or so distant. Here there are few trees, and the views across the open countryside are quite superb. Again, the path can be wet on this stretch, so please wear good waterproof boots.

We' walked this delightful trail from both ends, with children aged 13 and 7 in tow, and thorougly enjoyed it. Actually, it was so much fun that I think the children had the adults in tow at times. The children in particular will enjoy walking right behind the Spout of Snow.

OS map: Explorer 12 (10% discount off list price)

Resources:
Walkscene
Brecon Beacons National Park
ePhotoZine
<<
Battlefields Trust
-
25 Best Stately Homes in Britain
>>
Attraction search