Blue Guide Churches and Chapels
Posted:
2009-06-06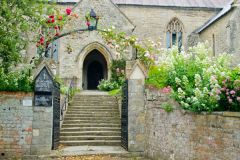 My bookshelves are overflowing with books that I use to help plan trips, or for researching articles for the BritainExpress.com website. Among my favourite books are two volumes from Blue Guides.
For those who might not be familiar with the Blue Guide series, they have carved out something of a unique niche among guidebook publishers in that they publish very detailed guides focused on the history of specific locations.
So, rather than the latest hotspot nightclubs in London, for example, which you might get in more mainstream guidebooks like Rough Guide or Lonely Planet, they'll give you lots of useful historic information about London, with detailed background information about people, literature, art and architecture, and so on. Think of the Blue Guides as a guide for educated people (or those who'd like to be or pretend to be educated!).
My favourite Blue Guides are a bit specialized, even by Blue Guide standards; they are Blue Guide Churches and Chapels: Northern England (ISBN 0-7136-3171-6), and Blue Guide Churches and Chapels: Southern England (ISBN 0-7136-3029-9). These terrific books cover the finest historic churches and chapels in England, and are divided into chapters by county. The books begin with an overview of the history of churches in England, covering how church architecture developed over time. There is also an illustrated glossary of terms used throughout the books.
Each county chapter begins with a historical overview, covering the major architectural styles in each region, then goes on to a gazetteer of the best sites to visit in that county.
Naturally, famous churches and cathedrals are featured, what makes these guides so fascinating is that equal weight is given to relatively unknown but historically fascinating churches and chapels which most people will not have heard of. The books then finish with a map of old and new(er) counties, and two indexes, one of architects, artists, and craftsmen, the second covering the churches and chapels themselves.
The wealth of historical detail is truly outstanding; in some cases, I might wish for a bit 'less' detail, but that is nitpicking. As a whole, the guides are without peer, and if you enjoy visiting historic churches great or small, I can highly recommend the Blue Guides.
They appear to be out of print at the moment, which is a real shame, but used copies can easily be obtained through Amazon.co.uk. Here are links to the Northern England and Southern England pages at Amazon.
---
<< 25 Best Stately Homes in Britain - Sudeley Castle Garden Guided Tours >>
Attraction search