Carisbrooke Castle Princess Beatrice Garden
Posted:
2009-06-18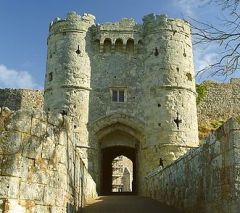 Carisbrooke Castle, near Newport on the Isle of Wight, is a medieval fortress that later saw service as a prison and a royal residence. Now, a private garden established at Carisbrooke Castle by Princess Beatrice, daughter of Queen Victoria, has been restored and is open to the public.
Princess Beatrice was resident at Carisbrooke when she served as Governor of the Isle of Wight, and during that time she established a private garden. This has now been restored under the supervision of well-known garden designer and television presenter Chris Beardshaw (formerly of BBC Gardeners World), who has crafted an Edwardian style garden featuring fountains, a plunge pool, fruit trees, clipped hedges, and an orchard.

Carisbrooke was founded around 1100 on the site of a Saxon fortress. It was rebuilt by Countess Isabella de Redvers around 1262, and in the 13th century gained its famous twin-towered barbican gate. The castle survived a siege by the French in 1377, and later served as a prison for Charles I during the English Civil War.

Princess Beatrice resided at Carisbrooke from 1912, and between that date and 1923 she altered the former kitchen garden of Carisbrooke to form a private pleasure garden for herself. She also rebuilt the gatehouse and chapel. The Princess died in 1944.
The Princess Beatrice garden is open daily from 10-5, with free admission for English Heritage members.
More:
Carisbrooke Castle
<<
Henry VIII Anniversary Events
-
Clent Hills Geocaching Treasure Hunt
>>
Attraction search