Eden Valley
Posted:
2009-09-17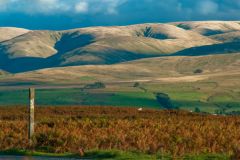 Most people who come to Cumbria gravitate to the Lake District National Park. That's understandable as the Lake District is one of the most beautiful natural areas in the country, and one of our favourite destinations. But in the rush to explore the beauty of the Lakes, it is easy to overlook Cumbria's forgotten gem, the Eden Valley. I just returned from a brief visit, and I have to say, I enjoyed myself immensely.
The Eden is the longest river in Cumbria, and it flows north for 90 miles from its origins in the limestone plateaus of the Mallerstaing Common, near the Yorkshire border, until it empties into the Solway Firth.
For much of its course, the Eden runs between the fells of the Lake District to the west and the North Pennine hills to the east. The valley floor is a lovely area of pastoral beauty, while the land rises up to the west in a series of low fells, and to the west in striking moorland.
This is a terrific area for walkers, lacking perhaps the drama of the Lakes, but on the other hand, it also lacks the crowds that can make the Lakes a bit like a crowded parking lot during the height of summer.
The major towns in the Eden Valley include Appleby-in-Westmorland, the former county town of Westmorland (if you are too young to remember Westmorland and Cumberland, ask someone of your parent's generation!). Appleby is famous for its annual horse fair, and it is a lovely old town, with a broad, tree-lined main street stretching from the historic parish church to the gates of Appleby Castle (in private ownership).
To the south is Kirkby Stephen, where the historic parish church boasts a beautifully carved late Saxon stone called the Loki Stone, depicting the Norse god Loki in chains. To the south of Kirkby Stephen is 12th century Pendragon Castle, associated with the legends of King Arthur.
There are further castles at Brough, Brougham, and Penrith. Near Penrith is Long Meg and Her Daughters, one of the largest stone circles in Britain. Near Long Meg is Great Salkeld, where the church door boasts wonderful late Saxon carvings. A hidden delight is Rutter Force, near Appleby, one of the prettiest waterfalls in England, with a restored mill standing beside a picturesque horseshoe falls.
Everywhere you turn there is something historic or beautifully scenic to explore, and as a bonus, you can do it in relative peace and quiet, for the Eden Valley remains blessedly free of the overcrowding that can sometimes overwhelm the popular Lake District destinations to the west.
I had a wonderful stay, and plan on returning for a longer visit soon. Look for forthcoming articles and photos of many of the locations mentioned here.
Resources:
Visit Eden tourism website
---
<< History Times gets history enthusiasts writing - Anglo-Saxon Gold Hoard >>
Attraction search