Lake District National Park
Overview
Accommodation
Attractions
Maps
Editor's Picks
Photo Gallery - NEW!
Park Overview
At 2,292 sq km (885 SQ MILES) the largest of England's National Parks provides an exciting mix of mountain and lake scenery. Postcard-perfect in summer, in fall the brown bracken of the mountain slopes contrasts with the reds of oak forests and the beginnings of snow-white frosting on the mountain peaks. The Lake District is a walker's paradise at any time.
One of the most popular of the multitude of fine hill-walking opportunities is Scafell Peak, at 3210 ft the highest mountain in England. Another popular walk is Helvellyn, which can be a pleasant stroll or a distinct challenge, depending upon which path you choose. The adventurous will want to try the approach along the narrow ridge of Striding Edge.
Be warned: the weather can change suddenly, and even if it looks fine at lower elevations, the peaks may be subject to unpleasant conditions. Always check the weather forecast before setting out.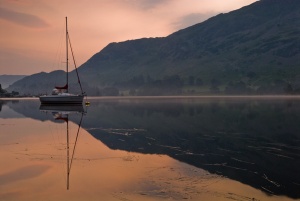 For the less adventurous there are countless trails among the lower fells and around the shores of the lakes which make for fine walking. The "Mountain Goat" buses will get you to most of the main passes for fell walking.
Best of Britain Express Art Prints