New Villa at Wroxeter Roman City
Posted:
2011-01-10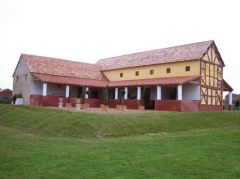 Wroxeter Roman City, near Shrewsbury, Shropshire, was one of the largest Roman villas in Britain. Excavations on the site have revealed the remains of several large Roman townhouses. Now one of those townhouses has been recreated in its entirety, and you will be able to not only see the completed house but follow in the footsteps of the people who built the reconstructed villa in a new television series about to launch on ITV.
A 'villa urbana' or high-status townhouse, has been recreated at Wroxeter through the joint efforts of English Heritage and Channel 4. The builders used local materials, and used traditional building tools and methods wherever possible. Using the same building tools and methods used by the Romans who built the original structure allowed historians to gain a unique insight into Roman construction and architectural thinking.
Rome Wasn't Built in a Day
The six-part television series following the building of the villa urbana starts on Thursday, 20 January at 9pm on Channel 4. As for the villa itself, it will be open to the public from Saturday, 19 February at 10am when Wroxeter reopens for the year. Building took place during the summer of 2010 and film crews from Channel 4 followed the crew constructing the villa throughout the process. The villa was built on a special protective raft above the ground level to preserve archaeological remains under the building site.
Editor's Note:
Our family enjoyed visiting Wroxeter immensely. But when you are at Wroxeter don't forget to visit the wonderful St Andrew's parish church, partly built with stone scavenged from the Roman city.
Resources:
English Heritage information on Wroxeter Roman City
Our article
---
<< Isle of Skye Newsletter - Churches Visitor and Tourism Association >>
Attraction search