Visiting St Edmundsbury, Suffolk
Posted:
2011-02-28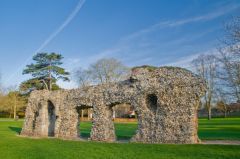 As you might gather if you've browsed previous posts, I don't have a terribly high opinion of most official tourism websites. Too many are full of fluff, without any terribly useful information to dig your teeth into. So, when I do run across a really useful, informative tourism website, especially with regard to history and heritage, it sticks out.
Well, I've got to give credit where credit is due, and one website has jumped out at me today. I was researching a few facts as part of expanding our articles on historic places to visit in Suffolk, when I ran across the site published by the St Edmundsbury Borough Council.
Though much of the site is, naturally, devoted to council services like business, traffic, and leisure, I must applaud the Tourism section of the site. Rarely have I read a site with so much useful and varied information, especially with regard to heritage.
For those who are wondering, St Edmundsbury takes in the towns of Bury St Edmunds, Clare, Haverhill, and the surrounding area. If you know anything about your Suffolk history, you'll realise that there's a lot to see in this region, and the Council does a great job of laying it all out there for you research and plan a trip.
There are tourist guides in several languages, West Suffolk guides (including a downloadable pdf version), a free downloadable map of Bury St Edmunds historic town centre, a guided tour schedule, information on horse-drawn carriage tours of Bury, travel, events, shopping and parking, Eating Out guides, accommodation, heritage and art galleries, businesses, and a searchable directory of attractions. There's a very detailed history section, full of great information, a Heritage Open Days feature, and a guide to towns and villages in the area.
In fact, there's so much information its a bit overwhelming! But if you happen to be interested in vising west Suffolk - and I can highly recommend it - you can do a lot worse than make the St Edmundsbury Council Tourism website your starting point.
---
<< Misericords of the World - London Taxi Tours >>
Attraction search