Landmark Trust Free Openings
Posted:
2011-03-04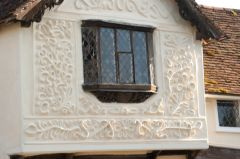 I've been aware of the Landmark Trust charity for many years now, but I just learned something today that I wasn't aware of before. But I'm getting ahead of myself; if you aren't familiar with the Landmark Trust, it is a charitable organisation that purchases historic buildings that are at risk, and might otherwise be altered or destroyed. The Trust maintains and preserves the historic properties, and pays its costs by renting out the properties for holiday stays.
The laudable aim of the Trust is to 'to promote the enjoyment of historic buildings by enabling as many people as possible to experience living in them for a short time'. Among the fascinating and unique properties maintained by the Trust are the 15th-century Ancient House in Clare, Suffolk, the Aldeburgh Martello Tower, also in Suffolk, and the wonderfully atmospheric Sadell Castle, Kintyre.
So if you fancy staying in a Scottish castle, a deliciously wobbly 15th-century cottage, or a Victorian Martello Tower, the Landmark Trust has got just what you need for a unique and unforgettable holiday.
But that's not the point of this post.

Nope, the point of this post is to publicise the fact that even if you don't fancy staying in a historic property like those in the Trust's portfolio, you can still visit them. What I hadn't realised is that the Trust has regular open days each year; days when you can get a peep inside these wonderful old properties. What is more, some properties are regularly open to visitors. For example, the Ancient House in Clare, Suffolk, that I mentioned above, has half the property given over to a local museum, which you can visit at regular hours.
Other landmarks that have regular opening hours include:
But don't stop at those places that are regularly open to visitors. Each year a number of properties have special open days, when anyone can visit Landmarks and learn about their history and restoration. Admission is free and leaflets are provided so you can learn more about the buildings' history.
For a complete list of special open days in 2011 visit the Landmark Trust website.
---
<< Historic Scotland Ticket Giveaway - Travelodge Special Deals >>
Attraction search