What is a crannog?
Posted:
2011-03-18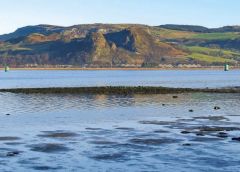 If you've ever seen the word 'crannog' on an OS map, you might have wondered what it signified. I've watched enough Time Team episodes to have a very hazy idea that a crannog was some sort of inhabited man-made island, usually joined to the mainland by a causeway. But that's where my knowledge ended. Until today.
I just ran across a neat little article on the history of crannogs in Scotland, with a focus on the Inner Hebrides. The website is, appropriately enough, Crannogs.com, and its the work of Mark Holley, an American researcher with a PhD in Underwater Archaeology from Edinburgh University.
Here are some of the key points of Holley's history of crannogs article:
Most crannogs are circular or oval
Materials used include stone, wood, or whatever people could find locally
Crannogs were used as housing sites until well into the 17th century
There are two main types, with a solid base, or raised on stilts like a dock
Crannogs have been used for habitation longer than any other form of Scottish dwelling, from the Neolithic period (4000-2000 BCE). So until you excavate a crannog it is impossible to tell whether it is incredibly ancient, or a few hundred years old. But excavations can reveal a lot, partly due to the fact that the cold water of Scottish lochs is such a good storage environment.
Organic matter such as seeds, wood, and plant fibre can be remarkably well preserved. But that's nothing; a recent 'dig' on a crannog site turned up a butter dish with butter still in it!
As I was about to post this article I ran across another brief explanation entitled 'What is a crannog', by the Scottish Crannog Centre (see Resources below)
I'll keep a close eye out for partly used butter dishes next time I see a crannog marked on my OS map!
Image of Westferry crannog is © Thomas Nugent, used by permission under the Creative Commons license.
Resources:
Crannogs.com (click on the Introduction link)
Scottish Crannog Centre - Kenmore, near Aberfeldy
---
<< Port Eliot connection with Daphne Du Maurier - Mithraism in Roman Scotland discovered >>
Attraction search