Festival of History 2011
Posted:
2011-06-20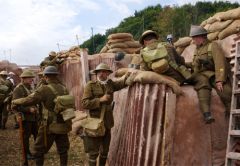 ARCHIVED ARTICLE
Its that time of year again! The largest annual history event in Britain is set to go on the weekend of 16-17 July. English Heritage's Festival of History returns to Kelmarsh Hall, Northamptonshire. I've had the pleasure of visiting Kelmarsh, and its a wonderful location for the event.
One of the highlights of this year's Festival of History is a section of WWI trenches and 'no man's land' recreated by a team who have been working on Steven Spielberg's latest movie 'War Horse'. Visitors will be able to enter the trench for a glimpse of the reality of life for men and horses on the battlefields of World War I.
Other re-enactments include the Battle of Bosworth Field, Wellington's Red Coats, a display of tent pegging, and a WWII Spitfire in action.
If you book before Tuesday 12 July 2011 you could win a holiday in an English Heritage holiday cottage, plus a one-year membership in EH for two adults and up to 6 children.
Here are a few of the highlights:
The Arena
A variety of battlefield re-enactments take place here, spanning thousands of years from Norman knights to a WWII battle and aerial display, with exhibits from the Napoleonic and Boer wars as well.
Trench Experience
Explore a WWI trench and meet the British Tommys face to face. See performances from the front line in the recreated battlefield and hear about the role played by horses in the Great War.
The Parade Ground
See a Medieval joust, the Imperial Roman Army, and the horse riding skills of a Victorian Gymkhana.
Festival Stage
Music through the ages - from Medieval ballads to folk-rock and 60s psychedelia.
Family Zone
Games, shows, dress-up, role-play and a Victorian beach should keep the younger set amused.
Festival of Historical Writing
A new feature is the launch of the Historic Writers Association, offering presentations from over a dozen authors, plus book signings. Headling the inaugural event will be an appearance by Michael Morpurgo, whose bestseller War Horse has been made into a film due for release next year. Morpurgo will be talking about his writing on Saturday only.
Living History
Living history encampments give you a chance to meet historic characters from Romans to WWII soldiers. There is a large historical marketplace, Roman gladiators in combat, and a special section exploring the role of women in warfare.
Members tent
Hear fascinating talks on a variety of subjects, from historical footwear to blackout knickers, the archaeology of the Western Front to medieval table manners.
Opening Details:
On both days the gates open at 9.30am and the event ends at 6pm
Directions:
Coming on the A14. Exit at J2 and head north towards Market Harborough. The village of Kelmarsh is 500m from the A14.
Coming on the A508
The Hall is 5 miles south of Market Harborough and 11 miles north of Northampton.
Ticket Information:
*Family tickets include two adults and three children
1-DAY TICKETS
English Heritage members
Adults £11.00, Concessions £9.00, Child £6.00, Family ticket* £26.00
Non-members
Adults £20.00, Concessions £18.00, Child £12.00, Family ticket* £52.00
2-DAY TICKETS
English Heritage members
Adults £18.00, Concessions £16.00, Child £10.50, Family ticket* £46.00
Non-members
Adults £32.50, Concessions £29.00, Child £19.50, Family ticket* £84.50
---
<< Visiting Warwick Castle - Melford Hall Teddy Bears Picnic, Long Melford Suffolk >>
Attraction search