Free Tickets to Historic Scotland Properties
Posted:
2012-05-17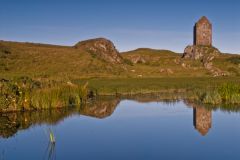 I just received news from Historic Scotland that they will be offering 30 people the chance to win free pairs of tickets to any of 69 HS properties across Scotland. The ticket giveaway is part of Historic Scotland's celebration of the Queen's Diamond Jubilee.
The total of 60 tickets is no accident - it was chosen to honour the 60 years of Elizabeth II's reign.
Entering
Entering to win tickets is easy - just text JUBILEE to 84118. Entries must be received by midnight on Monday 28th May. There is one small caveat - you don't get to choose which property your tickets are for. You will be awarded tickets for properties near your residence, though. Prize winners will be notified before the end of May, and tickets are valid for entry on Monday 4th June 2012.
Membership Discounts
As part of the same promotion, anyone purchasing a Historic Scotland membership and opting to pay by direct debit between Friday 1st June and Tuesday 5th June (inclusive) will receive an extra 60 days of membership free. See the '60 days' theme? If you had trouble with maths at school that's two free months membership.
Resources:
Historic Scotland website
Our information on Historic Scotland
---
<< Cotswold Jubilee Churches Festival 2012 - Rochester Dickens Festival 2012 >>
Attraction search