Isle of Wight - Best Attractions to Visit
Posted:
2014-05-01
We've just returned from a wonderful visit to the Isle of Wight, and I thought it might help other people plan their trips if we created a 'Britain Express Travel Awards' summary, sharing our top picks for exploring the island.
Here we go ...
Best Large Historic Attraction
It's a close-run thing, but I'll vote for Osborne House, Victoria and Albert's place to get away from it all. The interiors are fabulous, and by most standards, quite opulent. But what really makes Osborne House so appealing is not the stately house aspect of the property, but the little reminders that this was a family home. We loved the Swiss Cottage, set beside garden plots where all the royal children tended their own vegetable patch, and the earthworks of Fort Albert, where you can really imagine the royal family playing at soldiers.
Best Unknown Heritage Attraction
Honourable mention to St Catherines Lighthouse and Calbourne Mill, but my vote goes to Bembridge Fort. This Victorian fort is in the process of being restored, and can only be visited by pre-booked tours, but the tours are fascinating and give a wonderful insight into the history of the fort and what it was like to serve there.
Best Garden
This really depends on your tastes, whether you prefer the more formal atmosphere of Ventnor Botanic Garden or the more relaxed historical surroundings of Mottistone Manor Gardens. I vote for Mottistone, with formal and informal gardens around an Elizabethan manor, and wonderful woodland walks.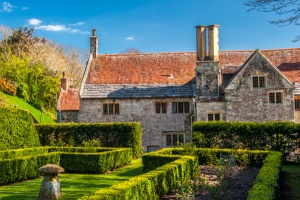 Prettiest Village
Just about a toss-up between Godshill, Brighstone, and Calbourne, but if I'm forced to choose, I'll vote for Brighstone. Thatched cottages (including a thatched museum), attractive pubs, medieval church, a village shop, old mill, waterfall, and a mythical Dragon Tree. what more could you want?
Best Walk
The most enjoyable walk of our stay on Wight combined wonderful scenery and history in equal measure; no surprise that our vote goes to the walk along the top of Tennyson Down from Freshwater Bay to The Needles headland. Well, when you finish the walk with a sunset like this, it's pretty memorable!
Best Historic Church
Honourable mention to Whippingham, Godshill and Arreton, but our vote goes to Sherwell, with its wonderful wall paintings, monuments, brasses, and collection of very early books. This wonderful church deserves more attention.
Best Family Attraction
A special award, as decided on by our 13-year-old daughter, who selected Alum Bay as her favourite place on Wight. Alum Bay combines a cable car ride up the cliffs, amusement park rides, glass-blowing viewing, and activities for families. So if, you're visiting Wight with children, here's your expert tip!
Keep in mind that these are our own personal favourite places, based on our own experiences. We love history and heritage, so that's what we focussed on most.
---
<< National Trust Film Locations - Dr Who Experience, Cardiff - Review and Photos >>
Attraction search