Assynt, Sutherland Prints
Beautiful photos of England, Scotland, and Wales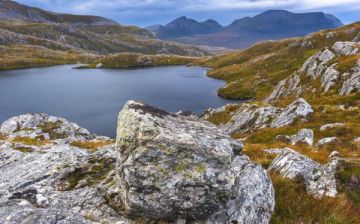 The Story Behind the Image - Assynt, Sutherland

One of the most enjoyable photography trips in my life was a week I spent exploring the Assynt region of Sutherland from a base at Unapool on Loch Glencoul.
One of my ambitions for that week was to take the five-mile walk to Eas a Chual Aluinn, the highest waterfall in Britain, which tumbles down a sheer drop from a high plateau overlooking the loch.
I set off from the parking area south of Unapool. Before I set out I carefully studied my OS map to make sure I knew the route. Why I didn't just slip the map in my backpack I've no idea, but I didn't. What a mistake that proved to be.
I almost immediately lost my way and spent the better part of three hours bushwacking across the moors, falling into bogs, getting stuck in muddy quagmires, and generally taking every wrong turn I could have taken. That I survived unscathed owes more to sheer good fortune than to any kind of skill in hiking.
I discovered the waterfall and the path I should have taken, and after photographing the area I began my weary walk back. As I neared the end of my return journey I discovered this quiet little loch which I discovered later was Loch Bealach a Bhuirich.
What I remember most about taking this photo was the incredible stillness. Then, out of the stillness came the below of stags on the distant hills. Their challenges echoed around the hills and created an eerie atmosphere. What an incredible location.

---
Britain Express UK Image Shop
Our online shop offers canvas prints, framed prints, metal prints, acrylic prints, posters, iPhone cases, Galaxy cases, and greeting cards of UK scenes, specialising in historic sites and traditional locations around England, Scotland and Wales.
We've chosen Fine Art America to host our shop. FAA is the largest worldwide print-on-demand service and offers a wide variety of printed image products from 14 fulfilment centres in 5 different countries.
You can order in a wide variety of currencies (euros, Japenese yen, American, Canadian and Australian dollars), and products ship in 2-3 business days.