Loch Assynt & Ardvreck Castle, Sutherland Prints
Beautiful photos of England, Scotland, and Wales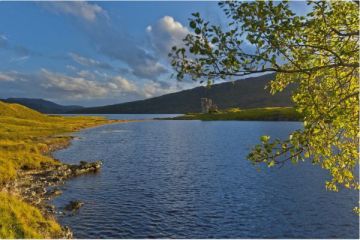 The Story Behind the Image - Loch Assynt & Ardvreck Castle
One of the most memorable photography trips in my was a week I spent exploring Assynt from my base at a holiday cottage near Unapool (no, I don't mean Ullapool!). I must have spent half of that week exploring the area around Loch Assynt.
Part of that time was spent trying to capture the beauty and mystique of medieval Ardvreck Castle, whose ruins stand on an island in the loch and can only be reached by a causeway.
You can make out the striking ruins of Ardvreck Castle in the shadows beneath the overhanging bough of a tree I found by the shore of the loch. Ardvreck Castle is a 15th-century fortified tower house that served as the traditional seat of the MacLeods of Assynt.
---
Britain Express UK Image Shop
Our online shop offers canvas prints, framed prints, metal prints, acrylic prints, posters, iPhone cases, Galaxy cases, and greeting cards of UK scenes, specialising in historic sites and traditional locations around England, Scotland and Wales.
We've chosen Fine Art America to host our shop. FAA is the largest worldwide print-on-demand service and offers a wide variety of printed image products from 14 fulfilment centres in 5 different countries.
You can order in a wide variety of currencies (euros, Japenese yen, American, Canadian and Australian dollars), and products ship in 2-3 business days.